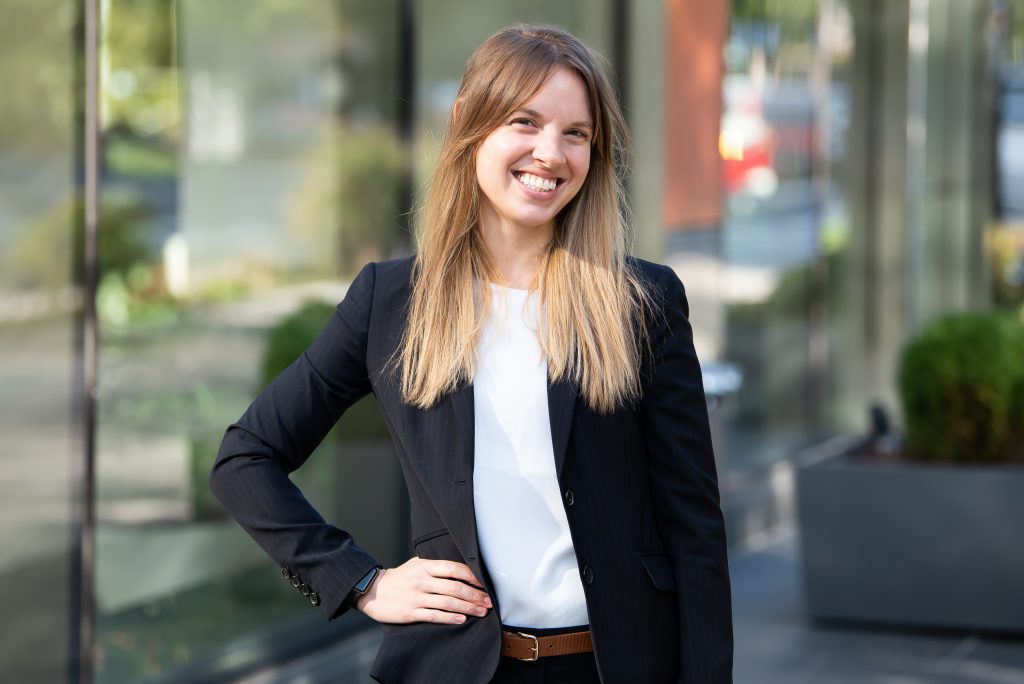 Since graduating from KU Law in 2014, Emily Warr has dedicated her legal career to public service and advocacy. Warr has provided legal representation for low-income clients as a public defender, worked as a contract attorney on a large hospital settlement and helped develop innovative projects in public interest law.
She spent her first year out of law school working as an independent contract attorney at MultiCare Health System in Tacoma, Washington. She simultaneously worked as an overflow and conflicts attorney at the Mason County Public Defender's Office in Mason County, Washington. Then, she spent two years as a public defender at the Yakima County Department of Assigned Counsel in Yakima County, Washington.
After three years of working in public defense, Warr moved cross-country in 2018 to become a portfolio manager at Equal Justice Works in Washington, D.C. At Equal Justice Works, Warr managed Fellows working in public interest law on topics, such as immigration, indigenous peoples' rights, prison reform, prisoners' rights and environmental justice. She also helped grow the Fellowship program and expanded the Midwest fundraising base.
Most recently, Warr enrolled as a doctorate student in the Post-Baccalaureate Doctor of Nursing Program at Columbia University in New York. She began studies in psychiatric mental health in June 2020.
Warr's time as a public defender inspired her to reflect on the criminal system, return to school and pursue a career as a nurse practitioner in psychiatric mental health.
"I really loved being a public defender, and it was a lot of the issues that I care the most about represented in the criminal system," Warr said. "Part of my caseload was working on mental health and substance use cases in civil courts and criminal courts. I was on the psychiatric unit a lot, which made me think about becoming a nurse practitioner in psychiatric mental health."
Upon her completion of the 2.5 year program at Columbia University, Warr hopes to start restorative justice practices as alternatives to incarceration. She hopes to establish Yakima, Washington as one of many places around the country turning to restorative justice as an alternative to prosecution and possible imprisonment.
Warr – who is a Washington native – has a special connection to the city of Yakima. She was born there and has family that still live there. She grew up nearby in Puyallup.
"There are some places doing restorative justice practices in New York and in Washington, D.C., but I don't know if there are any in Yakima," she said. "If I could start them in Yakima, I would. I feel like I know I can dedicate my time there."
Warr earned an undergraduate degree in sociology from Seattle Pacific University in 2009. While in college, Warr sparked a passion for public service and advocacy.
"I came out as a lesbian when I was in undergrad. I was at a university that was not very accepting of that," Warr said. "A small group of us came out during our time there, banded together and created our own group that the campus would not approve of. I feel like that impacted my desire to be an advocate going forward."
A few years after undergrad, Warr decided to pursue a law degree at KU because, "it felt like a place where I could get really good experience in areas that I wanted to work in." While at KU Law, Warr was the president of Law Students for Reproductive Justice. She was also president of OUTLaws & Allies, a student organization for LGBTQ students and their allies that seeks to educate the community at large about the issues and concerns specific to the LGBTQ community.
"There were multiple things that I knew I was interested in doing as an attorney around reproductive justice and LGBTQ rights," Warr said. "I felt like Kansas was really an epicenter of some of the things that were going on in this country, especially at that time in reproductive rights."
From the KU Law faculty and administration, Warr cultivated her interest and love of public interest law. "The faculty and staff at KU made all the difference," she said.
Professor Emeritus Sandra McKenzie, who retired in 2015, was a dedicated and highly regarded teacher. Warr said McKenzie was known for her accessibility to students and open-door policy.
"She was a big advocate for OUTLaws & Allies and always had us over for Thanksgiving. She showed us how to be an advocate, whether you're practicing in public interest or not," Warr said. "She was wonderful and very supportive."
Assistant Dean for Academic and Student Affairs Leah Terranova was also impactful to Warr's time in Green Hall.
"Leah was a really big public interest advocate. She tried to help me navigate finding internships and connected me with people," Warr said. "She was very helpful and got me to think outside the box."
— By Ashley Golledge