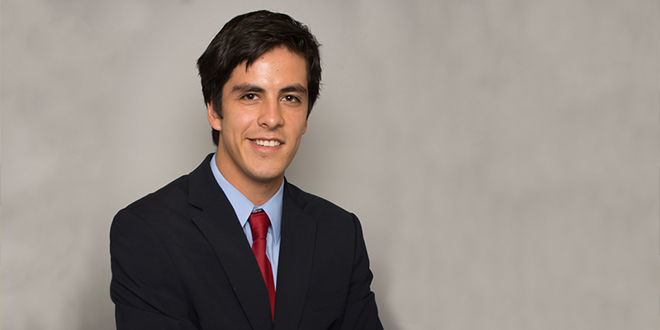 Arturo Garcia has many reasons to be passionate about immigration law, and he plans to utilize his law degree to help immigrants.
"As a dual citizen of Mexico and the United States, a border-town native and a son of two immigrants, immigration has always been a part of my life," Garcia said.
Garcia graduated from the University of Kansas School of Law in May 2018 and took the bar exam in July. He will soon start his new role as an associate attorney at Escamilla & Poneck LLP in San Antonio, Texas, focusing on business immigration law.
"I hope to better assist members of the immigrant community in obtaining or maintaining their legal status within the United States by serving as an effective counsel and leader in the San Antonio immigrant community," Garcia said.
Garcia said he is most looking forward to helping immigrants stay in the United States and pursue the American dream.
"My work will allow immigrant families to stay together and prosper within the country," Garcia said. "It will give me great satisfaction to know that I was a part of that."
He anticipates that his job will be challenging because he will be monitoring constant changes in immigration law. He also acknowledged that it will be trying to accept that not all of his cases will yield positive results.
Garcia said many immigrants from the Northern Triangle of Central America are arriving at the southern border through Texas, trying to gain lawful status in various ways.
"With this influx, there is a greater demand and need for immigration lawyers to be serving this population," Garcia said. "Therefore, I intend to be an asset to alleviate this issue."
Garcia is originally from El Paso, Texas. He received undergraduate degrees in government and sociology from the University of the Incarnate Word. He chose to go to law school in Kansas to get out of his comfort zone and move to a place where he did not know anyone. His favorite part about KU Law was the companionship among students.
"Whether it was hanging out at one of the law school social events or in the informal commons before class, I learned from and enjoyed interacting with these people," Garcia said. "I am confident that our friendship will persist in future years."
Garcia is thankful for the time he spent at KU Law and said the experience pushed him to lengths he did not think he could reach.
"Throughout the past three years, I learned more than I learned in my entire undergraduate career," Garcia said. "Additionally, KU Law has taught me to be a better writer and researcher, which prepared me for my previous summer jobs and externships and will certainly prepare me for my upcoming job."
— By Ashley Hocking
This post is the fifth in a series highlighting the diverse internships and jobs KU Law students and recent graduates are engaged in over the summer and early in their careers. Check out earlier posts from this series about Omar Husain, James Hampton, Malika Baker and Lindsay Strong.