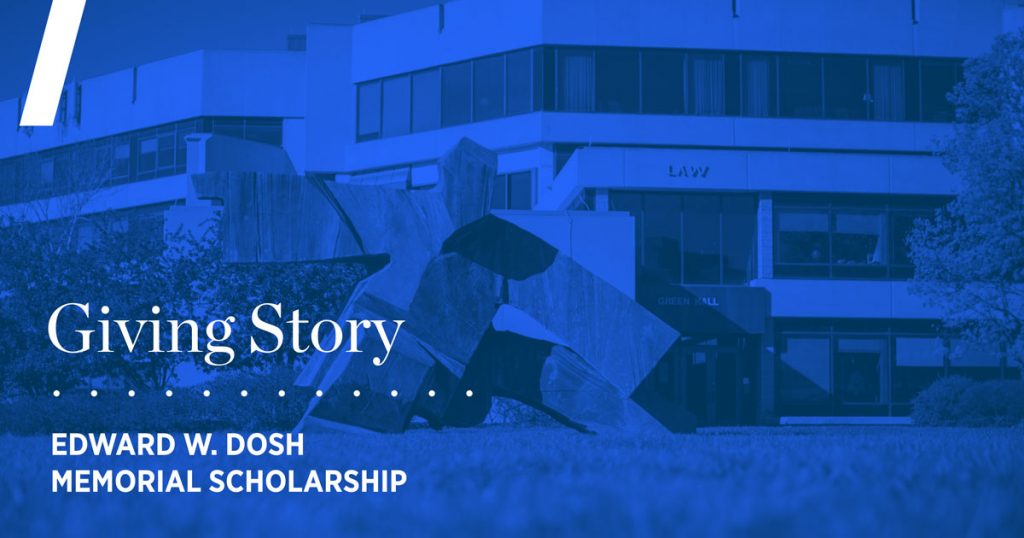 A new scholarship at the University of Kansas School of Law will support future students while honoring the memory of a KU Law alumnus. The Edward W. Dosh Memorial Scholarship is intended to support students from Kansas, particularly from Labette County and the southeastern part of the state, or graduates of Luther College in Decorah, Iowa.
The scholarship honors the late Edward W. "Ed" Dosh, L'77. Dosh was a longtime attorney in Parsons, Kansas. He started his legal career in the Labette County Attorney's Office before opening the Law Office of Edward W. Dosh in 1979.
Dosh served as the city attorney for Chetopa, Kansas for several decades. He was active in the Kansas Bar Association and other legal organizations, including the Kansas Association of Criminal Defense Attorneys, where he was a founding member.
Helen R. Rice, Dosh's significant other and longtime companion, established the scholarship with a financial gift to KU Endowment. Rice said southeastern Kansas was an adopted hometown for Dosh, who was originally from Minnesota. Dosh completed his undergraduate degree at Luther College.
Describing Dosh as "a character" who everyone knew, Rice recalled that the Labette County Courthouse closed on the day of Dosh's memorial to allow county judges and many court employees to attend the service.
— By Margaret Hair