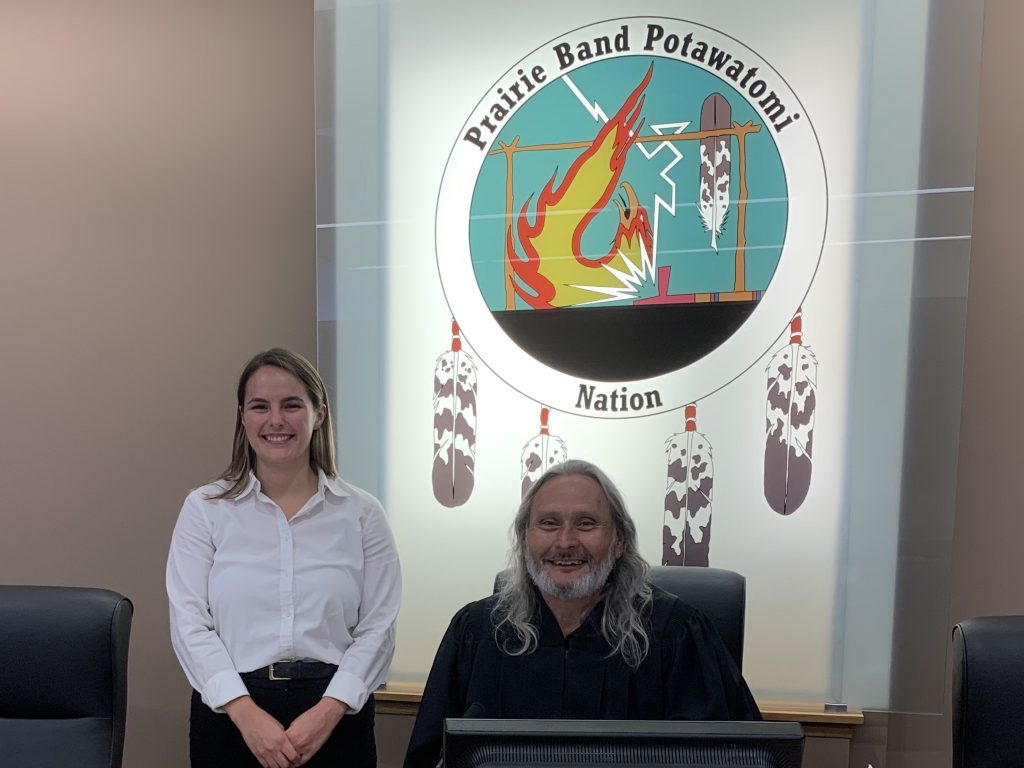 Second-year law student Aidan Graybill plans to utilize her legal education to practice tribal law. Graybill is a member of the Wyandot Nation of Kansas, which is based in Kansas City, Kansas.
This summer, Graybill is an intern for the Prairie Band Potawatomi Nation's tribal prosecutor in Mayetta, Kansas. The Prairie Band Potawatomi Nation is one of four federally recognized Indian tribes in Kansas, along with the Iowa Tribe of Kansas and Nebraska; the Kickapoo Tribe of Indians in Kansas; and the Sac and Fox Nation of Missouri in Kansas and Nebraska.
"There is no greater privilege than being able to interact with and work for the interests of a tribe, as it's important to learn the values and objectives of the community directly from them to best represent them as a sovereign nation," Graybill said.
Graybill is earning academic credit for her internship through the school's Criminal Prosecution Field Placement Program.
"I think that working in a field placement is absolutely indispensable experience, especially when working with tribal communities," Graybill said.
As a summer intern, Graybill helps the tribal prosecutor by researching legal matters, observing court cases, taking notes at hearings and drafting journal entries about court cases. Her favorite part of the internship is the opportunity to interact with the judge, court administration and attorneys in the courtroom.
"Everyone is always so kind. The Nation, with few extreme exceptions in criminal matters, always has the individual's best interest at heart," Graybill said. "They are always viewed as integral members of the community that have something to contribute to the Nation despite the hardships that landed them in the courtroom."
Graybill said that working with a tribal government has given her a unique courtroom experience that she would not have gotten otherwise.
"In order to work for a tribal nation as a prosecutor, but really in any capacity, you have to understand, respect, and be invested in what is most important to the community," Graybill said. "If you don't do that, you simply won't be able to represent the community in the appropriate manner of furthering tribal sovereignty and self-determination."
Graybill — who is originally from Scottsdale, Arizona — is a third-generation Jayhawk. Her grandfather, Harry Owen Ogg, graduated from KU in 1957. Her mother, Jolie Ogg Graybill, graduated in 1987.
After studying anthropology, biology and political science at the University of Nebraska-Lincoln for her undergraduate studies, Graybill was drawn to KU Law for many reasons. She elected to pursue a legal degree in the sunflower state because of her familial ties to KU, the proximity to her Kansas City-based tribe and the law school's Tribal Law and Government program.
At KU, Graybill is enrolled in a joint-degree program. In May 2021, Graybill will graduate with a J.D. from the University of Kansas School of Law and a M.A. in Indigenous studies from KU's College of Liberal Arts and Sciences. She also plans to earn the Tribal Law Certificate before she graduates.
"KU offers an awesome program that allows you to earn both degrees in three years, so I figured I may as well do it!" Graybill said.
She is the president of the Mindfulness in Law Society, vice president of the Native American Law Students Association and treasurer for Women in Law. During her first year of law school, she also attended meetings for the American Constitution Society, Black Law Students Association, and OUTlaws and Allies.
Graybill will also serve on the Dean's Diversity Leadership Council during the upcoming academic year.
"This is an opportunity which I am really grateful for," Graybill said. "I hope we will make positive changes in student experiences within the law school and be able provide opportunities for prospective students as well."
For the remainder of her time at Green Hall, Graybill looks forward to being involved with multiple student organizations, becoming more confident in her research and writing skills and gaining more legal experience through summer internships.
— By Ashley Golledge
This post is the eighth in a series highlighting the diverse internships and jobs KU Law students and recent graduates are engaged in over the summer of 2019 and early in their careers. Check out earlier posts from this series about David Biegel, Samantha Natera, Mohammad Hameed, Ellen Bertels, Delaney Hiegert, Jackson Ely and Claudia Chavarria.