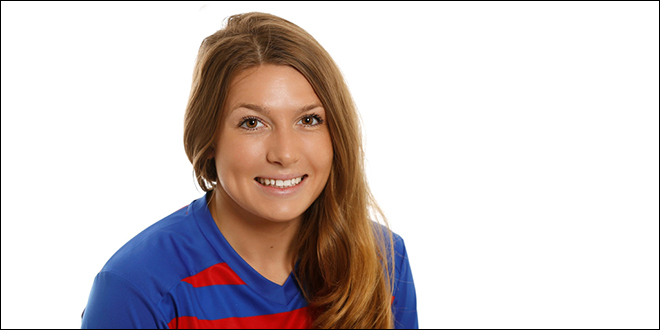 Caroline Kastor is a woman who wears many hats.
She is an aspiring legal professional, a former professional soccer player, an academic, a wife and a mom.
Kastor is working towards the trifecta of higher education at the University of Kansas. She already has an undergraduate and a graduate degree from KU under her belt. In a few years, Kastor will have her third degree — this time in law.
"KU Law is so reputable and well-loved that deciding to apply was a no-brainer," Kastor said.
A second-year law student and Wichita native, Kastor spent the summer doing legal research as a law clerk at Stevens & Brand LLP in Lawrence.
"I was able to work on a variety of projects for different attorneys at the firm and learned a ton because of the array of projects that were assigned," she said. "I was also given opportunities for hands-on experience, like the option to attend client meetings or sit in on client phone calls. It was invaluable."
Kastor said she gained a better understanding of the practical side of law, learned about the workings of a firm and created valuable relationships with attorneys and staff through her position at Stevens & Brand. The most rewarding part of her role was helping solve problems that arose.
"Being able to find answers that can help a client and really feeling like you made a difference — especially when there is an observable outcome of the work you contributed on someone's behalf," Kastor said.
In addition to her work at the law firm this summer, Kastor is also very involved with Kansas Athletics. During her first year of law school, she balanced her classes with a position as a graduate assistant for the women's soccer team. Kastor's history as a student athlete at KU and a professional soccer player for the FC Kansas City Blues made her an excellent candidate to work with the athletics department. She enjoys helping student athletes and making a positive impact on the soccer program.
"I know from experience how hard it can be to balance both school and sports," Kastor said.
Shortly after finishing her summer clerkship at Stevens & Brand, Kastor gave birth to a baby boy. Kastor anticipates that balancing law school and a newborn will be challenging, but she has a great support system.
"I imagine the advice 'sleep when they sleep' will be more like 'read when they sleep' for a law student," Kastor joked. "Luckily, I have great immediate support from my amazing husband and two stepdaughters — as well as great support from the community at the law school and where I work."
For the remainder of her time in law school, Kastor plans to continue working at Kansas Athletics and searching for opportunities to get more legal experience. She is also exploring her interests in the fields of estate planning, elder law and family law.
Kastor hopes to one day practice law in an area that makes a difference as well as energizes and excites her.
— By Ashley Hocking 
This post is the tenth in a series highlighting the diverse internships and jobs KU Law students and recent graduates were engaged in over the summer and early in their careers. Check out earlier posts from this series about Omar Husain, James Hampton, Malika Baker, Lindsay Strong, Arturo Garcia, Jessie Pringle, Madeline Heeren, Miranda Luster and Becky Howlett.