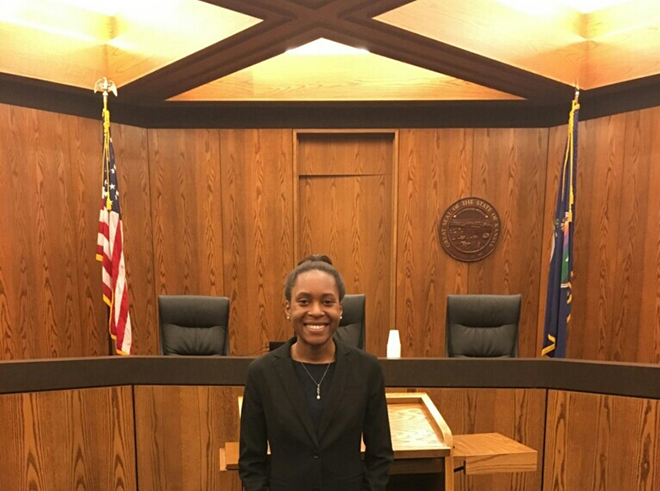 Deciding where to attend law school was an easy choice for Malika Baker. After earning her undergraduate degree at the University of Kansas, she decided to continue her education at KU because of the Jayhawk community.
"I ran cross country and track and field at KU as an undergraduate student, and I really embraced the tight-knit Lawrence community," Baker said. "No matter where I travel across the country, people always recognize the Jayhawk and that resonated with me. I wanted to continue my education at a place where I felt a connection to the institution and network."
As the daughter of a retired Army officer, Baker moved around a lot as a child but considers Lansing her hometown. Baker is a second-year law student, and she is involved in Women in Law and the Black Law Students Association.
"I am grateful to be a member of both organizations because each has strong ties to the community and unique ways of bringing law students together," Baker said.
Starting this fall, she will also join members of the Dean's Diversity Leadership Council to promote diversity and inclusion within the KU Law community.
This summer, she is serving as an intern for Judge Steve Leben at the Kansas Court of Appeals as part of the school's Judicial Field Placement Program.
"It has been very rewarding to work with such experienced and insightful people every day," Baker said. "Judge Leben and all of the judges that I have met at the Kansas Court of Appeals share great insight on being a focused and dedicated lawyer."
Baker was given the opportunity to work in Judge Leben's chambers after meeting one of his law clerks at the Legal Careers with Government Agencies Fair at KU Law.
At her internship, Baker conducts legal research and writes memoranda. She is currently working on a prehearing bench memo for a three-judge panel that will include a case summary, facts, deep-issue statements, analysis and a recommendation for the ruling.
"The most rewarding part of my job is being able to foster my research and writing skills while working on real cases," Baker said.
Baker said the most challenging part of her job is ensuring that her analysis is thorough and that she is providing judges with the most accurate case law to help them make informed decisions.
The best advice she has received at her internship? To explore any area of law that she is interested in while in law school.
"I found this to be great advice because I believe that using this time to explore my interests will provide for a fulfilling law career in the future," Baker said.
Through her internship, Baker has figured out what she would like to do with her law degree.
"After working closely with Judge Leben's law clerks, I am interested in possibly clerking for a judge after law school," Baker said. "I am excited to explore this option more and other opportunities to best serve the community."
— By Ashley Hocking
This post is the third in a series highlighting the diverse internships and jobs KU Law students and recent graduates are engaged in over the summer and early in their careers. Check out earlier posts from this series about Omar Husain and James Hampton.