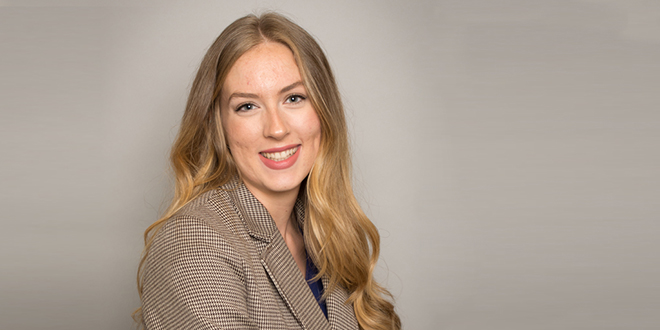 This summer was a balancing act for 3L Miranda Luster.
From Monday through Wednesday, she was a legal intern at the Shawnee County Public Defender's Office and the Capital Appeals and Conflicts Office in Topeka.
On Thursdays and Fridays, she interned for solo practitioner Betsy Mellor in Kansas City, Kansas. Mellor, L'97, practices family, criminal and municipal law in Kansas and Missouri.
At the Public Defender's Office, Luster wrote motions and did jail intakes. She went to the jail to meet with clients and record their basic information, including health history and whether they are able to make bond.
Through this position, she found the most reward in helping others.
"I know public defenders get a bad rap, but this job is really important," Luster said. "We help people who don't have the money to hire an attorney get through a complicated legal system and come out with a result that's best for rehabilitating the client and the community."
At her internship with Mellor, she attended court, researched nuanced areas of law, attended client meetings, wrote notices of hearing and appeared in court, if necessary.
"I'm helping people through the complicated court process during a time in their life that's normally quite a low point," Luster said.
Through both of her positions, her goal was to gain confidence in her abilities and become comfortable in court.
"I can learn how to write a motion or research at school, but getting comfortable with the real-world practice can only occur outside of school," she said.
The most challenging part of each of her positions was time management.
"I'm still very new to this field, so I don't always understand how long something will take," Luster said. "As I gain more skills, I will be able to help more clients more quickly. But in the meantime, learning that balance has been important but difficult — and often frustrating — when I unknowingly take on too much."
Luster is originally from Stillwater, Oklahoma. She stayed in her hometown to earn undergraduate degrees in political science and French from Oklahoma State University.
During her junior year of college, she visited Lawrence with a group of friends and fell in love with the community. She sat in on Professor Stephen McAllister's Torts class.
"I can honestly say that when I walked out of the doors of the law school, I knew in my bones KU was where I was supposed to go," Luster said. "It probably sounds cheesy, but I believe that what is meant to be will happen."
Luster was so confident in her decision to go to KU Law that she did not apply to any other law schools.
"I knew KU was where I was meant to be," she said. "So I rolled the dice and it worked out just fine."
At KU Law, Luster is a Dean's Fellow, the staff articles editor for the Kansas Journal of Law & Public Policy and a student member of the Academic Affairs Committee. She also serves as chief justice of the Student Senate Court of Appeals and is a member of both the Student Conduct and the Sexual Harassment hearing panels run through the Student Affairs office.
Luster hopes to use the experience and knowledge she gained from her internships and extracurricular involvement to launch her career.
"My goal is to join a state public defender's office in Kansas or Missouri, so I can continue fighting the good fight," she said.
 — By Ashley Hocking 
This post is the eighth in a series highlighting the diverse internships and jobs KU Law students and recent graduates were engaged in over the summer and early in their careers. Check out earlier posts from this series about Omar Husain, James Hampton, Malika Baker, Lindsay Strong, Arturo Garcia, Jessie Pringle and Madeline Heeren.