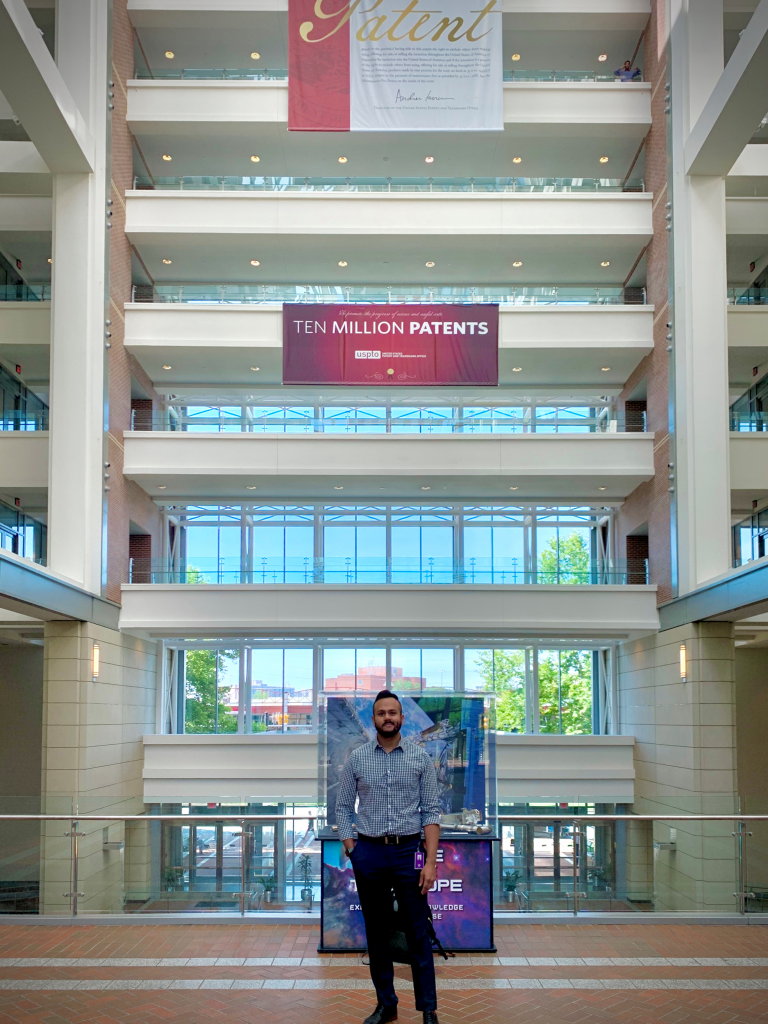 When applying for summer internships, second-year law student Mohammad Hameed looked for a position that would enable him to gain a solid understanding of the foundations of intellectual property and gear his legal education toward patent law.
He saw a job posting on USAJOBS.gov to work at the United States Patent and Trademark Office (USPTO) and followed the selection procedure. Hameed is a summer intern at the USPTO in Alexandria, Virginia.
"I figured there's no better place to understand patents than the place that grants them, the Patent and Trademark Office," Hameed said.
Hameed was born in Kuwait, but moved to the U.S. as an infant. He has lived in Olathe since he was 7 years old. He earned an undergraduate degree in electrical engineering from the University of Kansas in 2017.
He decided to pursue a law degree from the University of Kansas School of Law because of the school's "well-rounded student body and the expansive IP coursework available."
Last year, Hameed was the 1L representative for the Student Intellectual Property Law Association, an IP research assistant for Professor Andrew Torrance and a member of KU's Muslim Student Association. He will be the vice president for the Asian Law Student Association and secretary for KU's Muslim Student Association during the upcoming school year.
At his USPTO internship, Hameed examines patents directly related to his engineering background under the supervision of patent examiners. He also attends Patent Trial and Appeal Board trials.
"I like IP because it directly relates to my engineering background, and this puts me at the forefront of legal and technological innovation," Hameed said.
He has also learned some valuable life lessons at his internship. Hameed said the best piece of advice he has received is to explore a variety of topics you're interested in instead of becoming hyperspecialized in one field.
He enjoys the challenge of learning new facets of intellectual property law at his internship.
"The hardest part is learning the rules of patentability and what qualifies a patent's acceptance, rejection or further hearing," he said. "As with anything however, understanding the law gets a lot easier with practice!"
Hameed's internship has solidified his intent to become an IP attorney. Within the next year, he hopes to decide which subset of IP law he'd like to specialize in.
"I'm getting valuable knowledge related to IP law that is guaranteed to help me in the future as an IP attorney," he said. "I've also met some high-ranking officials including the Under Secretary of Commerce for Intellectual Property."
Intellectual property law is an ever-evolving field of law, and Hameed is intrigued to see where it will take him.
"Though several fields of law have seen shifts, IP law has seen drastic changes within just the last few years alone," he said. "This trend will continue with new technology."
— By Ashley Golledge
This post is the third in a series highlighting the diverse internships and jobs KU Law students and recent graduates are engaged in over the summer of 2019 and early in their careers. Check out earlier posts from this series about David Biegel and Samantha Natera.