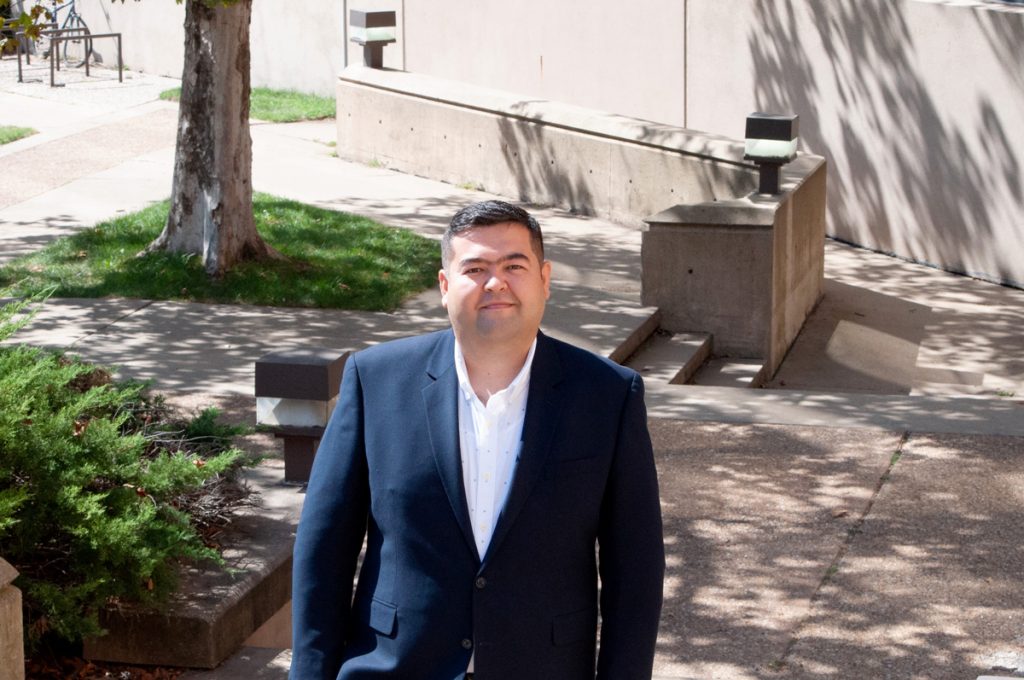 Five questions with Sardorbek Yusupov, Visiting Scholar from Uzbekistan
Sardorbek Yusupov, a legal scholar and law professor from Tashkent, Uzbekistan, is a visiting scholar at the University of Kansas School of Law for the fall 2021 semester.
Yusupov serves as an associate professor and head in the Department of Administrative and Financial Law at the Tashkent State University of Law, located in Tashkent, Uzbekistan. At Tashkent State University of Law, he currently teaches courses such as Administrative Law, Constitutional Law, Financial Law, and Soft Skills for Lawyers.
Yusupov is participating in KU Law's overseas visiting scholars program as a fellow in the Faculty Enrichment Program administered by the American Councils for International Education.
Why did you choose to study at KU Law? How did you learn about our program and establish contact?
First of all, I am very happy and excited to be studying at the KU School of Law.
I am very happy that the teachers and administration staff of the university are helping me. I thank the American Councils for International Education for helping me with this process. The reason is that I won a grant by participating in my own project under the Faculty Enrichment Program announced by the American Councils. As a result, I had the opportunity to study at this university.
I am here to further develop my professional potential and learn about the management style of teachers, their teaching, organization of trainings, methods of student assessment, observation of simulation lessons, how to analyze the judicial process among students, and the activities of the legal clinic. I want to study how it is organized and basically how the university operates in a self-financing system and collect information about the process of raising and distributing funds.
What are your professional goals for your time at KU Law? What will be your next career step after your time here?
Through this, I want to publish an article and continue my work using the experience I have gained at my university when I return to my homeland. The reason is that the university is one of the universities that has moved us to a self-financing system. However, this field is still new in our country. So, I want to put this area, the experience I gained through KU and the KU School of Law, into practice.
How does the academic and research environment at KU Law differ from your home institution?
Most of the academic and research situations at the KU School of Law are similar to my university. Both universities have created adequate facilities. However, one of the main differences at KU is the abundance of scientific work resources, their sufficiency, and abilities to help the researcher through the library, the ability to quickly find the literature you want. I think for me, such situations will be an experience to develop scientific research as well at my 30-year-old university, which celebrates its foundation in one month with the Independence Day of my lovely country.
What are your favorite things about Lawrence? What about your home do you miss most?
I liked Lawrence very much because it has very beautiful, spectacular views. There are also several opportunities for everyone and for students. I especially liked the suitable transportation system on campus, which serves to transport students to different places. The parks in Lawrence are of particular importance. I really liked taking the opportunity to go there. It has a peaceful atmosphere for reading a book and meeting friendly, generous people.
Everything is enough here. But I miss my family, my children so much. It is bothering me without them. Yes, of course, the next one is my motherland.
What advice would you offer to scholars who want to do research abroad?
Firstly, I would advise other researchers to learn foreign languages and get a good understanding of the cultures and customs of the countries which they want to study. They must clearly define their purpose and their plans of research and gather necessary information about it. I would ask them to be able to share their scientific research with others in the future. I would also ask them to never stop researching and striving.