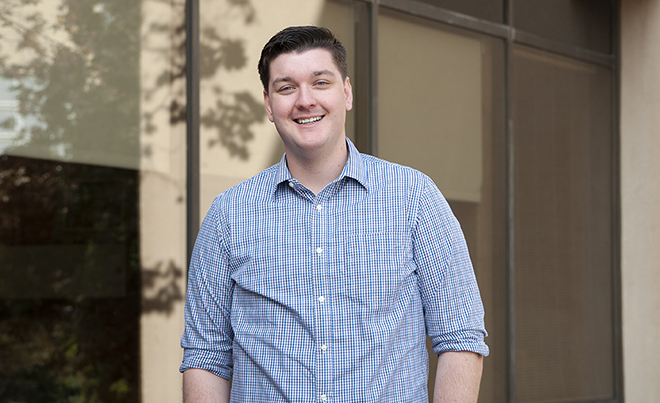 When Ethan Brown touts the KU Law community, he speaks from experience
After graduating from the University of Kansas School of Law in 2017, Ethan Brown clerked for Chief Justice Lawton Nuss of the Kansas Supreme Court. Eighteen months later, he's back in Green Hall – this time as KU Law's Assistant Director for Recruiting. Brown hit the road right away to meet future Jayhawk lawyers. But he recently carved out time between trips to chat about his own path to law school, his favorite thing about Lawrence and why he's excited to be KU Law's newest recruiter.
Q: Tell me a little bit about yourself.
A: I went to undergrad at Northern State University in Aberdeen, South Dakota. My undergraduate degrees are biology and environmental science. I also had minors in chemistry and geography because I just really love science. I grew up mostly in Texas. We moved around a lot. My dad was in the Air Force. The joke with my small section in law school was that we couldn't figure out where my domicile was because my parents sold our house and RV full-time, so that's why I say mostly from Texas.
Q: Why did you decide to go to law school?
A: I thought I was going to be a veterinarian until I interned with a vet for a year and a half. After I decided that wasn't the career path I wanted, I frantically started trying to figure out what I was going to do. I had a biology professor talk to me about the possibility of going to law school. Ultimately, after researching it, I decided I wanted to go to law school for the academic challenge more than anything. It had not been on my radar at all. The more I learned about how it was so different from other types of education, the more I realized I needed that.
Q: Why did you pick KU Law?
A: I applied to KU partly because I had no idea where I wanted to end up. I wasn't particularly a Jayhawk fan when I first started looking for law schools, but I had heard of them. Everyone knows what a Jayhawk is. The more I started researching, I found that there is such a strong alumni base that is fanatic about their school. Jayhawks love other Jayhawks. I felt confident, especially with the alumni network, that I could make the connections to go wherever I wanted to go. Ironically, I ended up staying in Kansas.
Q: Catch me up on the past year of your life.
A: I clerked for Chief Justice Lawton Nuss of the Kansas Supreme Court. He was an incredible mentor. There are actually quite a few KU grads at the Kansas Supreme Court. I joked while I was there that I took the positon that was the closest thing to still being in law school. I was a research attorney. I did research and writing, the same way you do in law school but with a higher intensity. I turn in work, and it's reviewed by seven Supreme Court justices.
Q: What is your role at KU Law, and what do you do in that role?
A: I'm Assistant Director for Recruiting. My main role is to travel to all of our different recruiting events and talk to students who are interested in both law school generally and more specifically KU Law. Luckily, I can share the perspective about what it's like at KU Law. I also do some application review once students start applying, and I'm on the Admissions Committee and the Scholarship Committee.
Q: What aspect of your role are you looking forward to the most?
A: My goal, especially for the first year, is to try to figure out how I can contribute to the program that gave me so much while also still improving myself and Green Hall. I'm definitely looking forward to traveling and getting to meet and talk to people. I loved clerking. It was such a good experience. If I hadn't been on a limited term, I could have seen myself staying there for a while. But I think it's good that I was on a limited term because I definitely missed people. At the core of all of your cases are issues impacting specific people. But you don't get face time, like you might at a firm. I missed that.
Q: What do you like most about KU Law?
A: This is pretty cliché, but it's the community. That's what drew me in. I had a lot of good options when I was deciding on law schools. I chose KU because of the tour that I had and the community that I could see immediately, both with the students and the professors. I think that's something unique that we do. We maintain a competitive environment that prepares you for practice and for the nature of work in the legal field. It's competitive, but it's a healthy competition. You can always find support.
Q: What is your favorite thing to do in Lawrence?
A: I like all of the parks in Lawrence. My background is environmental science. I worked in state national parks as a naturalist up in the Black Hills of South Dakota. I love that there are so many hidden green spaces all around Lawrence, like the trails at Rock Chalk Park, the trail up by the Kansas River and the off-leash dog park. Lawrence is not what I expected Kansas to look like, and I'm very happy to be here.
Q: What book did you read last?
A: "Hillbilly Elegy: A Memoir of a Family and Culture in Crisis," by J. D. Vance. It's a fantastic book. I highly recommend it.
Q: People would be surprised if they knew:
A: I'm ordained to do weddings. I performed the marriage of one of my law school classmates and his wife. My first official planned wedding was two of the interns I worked with in 2013 at a wildlife rehabilitation facility. They met there. I think they asked me because they thought lawyers could do it just by the nature of being lawyers. That's judges. I got ordained online. I have two more weddings coming up within the next year, and I'm expecting a third. I enjoy doing it for fun.
Q: Before working at KU Law, did you have any unusual or interesting jobs?
A: That was actually an ongoing joke in my small section. I've had every job. I've worked since I was 16, as soon as I was old enough in Texas. I did a whole range of things. As a teenager, I worked in a coffee shop, a shipping store and Old Navy. During undergrad, I worked in a factory — 3M — in their tape department, worked in a hospital, interned at a veterinarian's office, was a naturalist in Custer State Park in South Dakota and did wildlife rehabilitation.
— By Ashley Hocking