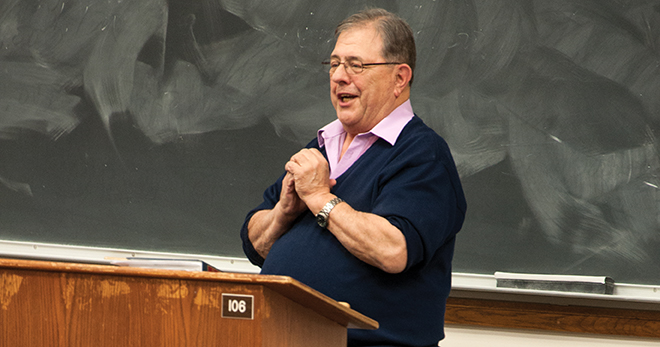 Professor Bill Westerbeke has a straightforward reason for giving to KU Law: "The school and its students have been good to me," he said. "I should pay it back."
He followed that philosophy while teaching in Green Hall, contributing more than $57,000 over his 43-year career. A year after retiring from the classroom, he's still going strong. Westerbeke has pledged $30,000 to create the William Westerbeke Scholarship at KU Law.
Known for his accessibility to students, Westerbeke won a number of teaching and mentoring awards at KU, including the law school's Moreau Award for Student Counseling in 1987 and the university's Kemper Fellowship for Teaching Excellence in 2006.
His legacy lives on in the many careers he helped launch, the countless golf games he improved, and the dry wit and sharp humor that made his students and colleagues smile. He's happy to extend that legacy with scholarship support for future Jayhawk lawyers.
"Students are good people. They're fun," Westerbeke said. "They make you feel younger than you are."
To contribute to the fund in Professor Westerbeke's honor, follow the link below and designate "William Westerbeke Scholarship" in the "Other Purpose" field.