Mayor Quinton Lucas balances roles as law lecturer and Kansas City leader during pandemic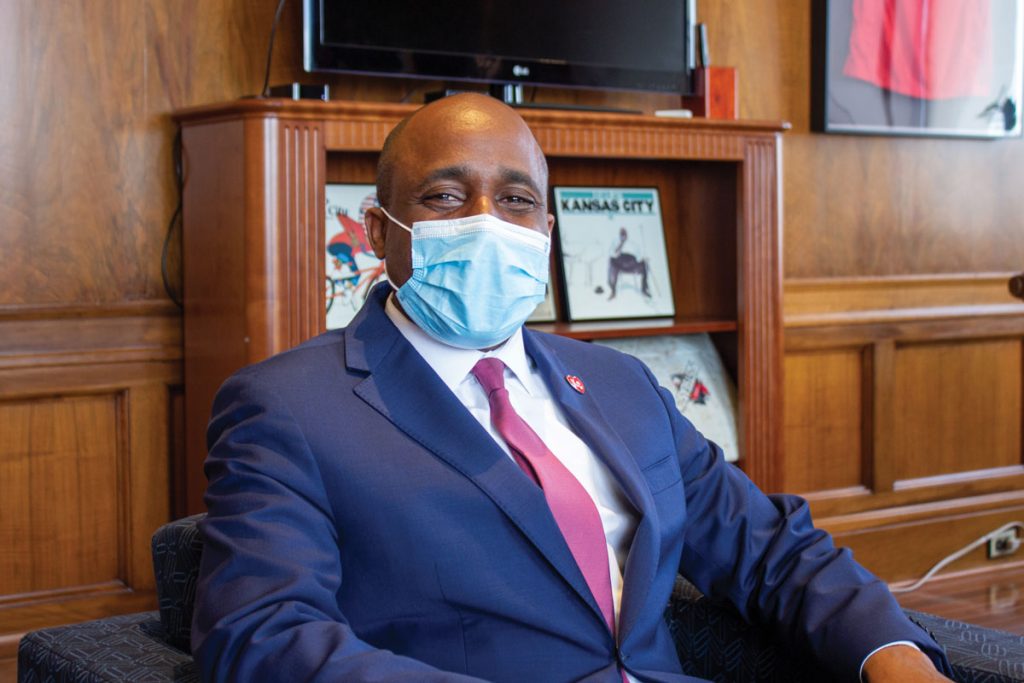 This spring, students at the University of Kansas School of Law had the unique opportunity to learn Local Government Law from the current mayor of a nearby metropolitan city. Quinton Lucas is the mayor of Kansas City, Missouri and a lecturer at KU Law. Lucas has served on the KU Law faculty since 2012.
"Getting to share your voice and your mission with people is one of the most amazing things you can ever do in life," Lucas said. "I get the double honor of doing it both as mayor of an outstanding city, but also as a KU Law professor."
Lucas' class shifted from meeting in-person to online in March, but continued to have important conversations about what actions governments were taking in both Kansas City and across the nation. Lucas and his law students discussed topics such as when it is appropriate to declare a state of emergency, how to implement a stay-at-home order and when to begin easing out of an order.
"The pandemic is such an urgent and relevant example of local government's responsibilities and limits during times of national crisis," Lucas said. "The concepts I wanted my students to understand became applicable in real-time, and I think the students enjoyed talking through what has become an unprecedented and chaotic time in our nation's history."
Lucas was sworn in as the 55th mayor of Kansas City on August 1, 2019. At 36, Lucas is the city's youngest mayor in more than a century. He is third Black mayor in the city's history after Sly James and Emanuel Cleaver. Before his tenure in city government, Lucas served at KU as one of the youngest tenure-track law professors in the country.
While a full-time faculty member at KU, Lucas taught Contracts, Securities Regulation and Federal Administrative Law. In his newer role as law lecturer, Lucas is still willing to assist KU Law students — both in the classroom and in the mayor's office. Third-year law student Conner Swanton worked on Lucas' campaign and has served as a policy fellow in Lucas' office for the past year.
Third-year law student Delaney Hiegert served as a policy fellow in Lucas' office last fall.
"I never imagined I would have had the opportunity to immerse myself in local government to this extent while in law school," Hiegert said. "I think that KU Law students are lucky to have the ability to pursue those experiences, both in Mayor Lucas' office and in his Local Government Law class. Having a KU lecturer hold a public office at this level helps to open students' eyes to the possibilities of public service work that they may not have known existed."
Lucas said he finds balance in his roles as mayor and law lecturer by bringing the same passion for community, change and progress to both City Hall and Green Hall.
"We are lucky to have Quinton continue his relationship with the KU law school even though his plate is very full. He is a great law school citizen who is dedicated to his students and their success," Dean Stephen Mazza said. "When he gets elected president, we'll just have him teach remotely."
Rising to the COVID-19 challenge
Eight months into his first year as mayor, Lucas rose to the challenge of leading a metropolitan city during a global pandemic.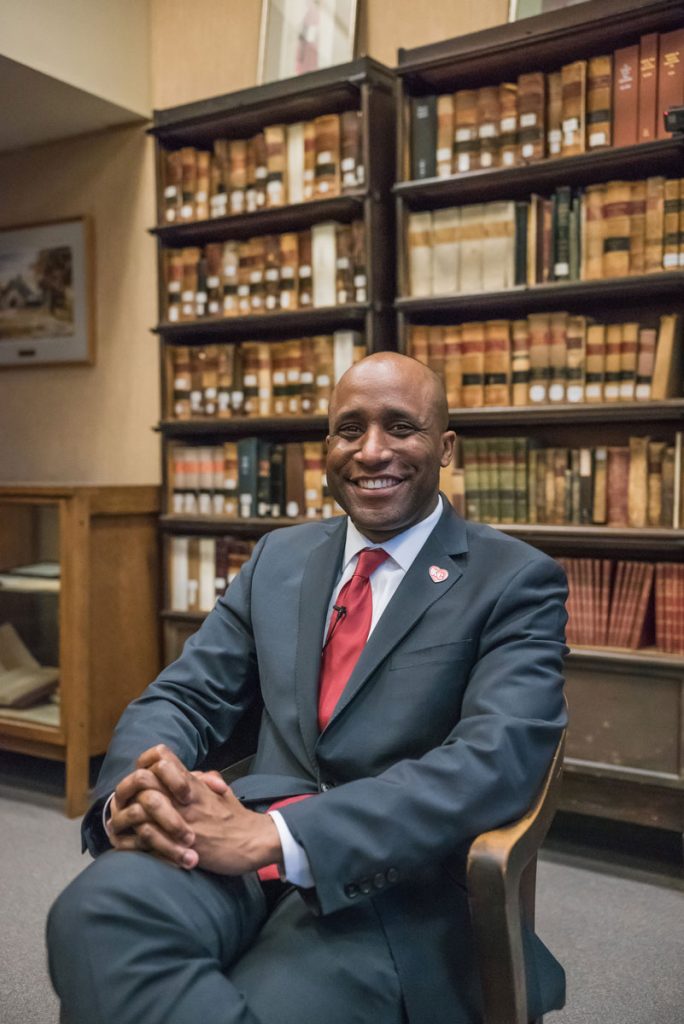 "My days changed from giving speeches in big ballrooms and meeting about development projects to meeting with first responders; looking at data; thinking about deaths; and trying to find ways to cure and solve violence in our community," Lucas said.
Lucas has done impactful work to protect the health and safety of Kansas City residents as well as to help stop the spread of COVID-19. He drafted a stay at home order that ended up being a model for the entire metropolitan area; wrote ordinances relating both to violent crime and COVID-19; and collaborated with federal, state and local government officials.
Lucas said he keeps his law students in mind when making big decisions, such as pandemic-related school closures and event cancellations.
"I thought about the changes my students at KU were having in their lives, and the impact that these sorts of decisions may make," Lucas said. "When I thought about events being canceled – which is something that we did – I thought about my KU Law students that might be engaged and planning a wedding, or my law students that want that joy of having a walk down the Hill with their parents."
He is optimistic about both KU and Kansas City's ability to navigate a global pandemic through adaptability and prioritization of public health.
"We'll all get through this. We have a resilient community in a resilient region," Lucas said. "We all know it's a tough time, but this country and KU have been through a lot before."
Kansas City roots
Lucas grew up on the east side of Kansas City. He rose from poverty and homelessness to become an Ivy League-educated lawyer and mayor leading a city of nearly 500,000 people.
Lucas said his background informs his work as mayor and understanding of the challenges that constituents face due to the pandemic.
"My job as mayor certainly became more demanding and urgent, but I decided that it was important to make time to have conversations with both my students and constituents about the power and limits of government," Lucas said.
He earned an A.B. from Washington University in 2006 and a J.D. from Cornell University in 2009. After law school, he served as a law clerk to the Hon. Duane Benton of the U.S. Court of Appeals for the Eighth Circuit.
Judge Benton encouraged Lucas to pursue public service in Lucas' home state of Missouri. Lucas worked in private practice for a few years and taught a Constitutional Law course at the Lansing Correctional Facility.
In 2012, he entered academia. He considers teaching to be, "in many ways my first love."
"Like any professor who has come to KU Law, you get bit by that bug of education, academia, learning, and service to the people of Kansas and to our broader community in this region," Lucas said. "I've enjoyed being part of it ever since."
During his time as mayor and beyond, Lucas said he plans to keep shaping the minds of Jayhawk lawyers.
"I've been very proud of KU, and I've been lucky to be a part of the KU Law community," Lucas said. "I'm 36 years old now. I hope I get to be 75 and walking into a KU classroom. I hope I have a chance to do this decades in the future."
— By Ashley Golledge
This story originally appeared in the fall 2020 issue of the KU Law magazine.