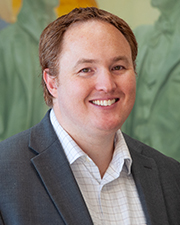 Patrick Perkins has joined the KU Law faculty as an associate professor. He is teaching Business Organizations this fall which he cites as a natural extension of his time as a practicing attorney.
"I used to meet with clients all the time to educate them on important legal aspects of business," said Perkins. "It's great to now be training students to be able to go out and do the same thing. I do so with an eye to teaching the students what I wish I had known before entering practice."
Teaching had always been at the back of Perkin's mind, but it wasn't his first career choice. After receiving his J.D. from the University of Michigan Law School in 2013, Perkins started his first job at a big law firm in Silicon Valley. Though his time working with small business owners and tech companies has shifted into a world of education, he continues to use what he learned in his scholarship.
"I spent the bulk of my time as an attorney representing entrepreneurs in early-stage companies," said Perkins. "I found that being in that sort of environment and working shoulder to shoulder with entrepreneurs and tech founders was really invigorating. I'm hoping to use my scholarship to continue my advocacy for small businesses and start-ups."
Prior to accepting the position at KU Law, Perkins was the Jeff and Cynthia Harris Clinical Fellow in the Entrepreneurial Business Law Clinic at The Ohio State University Moritz College of Law.
With the school year already well underway, Perkins is excited to be immersed in the KU and Lawrence environment.
"I've especially loved working with the students," said Perkins. "They've helped to make the transition from clinical work to teaching relatively easy. They're always eager to learn and laugh at my bad jokes at least some of the time. It's been a great transition thus far and I'm excited to see what else Lawrence has to offer."
–By Emma Herrman