Law professor also honored in '50 Kansans You Should Know'
A University of Kansas law professor will offer expertise on a variety of trade issues through the U.S. Speaker Program.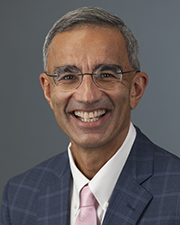 Raj Bhala, the Brenneisen Distinguished Professor at the KU School of Law, teaches international and comparative law courses, and is among the world's foremost authorities in international trade law. He was asked to join the program because of his scholarship, teaching and experience in areas including international trade law, Islamic law, and India, and on cross-cutting, vital issues of law and policy concerning China. His insights from his work at the KU School of Law in International Law and Literature also may help advance our nation's public diplomacy goals.
Sponsored by the U.S. Department of State Bureau of Educational and Cultural Affairs, the U.S. Speaker Program makes available distinguished expertise to overseas groups in partnership with American embassies around the world. As the U.S. Speaker Program's Fact Sheet indicates, the program "recruits dynamic American experts to engage international audiences on topics of strategic importance to the United States."
"It is a great honor, and very humbling, to be asked by the State Department to provide impactful presentations to key audiences around the world on some of the major issues of our time," Bhala said. "I look forward to this responsibility, serving as a two-way Ambassador between my fantastic students here at KU Law and those important audiences, and to gaining insights for my scholarly publications and sharing them overseas."
Presentations are both in-person and remote via tools such as Zoom, covering "topics of strategic importance to the United States," according to the program's fact sheet. Audiences include public and private sector officials, academics, students and the media.
The U.S. Speaker Program Department conducts approximately 650 programs annually consisting of workshops, lectures, seminars and consultations. These events not only help "share ideas and information," but also "build and sustain relationships with foreign audiences," according to the program description.
'50 Kansans You Should Know'
Raj was also recently honored as one of Ingram's Magazine's "50 Kansans You Should Know." Now in its 10th year, "50 Kansans You Should Know" recognizes Kansas area residents "for their over-sized contributions to business success, civic engagement, philanthropic zeal and shared interest in moving their communities forward."
Raj was recognized for a teaching style that "brings to his students a blend of insight, experience, rhetoric and oratory (laced with references to Shakespeare) that helps them break down barriers erected by cultures, religions, economic systems and political structures," according to the article.
Bhala joined the KU Law faculty in 2003. He teaches courses including Advanced International Trade Law, International Law and Literature, and Islamic Law (Sharī'a). Bhala is a senior advisor for Dentons U.S. LLP and writes a monthly "On Point" column for BloombergQuint (Mumbai). He is frequently asked by media outlets to share expertise on international trade law, with recent appearances in Fortune, PolitiFact, the Los Angeles Times and NPR's Marketplace.
In 2017, Ingram's Magazine selected his wife, Dr. Kara Tan Bhala, who earned her Ph.D. in philosophy at KU in 2009, as one of the "50 Kansans You Should Know," making Raj and Kara among the first KU Law couples to receive the award.
— By Margaret Hair