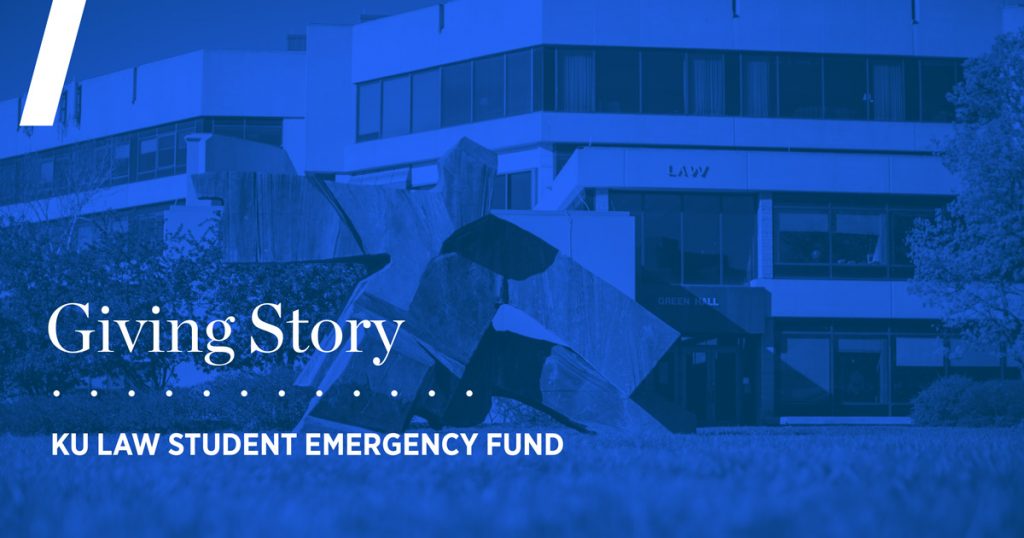 Jeff Stowell, L'01, and Carol Stowell have seen first-hand the strain some students have experienced during the COVID-19 pandemic. As Carol Stowell finished her nursing degree in December, she saw her younger student peers struggle to stay in school as they faced job loss, a sudden increased need for childcare, and other challenges.
"We were really motivated to try to increase the size and reach of the KU Law Student Emergency Fund by our observations of the sometimes quiet effects the pandemic was having on young people," Jeff Stowell said.
The Stowell family contributed a $25,000 matching gift to the Student Emergency Fund during this year's university-wide giving day, ONE DAY. ONE KU. In response to the Stowells' matching gift, 92 donors contributed $24,200 to the emergency fund in a 24-hour period.
The fund provides one-time grants to law students in need of emergency financial assistance, including covering costs such as counseling and mental health services. The grants do not need to be repaid. The Student Emergency Fund was made possible by support from the Janean Meigs Memorial Award in Law fund and its stewards.
Leah Terranova, assistant dean for academic and student affairs, said the fund provides a safety net for students who encounter a situation that could affect their ability to continue law school.
Since the fund was established in fall 2019, more than 30 emergency fund requests have been filled, providing more than $30,000 in financial support to students with emergency needs. Students have received grants to cover such unexpected expenses as car repairs, medical and dental bills, loss of income or family support related to COVID-19 or deaths in the family.
"We also use these funds to pay for counseling fees for students who may not otherwise be able to afford therapy. Ideally, we remove any financial barriers to students seeking mental health supports," Terranova said.
In addition to the Student Emergency Fund, KU Law has provided grocery store gift cards to students to help with food insecurity during the past year.
To Jeff Stowell, there's no question the COVID-19 pandemic made his family's decision to support the Student Emergency Fund timelier.
"But it probably shouldn't be that way," Stowell said. "It's becoming increasingly challenging for most students to be able to afford a quality education."
"A rapidly growing number of our students sit in pretty precarious financial positions where a simple wrong turn of a screw can force them to drop out. We should continue to pay attention to that," he said.
— By Margaret Hair