Rising 3L Kevin Salazar draws on Mock Trial, Traffic Court experience for work on real-world cases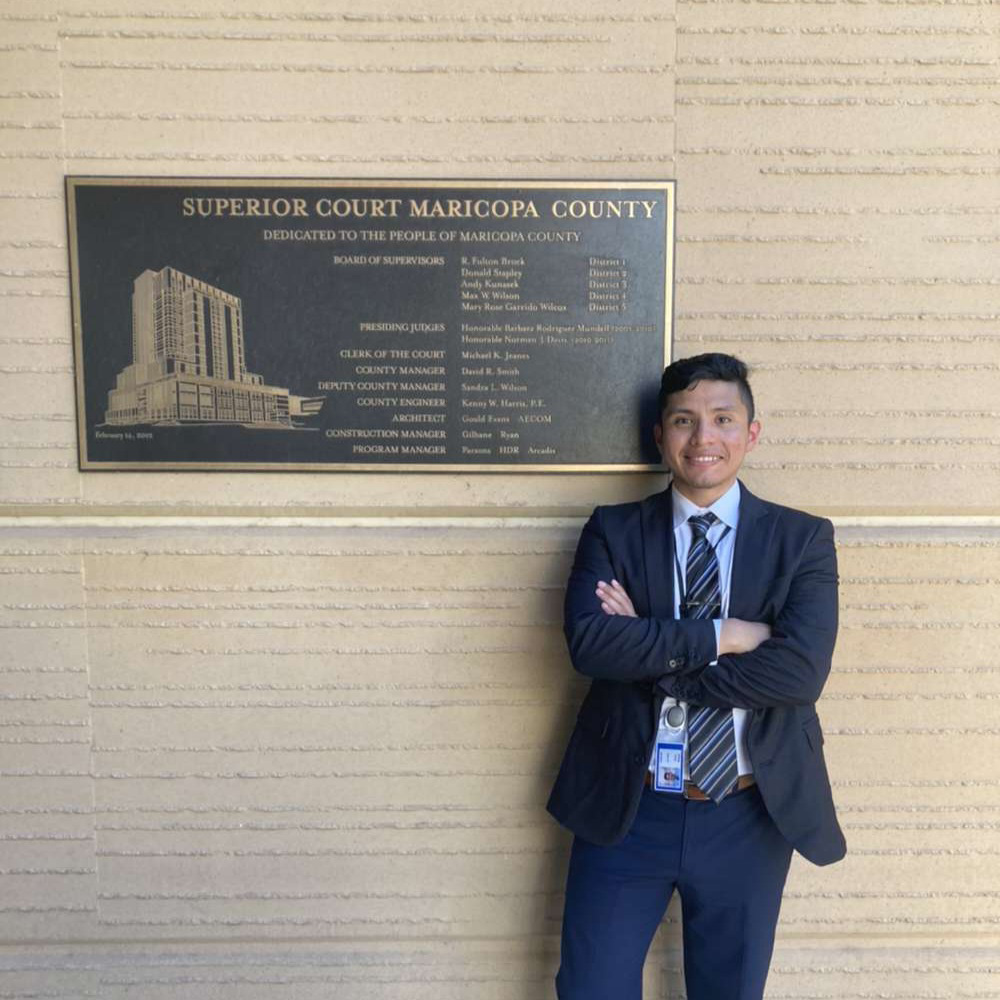 Kevin Salazar is a rising third-year law student at the University of Kansas School of Law. This summer, he is interning as a law clerk in the Maricopa County Attorney's Office. Salazar shared his experience working on a felony jury trial as a law student. By the end of the summer, he will have worked on three jury trials.
I was in a courtroom on the sixth floor of the Maricopa County Superior Courthouse. The judge called the case, the parties entered their appearances, and the jury entered the room. It was my 2L summer and I was about to give my opening statement in my first ever jury trial. I was excited and a little nervous about speaking with the jury. Questions like, "What are these jurors thinking and will they be receptive to what I have to say?" popped into my head.
Before the instant proceeding, a grand jury charged a man with two counts of aggravated driving under the influence, felony charges in Arizona. The accusations included the man almost hitting a pedestrian at a bus stop, crashing into a pole in a nearby parking lot, and having an already opened bottle of brandy in his hand when he opened his car door for responding officers. A toxicologist later calculated his retrograde blood alcohol concentration to be between 0.25 and 0.30 while driving the night of the incident.
Those series of events were why we were all in that courtroom that day. Despite the seriousness of the charges and facing several obstacles at trial, I had a wonderful experience trying that case. I attribute my positive experience to the foundations I built at KU Law. It was in programs like Mock Trial with Professors Alice Craig and Meredith Schnug, the Paul E. Wilson Project of Innocence with Professor Jean Phillips, and the KU Traffic Court that I gained the skills I needed at trial.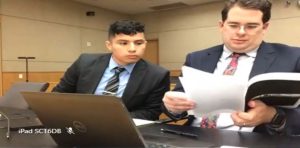 In preparing for trial, I familiarized myself with all the facts of the case. This included reading every filing, reading all reports, reviewing the case history, and even asking about the particular personality of the assigned judge. The Project for Innocence drilled this exercise into my head so that it was a matter of muscle memory. This helped me identify evidentiary issues like the defendant's statements after Miranda warnings, which we needed to redact or avoid discussion of at trial to present a fair case and avoid any chance of mistrial.
In preparing for direct of my officer witnesses, I thought about the proper way of asking those questions, how to admit our evidence through these witnesses, and anticipated possible incoming objections. When I competed in KU Mock Trial, Professor Craig made us regularly practice questioning witnesses, which made asking my real witnesses a lot easier. With this training, I was able to get testimony efficiently and enter crucial pieces of media like officer body-worn camera footage and crime scene photos into evidence. Mock Trial also helped me publish those exhibits to the jury in a way that better informed their decision.
In preparing for my opening statement, I thought critically about how to convey the narrative of the case to the jurors. My experience in Mock Trial and Traffic Court guided me through this process, too. In Traffic Court, I worked on public speaking in front of my peers and gained invaluable feedback about the forensics of my performance. In Mock Trial, professors taught me how to effectively tell a story and preview the law.
Last, but certainly not least, my supervising attorneys, Deputy County Attorneys Stephanie Low and Ross Arellano-Edwards, helped me understand the specific local rules and customs for trial and explained to me the DUI-specific processes and terminology that were necessary to present a solid case. They also gave me constructive feedback I will take with me the next time I am in a courtroom.
Throughout the trial, I felt a range of emotions – including relief when the jury read its verdict. But the strongest feeling I experienced was a sense of understanding about how the law and justice work in the real world. Many loose pieces fell into place during this trial, and I hope they continue to do so.
— By Kevin Salazar, a rising 3L at KU Law