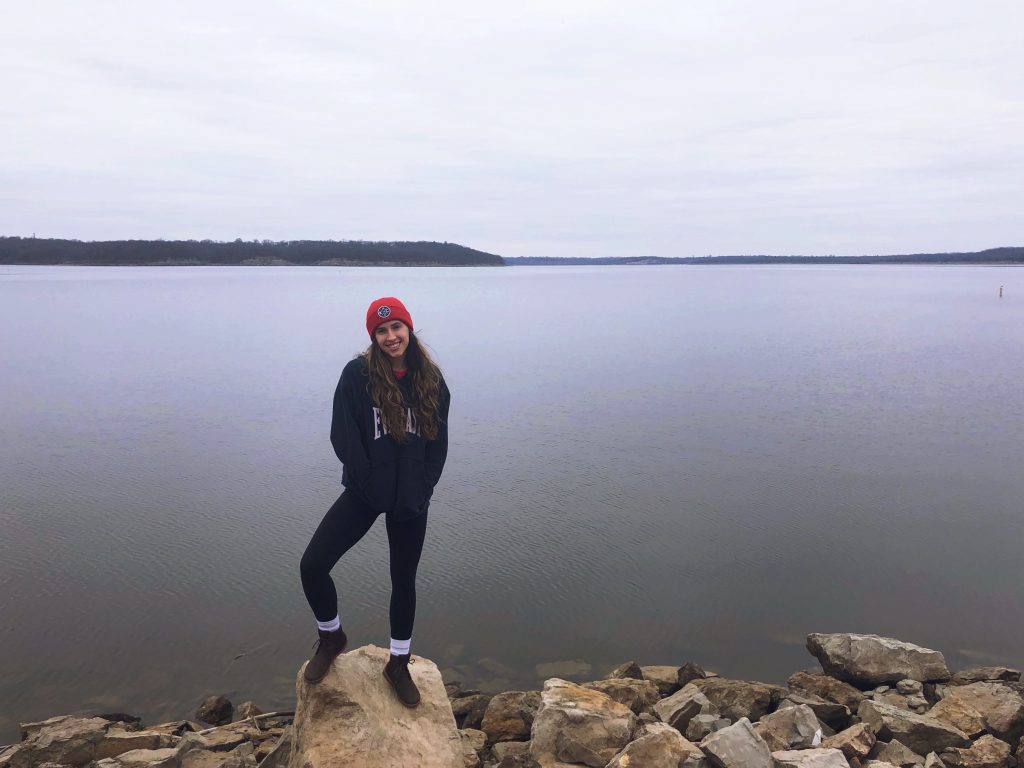 It's hard to believe that I am now in my final semester of law school. The last three years have gone by faster than I could have ever imagined! As I reflect on my time living in Lawrence, I wanted to share some of my favorite places and activities I enjoy around town, separate from what I enjoy about the law school. While it's important to develop relationships with classmates and professors and become involved in campus life, I have also found that spending time engaging in other activities outside of school has been a great way to keep me balanced.
For the last several months I have been taking an adult gymnastics class at Jayhawk Gymnastics, located at 23rd and Haskell Ave. I used to take tumbling classes when I was younger, but I have never tried out any of the other apparatuses. Enrolling in the class has allowed me to get back into tumbling, as well as try out new skills on vault, beam and bars in a safe environment with a lot of guidance and instruction. Going to Jayhawk Gymnastics twice a week for class and open gym has been one of the highlights of my 3L year! And as an added bonus, one of the coaches is also currently opening up a new climbing gym downtown called Climb Lawrence that I can't wait to try out.
I'm an early bird. Throughout my time in law school, I have enjoyed starting off my Saturday mornings with a trip to the Lawrence Farmers Market. They have a wide selection of fresh fruit, vegetables, baked goods, eggs, meat, coffee, flowers, and even wine! Going to the market has been a calming and productive way to start off my weekends when it is open for the season, and it feels great to set myself up with some local and fresh produce for the upcoming week.
Lastly, I love spending time outdoors, and there are so many great places to do this around town. I regularly go on quick walks in the mornings or as a break during the day, and I have discovered a few small nature trails within a mile of my apartment that provides a quick way to get some fresh air and movement. I also like to occasionally catch the sunset over Clinton Lake, or drive to other nearby parks. One example is Wells Overlook Park just south of town, where I can particularly recommend the sunrise from the observation tower (which is the time and place that my fiancé proposed to me — so it holds a special place in my heart!). I also enjoy hiking the trails at Clinton Lake or even traveling a bit further to Perry Lake, which also has several nice waterfront trails.
These are just a few of the many activities that I have enjoyed during my time in law school. I am so grateful for all of the opportunities that Green Hall has provided since I began school here in 2018. I have made lifelong friendships, established lasting connections with several of our outstanding faculty, and developed many practical skills that will assist me as I begin my legal career this fall; and I am doubly grateful for all of these activities that have helped me stay healthy, active and balanced along the way.
— By Sydney Buckley, a 3L from Kansas City, Missouri and a KU Law Student Ambassador.