For much of my adult life, cooking for friends and family has been a sacred act for me. I fell in love with food when I moved to France in my early twenties. Every Wednesday and Saturday, there was a beautiful market near my apartment filled with heaping piles of fresh lettuces, olives, herbs and vegetables. In the autumn, chickens would be roasting over a fire with fingerling potatoes beneath catching and roasting in the chicken fat. It was an unforgettable sensory experience. When I returned to the United States, I fell in love with cooking while working on Lawrence farm owned by a middle-aged hippy from New Mexico. She made cooking simple, delicious, and most importantly, a communal experience. I truly believe that everyone can benefit from learning basic kitchen skills and cooking together. Not only will you become a healthier person, but you will also be happier.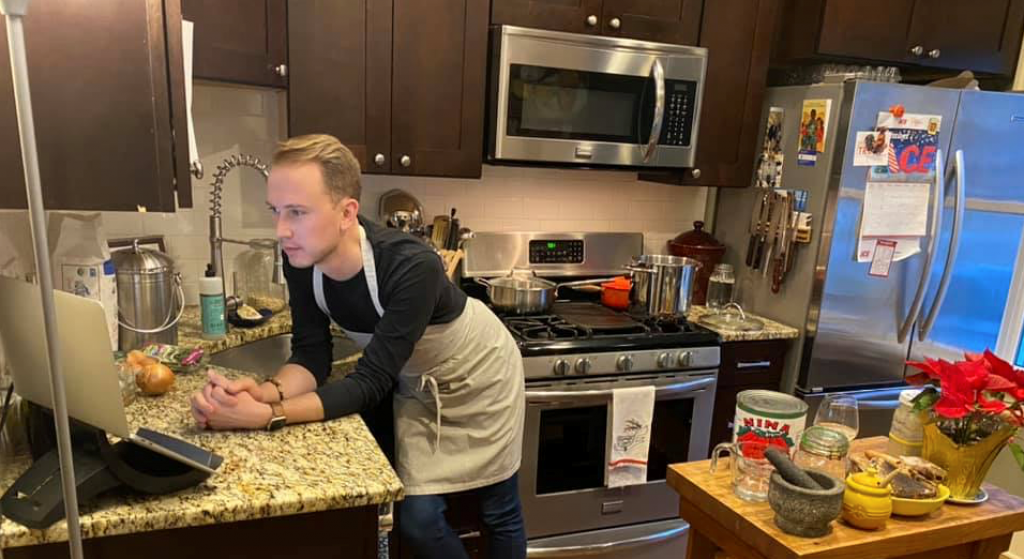 The COVID-19 pandemic made in-person dinner parties impossible, so I knew I needed to find a creative way to continue cooking with my friends and family. The answer? Zoom. Throughout COVID-19, I hosted virtual dinner parties where everyone cooked the same dish in real-time and then enjoyed it together. This was hardly an original idea, but it was something I embraced and continue to do.
Samin Nosrat, the author of the book and Netflix series, "Salt, Fat, Acid, Heat", created the ultimate communal cooking experience last year called The Big Lasagna. On May 3, 2020, Samin hosted a virtual dinner party live on Instagram featuring her recipe for The Big Lasagna, and people from around the world came together to cook this very adaptable and delicious dish. It was a neat experience to know I was cooking the same recipe and eating it together with people from Kansas City to Kuala Lampur.
My idea: Let's do a KU Law edition of The Big Lasagna.
Since International Pi Day – which is on March 14 – is on the horizon and falls at the end of our respite week, I propose we do a KU Law edition of The Big Lasagna using David Lebovitz's version of Jacques Pépin's Apple Crunch Tart. A tart is close enough to a pie, right? I hope people who are able will post photos, questions, tips, etc., on their year's KU Law Facebook page on or around International Pi Day.
Follow this link for the recipe.
I'm looking forward to seeing your creations and connecting with you through food!
Pro tips:
If you're vegan or dairy-free, simply use vegan butter for the crust and to dot over the apples. You can also use melted vegan butter instead of egg wash for the top of the tart.
I never use water in my pie crusts. Use vodka instead. I know it sounds crazy, but vodka creates a very crispy, crunchy crust. The reason for this is that the ethanol in vodka inhibits the production of gluten, which turns what would otherwise be a crunchy crust into a chewy one. There is nothing worse than a soggy or chewy pie crust.
This recipe will work with a variety of fruits. Pears would be a logical substitute, but berries could work too. If you use fresh berries, I would toss in a few tablespoons of flour into the fruit mixture before you add it to the bottom crust to help control the juices. I would also skip dotting butter over the fruit before you add the top crust.
If you cannot fathom making a pie crust – it's not hard, believe me – you can get away with store-bought crust. Keep in mind, you will need two crusts for this recipe.
— By Doug Bartel, a 1L from Olathe and a KU Law Student Ambassador.