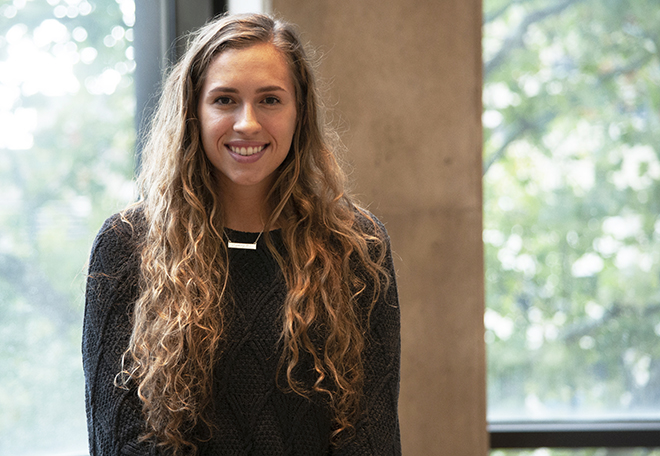 In the months leading up to orientation for KU Law, I often felt nervous about the difficulties I knew I would face in my 1L year. Among these were being cold called in class, not understanding the material as quickly or efficiently as my classmates (or worse, not understanding the material at all), and of course, the massive impending stress of final exams. Yet, I also had other smaller, (perhaps sillier) fears, including having to start over with an entirely new group of people and the seemingly daunting task of making new friends.
For me, this fear felt magnified by the fact that as a lifetime volleyball player, I've always had built-in, automatic friendships in my teammates. From middle school through college, I had literally always had a core group of 10-15 girls who had my back, understood the demands of being a student-athlete, and who I spent the majority of my time with. Among the many challenges of coming back home to the Midwest and beginning law school was the nagging thought that for the first time in my life, I was no longer going to be a part of a team. Gone were the days where I would spend dozens of hours a week at daily practices, weight room sessions, team dinners, and weekend matches and road trips with the close group of girls who over the past four years inevitably became my very best friends. Realizing that law school would not provide me with this same comfort was intimidating, because I had never known anything else. While I have always considered myself an outgoing person, I found the horror stories of the harshly competitive and cutthroat environment in law school alarming. The thought of being on my own for the first time — without the ease and comfort of being a part of a team — added to the overall anxiousness I felt before beginning law school.
Yet, now a couple of months into my first year, I can only laugh at myself as I look back at my early fears. I have found that many of the students at KU Law are among the friendliest, warmest, brightest and most genuine classmates I have ever had the pleasure of learning alongside of. I have yet to experience the aggressive or cutthroat atmosphere I had been so gravely warned about. Many of the people I sit next to in class every day have quickly become close friends, and I truly feel that the students here hold a lot of respect and understanding for one another.
I used to think that the conclusion of my final season of collegiate volleyball meant that my time of being a part of a team had come to a close. However, in the past few months, I've realized that that is untrue — rather, I've simply become a part of a new kind of team. Maybe this new "team" is a bit nontraditional (since we thankfully aren't forced into daily group exercise); but, we are very much a team in the sense that we are all driven, focused and kind towards one another as we struggle with the seemingly endless demands on our time. Though many of my early expectations about law school have been met — I have been cold called in class, the course material is difficult and the stress of finals is beginning to creep in — fortunately, I'm lucky enough to have found some really wonderful new teammates to experience it all with.
— Sydney Buckley is a 1L from Kansas City, Missouri and a KU Law Student Ambassador.