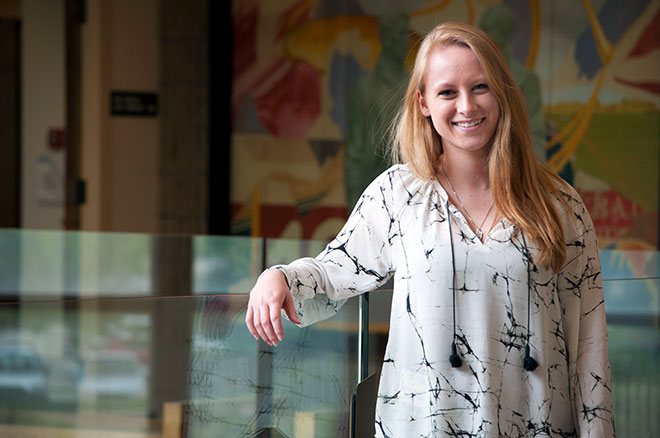 As a KU Law Student Ambassador giving tours of Green Hall, one of the most common questions I hear from students is how to balance all the work of law school with a healthy life — socially, physically and emotionally. Personally, I was worried about that as well. Before I began law school, I had these scary mental images of myself as a hermit, hiding out in my bedroom, only coming out for unhealthy rations. And for the first part of my 1L year, that was, unfortunately, true. I wasn't very social, I didn't make/maintain friendships, and I did not do a good job working out or staying healthy. I am not only a stress eater, but also a stress cook, and when I am stressed I cook homestyle, Crisco-infused, tasty food.
As I continued further into my law school career, I realized that I was not going down a healthy road. I decided that it was time to make some changes and kick it into gear. I felt pretty good about the academics, but I needed to balance the rest of my life with my school work. Here are some practices that I implemented:
An awesome calendar to literally organize my life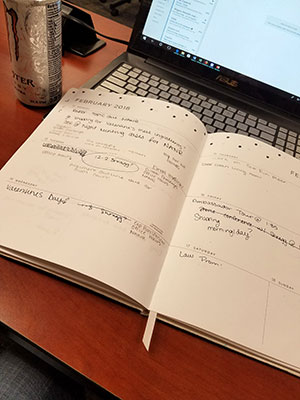 I am not an organized person. I am perpetually running around like a crazy person trying to figure out where I need to be and when. A calendar minimizes my worry and allows me to organize my schedule in such a way that I can maximize my time. I like when my calendars have a monthly overview with the weeks expanded to allow detailed notes. I recommend finding a style that works for you and then using it to its fullest capacity.
A lunchbox
As silly as it sounds, if you are worried about your health (or finances) and find yourself spending way more than you should on food you should not be eating, a lunchbox can really help. It allows me to make healthy food at home that is much more cost-effective. It also allows me to utilize my lunch breaks for school work, leaving less to be done when I get home in the evening.
Prioritizing downtime with family and friends
This one comes directly from my mother. When you start law school, it's easy to allow school work to take over. I was certainly guilty of this. I am a Kansas girl, and my parents don't live too far from Lawrence. During my first few months of law school, though, they easily could have lived 1,000 miles away for how much I spent time with them. Nowadays, I make it a priority to schedule one day each weekend to spend time at my parents' house. I write it into my calendar and schedule the rest of my work with that time in mind. I do the same thing when planning date nights with my fiancé, game nights with friends, or if I am feeling like I need a mental health day. Now there are some times when school work can't be avoided and you have to encroach on your planned time, but for the most part you can make free time a true priority.
(Mostly) not buying junk food
Now I am the first to say that I am NOT perfect. I have a weakness for cookie dough and a terrible love of gummy worms. If those items are in the house, I will binge eat an entire roll of cookie dough in about 20 minutes (don't judge me). This just means that I have to exercise willpower at the grocery store; I try not to buy anything that I would be able to binge. Instead of chips, I get baby carrots. Instead of cookie dough, I get dark chocolate chips and peanut butter. Instead of gummy worms, I get grapes. They aren't perfect substitutes, but they do cut down on the unhealthy stuff a little bit.
Making time for at least a couple of walks a week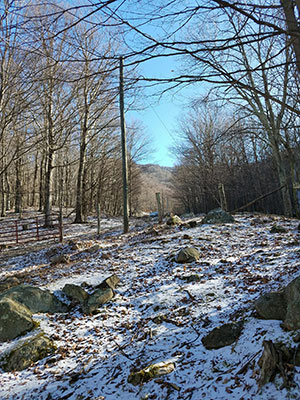 I am not a gym rat. I hate cardio. But as a law student, I use school as an excuse to avoid working out way more than I should. (NOTE: I make time for "Criminal Minds.") Taking walks is an easy and relaxing way to get moving. Again, this is something you kind of need to plan. But, honestly, a 45-minute walk is shorter than most of my grocery shopping trips and the length of one Netflix episode.
Although this is not an exhaustive list, these are some of the things that really helped me feel happier and less stressed while maintaining healthy relationships. Law school really is about finding a balance that works for you.
— Samantha Wagner is a 2L from Paola and a KU Law Student Ambassador.