Meet the leaders of KU Law's student publications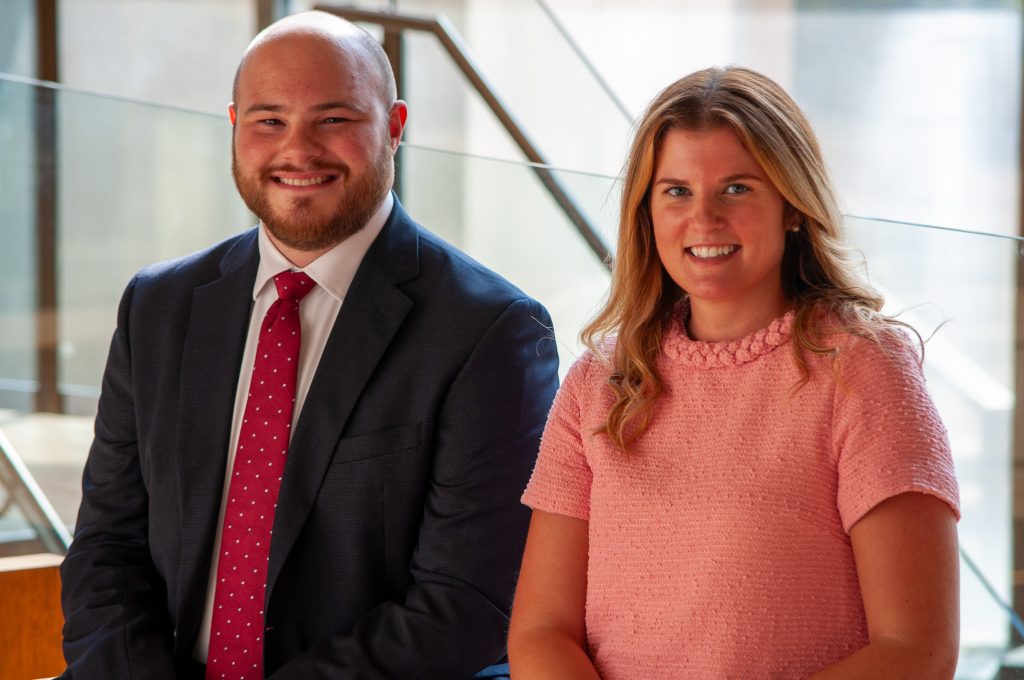 Though the school year has only just begun, third-year law students Jackie Jeschke and Collin Studer have been hard at work this summer in preparation for their new roles as editors-in-chief of the law school's two student-edited publications. Studer leads the University of Kansas Law Review, and Jeschke heads up the Kansas Journal of Law & Public Policy.
Beginning in the spring when Jeschke and Studer learned about their selections as editors-in-chief, they have been preparing for the upcoming year by setting goals, reviewing write-on submissions, contacting new staff editors and selecting and editing the articles for the first issues of the year.
"I don't know that a lot of folks realize the amount of work and responsibility that goes into this position," said Jeschke. "For the previous board to have appointed me as editor-in-chief was a huge compliment."
Jeschke and Studer are no strangers to the process of editing and distributing their respective publications as both were student editors before being selected as leaders of the Journal and Review.
"It's very rewarding to be able to influence the trend and the direction of legal scholarship," said Studer.
The goals you set and the relationships you build
In their roles as editor-in-chief, both Jeschke and Studer are focusing on growing and maintaining the connections the publications have made between each other and the alumni who were once editors themselves.
"We're coming into our third decade," said Jeschke. "Our 30th anniversary happened right at the start of COVID, and I've talked with Dean Mazza about having a bigger banquet this year, inviting back alumni, reminding people why we started the Journal 33 years ago."
Studer's publication, the Kansas Law Review, was founded 72 years ago, but his goals are the same.
"I would really like to see Law Review tap into its 72-year-old tradition and connect with our alumni," said Studer. "It would be great to bring together the previous 'generations' of Law Review at our next annual banquet."
However, Jeschke and Studer want to continue to connect closer to home as well between the Review and Journal staff. This tradition has already been set in place prior to their leadership with tournaments in kickball and bowling but is something both editors would like to continue to grow.
"It's not just the work you do, it's the relationships you build," said Studer.
Both publications use these tournaments as friendly competition, but even friendly matches can spur some healthy drama.
"I know that the Journal won both tournaments last year and I think the bowling win was pretty upsetting," said Jeschke with a laugh. "It was pretty neck and neck there. But it's just fun. In the past, I feel like there's been this unnecessary competition between the two publications – and maybe that's normal – but I know that Collin, Brooke [Law Review managing editor], Stephanie [Law Journal managing editor] and I have talked about how to really come together as the publications for the law school."
Jackie Jeschke
Editor-in-chief of the Kansas Law Journal & Public Policy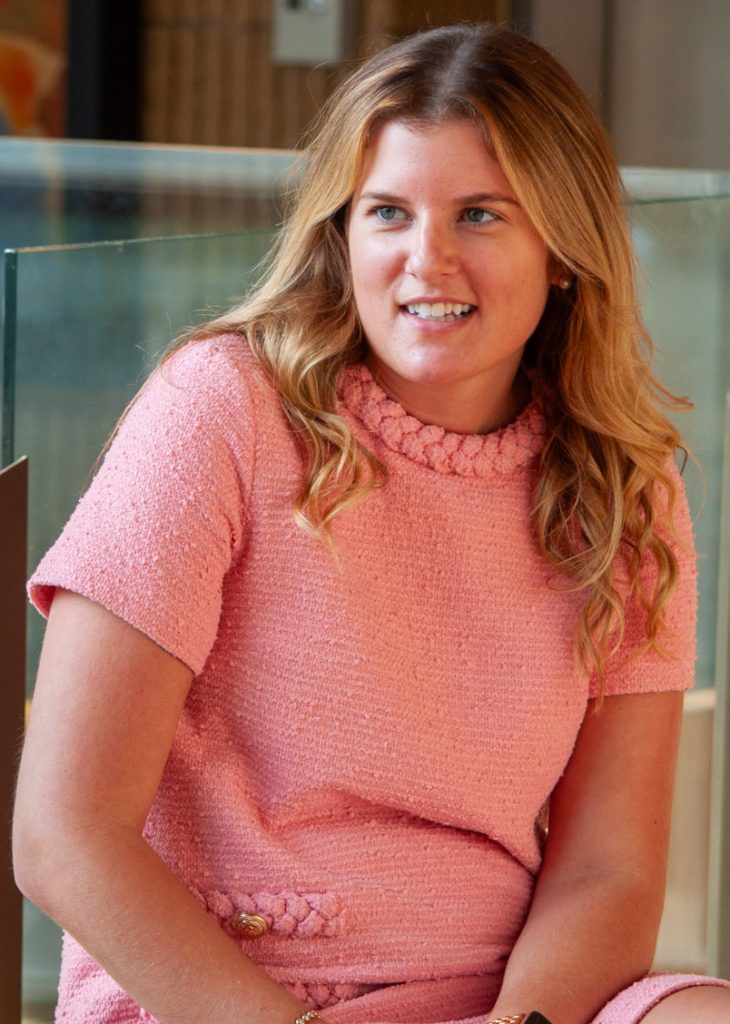 Jeschke was born and raised here in Lawrence, Kansas, and received her undergraduate degree in Biology from KU and her master's in healthcare administration from KU Med. Though her initial career goals included working on the clinical side of healthcare, Jeschke realized she was more interested in the administration and public policy side of things. After grad school, Jeschke spent five years working as a healthcare consultant focused on strategy and transactional-related projects before starting law school.
Now a mom of an 18-month-old daughter, Jeschke is proud of the journey she's taken and shares her experience as a way to prove that law school can be for anyone and everyone.
"I am an example of a mom who can do law school, be involved in these organizations, be in leadership positions and pursue a big law career path," said Jeschke. "Hopefully I can set an example that law school isn't just one size fits all and only traditional paths."
Jeschke spent the summer before her 3L year as a summer associate at Polsinelli and plans to join their staff full-time after her graduation in 2024.
Collin Studer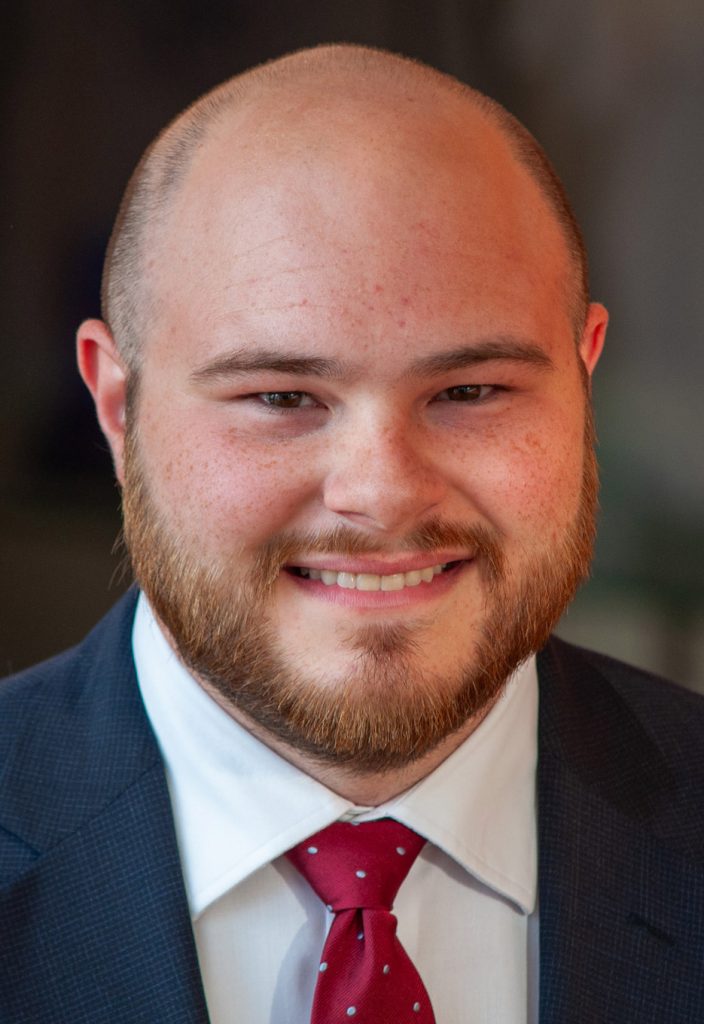 Editor-in-chief of the Kansas Law Review
Studer is originally from Wathena, Kansas, close to the Missouri border. He received his undergraduate degree in History and Music from Baker University before moving to Washington D.C. where he worked at the Supreme Court as the aide to Chief Justice Roberts. Though law school wasn't in his original career plan, Studer cites his time working with SCOTUS as what helped him make the decision to return to school and to return to Kansas as a KU Law student.
"After I spent time there and saw what lawyers do – albeit in a very specialized practice – I thought a legal career would be very rewarding and luckily that's been true," said Studer.
In his time since returning to Kansas and being a KU Law student, Studer has nothing but fond memories of his fellow students, his former teachers and the community of Lawrence.
"I knew that the professors took a lot of pride in mentoring students and helping them achieve their goals," said Studer. "That's true for every professor I have had, especially Professor McAllister and Professor Mulligan, now the law school dean at UMKC."
Following his graduation in 2024, Studer plans to clerk for Judge Timothy Tymkovich on the U.S. Court of Appeals for the Tenth Circuit.
–By Emma Herrman