Former student-athlete joins law firm known for NCAA compensation support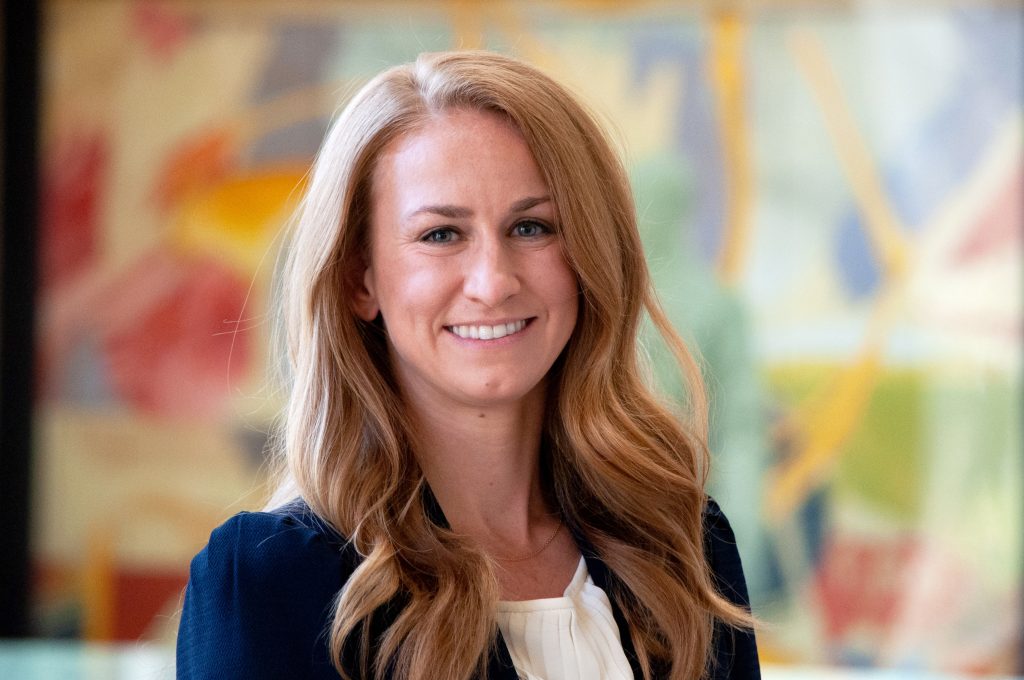 As a former student-athlete and recent sports dietitian, Kristen Andrews knows how to handle the trials of professional athletics. After her graduation in May, she joined Kennyhertz Perry, a prominent law firm in Kansas City.
"Kennyhertz Perry has a sports law practice group that has been at the forefront of the changes with respect to student-athlete compensation in the NCAA," said Andrews. "In particular, student-athlete compensation for the use of their name, image and likeness. I hope to contribute to that practice group once I join the firm."
Before attending law school, Andrews was a registered dietitian who worked with various sports teams in the Los Angeles area, including the Los Angeles Galaxy, the Los Angeles Lakers, and the U.S. Soccer team. While Andrews enjoyed working with these teams, she realized other career paths aligned better with her skills and interests.
"I started thinking about what I was good at and what I would like to spend my time doing," said Andrews. "There are so many different types of things you can do in this field and I'm open to all of them."
Andrews sees her position at Kennyhertz Perry as a valuable opportunity to contribute to the sports law practice group and further expand her knowledge and expertise.
"I was lucky enough to find an opportunity at Kennyhertz Perry and jumped at the chance to join them," said Andrews. "I'm really excited about the opportunities there in the sports law space."
During her time at Green Hall, Andrews served as a staff and articles editor for the Kansas Law Review journal and held the position of president of the Sports Law Society. These experiences, particularly in the Law Review, helped expand Andrews' connections within her class.
"I worked closely with classmates I may not have had the opportunity to work closely with," said Andrews. "Some of my best law school friends are people that I spent time combing through articles with on Law Review. I really look back and cherish that."
Along with the connections she made with students, Andrews cites some professors who helped her along the way during the last three years.
"I had a lot of incredible professors," said Andrews. "One that stands out is Professor Amii Castle. She is so knowledgeable and orientated towards teaching you things that will be practical when you get out into the real world."
When it came to choosing a law school, there was no question that KU Law was going to be Andrews' choice. A former Kansas City native, Andrews relocated home from California to become a Jayhawk Lawyer. At KU Law, she was quick to note the sense of community and collaboration that professors and classmates alike create.
"KU offers a nice learning environment where professors push you and classmates push you, but when you need assistance, both are there and willing to help you," said Andrews.
For law school students, Andrews advises carefully considering their options, including where they want to practice and the networking opportunities.
"Where you want to work should influence what law school you're looking for," said Andrews. "On top of that, the law school environment matters a lot to how well you're doing in school, and not every law school has the same environment."
-By Emma Herrman