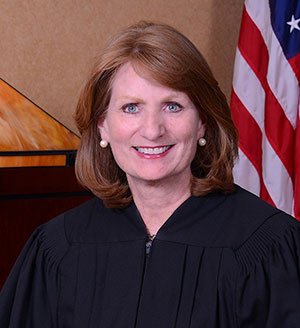 The Hon. Janice Miller Karlin of the U.S. Bankruptcy Court for the District of Kansas has been appointed chief judge of the court, becoming the first woman to serve in the role.
"I am delighted to serve as chief judge of our court," said Karlin, L'80. "I follow my colleague and law school classmate Bob Nugent as chief judge, and as a result of his long and efficient service in that position, I inherit a court that provides the kind of service the parties and the lawyers deserve. My hope is to continue to lead our court to achieve the just and speedy disposition of all matters."
Karlin joined the court in 2002 and was reappointed this month to another 14-year term by the U.S. Court of Appeals for the 10th Circuit. She also serves as chief judge of the Bankruptcy Appellate Panel for the 10th Circuit; she is the first woman and the first Kansan to hold that position.
During law school, Karlin served as note and comment editor of the Kansas Law Review, then worked as an assistant U.S. attorney until she was appointed to the bankruptcy court in 2002. She becomes the fifth chief judge to lead the court since its existing structure came into existence in 1978.