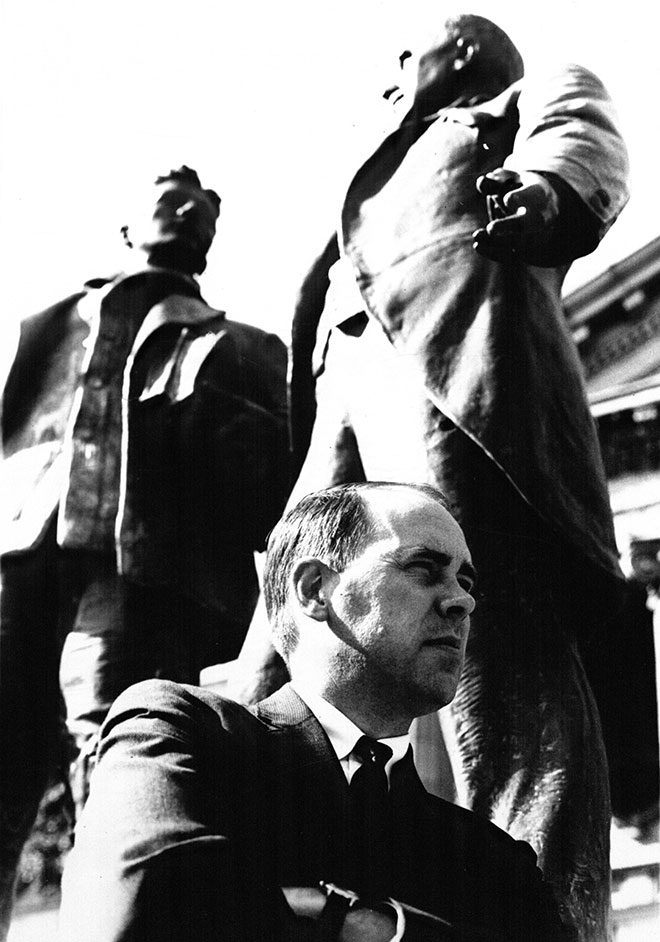 Former KU Law Dean James Logan in 1968.
Brad Manson reflects on experience in Judge Logan's chambers
Jim Logan was confirmed by the United States Senate in mid-December 1977, and a few days later he interviewed to hire law clerks. I was lucky enough to be interviewed. Jim had testified a few days earlier before the Senate Judiciary Committee. During college I worked for the Judiciary Committee, and I talked first in the interview by asking then Judge Logan, "Did you enjoy your appearance before the Committee?" We made an immediate connection, in part because we shared a liberal political ideology, and in part because Jim loved to talk about himself. Being hired Judge Logan's law clerk was like winning the lottery for an unemployed third year law student.
Circuit Court Judges are allowed to office wherever they wish, so Jim wanted to have his office in Olathe, Kansas, where he lived. The only federal building in Olathe was the Post Office. The government built an office for Jim and his staff in the basement of the Post Office. Before construction was completed, Judge Logan worked out of the visiting judge's quarters in the old Federal Courthouse in Wyandotte County. We shared the law library with Judge O'Conner. Kathy Vratil (later to become U.S. District Judge Vratil) was Earl O'Connor's law clerk. Our desks were in a space in the law library, and it was heaven. There weren't any computers, no computer research, and we typed all draft opinions on IBM electric typewriters. Only Judge Logan had dictation equipment, there was one secretary, and she most certainly did not work for the law clerks.
Soon we moved into our basement quarters, and filled Judge Logan's library with an entire set of the United States Code, all of the official Supreme Court reporters, all of the West regional reporters, and all of the statues of the states in the Tenth Circuit. And the two prominent weekly tax reporters, because Judge Logan continued to keep up his expertise in tax law. I physically unboxed, stamped "US Courts" and shelved every book. Jim clerked for Judge Walter Huxman in the Tenth Circuit after graduation from Harvard, and Judge Logan located Judge Huxman's old desk from the General Services Administration, had it refinished and put a beautiful, new burnt orange leather top on the working space. He had a spare office, in an old post office basement, and the law clerks worked in the stacks without windows, but we had a nice conference room, with windows at the top, looking onto the street above. There is no better way to begin a legal career, and Jim Logan, forever the teacher, was a wonderful boss and mentor, a role he assumed from the first day on the job, and never stopped, up through dinner last December. Every day we learned something new. That was and is the nature of appellate court work. And Jim shared all of his thinking and reasoning on the cases with his clerks.
As a law clerk working for Jim Logan you were essentially an aid de camp, at least in the early days, before there were written manuals governing federal law clerks. You were expected to do anything he needed you to do, beyond legal research and writing. Jim and Bev made a gift of undeveloped land in Douglas County to the University of Kansas, and I was sent to make sure the survey was correct, the legal description in place, and the land unencumbered by encroachments. Judge Huxman had allowed his law clerks to engage in some pro bono legal work, so Judge Logan believed learning how to practice law was important. I represented the janitor in the post office, and did some other legal aid type pro bono work, even meeting with clients in our law library, until Judge Logan learned there was a law clerk manual being written prohibiting any outside work, so that ended my short pro bono legal career.
Jim's best friend on the Court was Monroe McKay, from Salt Lake City, Utah. Judge McKay is 90, and was confirmed by the Senate the same day Jim was confirmed. But Judge McKay's brother was a congressman from Utah, and he convinced President Carter to sign his brother's appointment a day before Jim's appointment–so Judge McKay always had seniority. They were very, very close. So close that then Chief Judge Seth, from New Mexico, wouldn't allow them to sit on the same panel for many years. Judge McKay spoke at Jim's memorial gathering, and I talked to him about their friendship, and experiences on the Court. Judge McKay captured Jim's spirit in his remarks, and said he had never met anyone smarter, with a great legal mind, incisive and insightful, and a good heart and belief in the best of human nature.
Jim Logan was my first employer, a teacher for life, and a trusted friend. I loved him and will miss him.
— Brad Manson, L'78, is an attorney at Manson Karbank McClaflin in Overland Park.