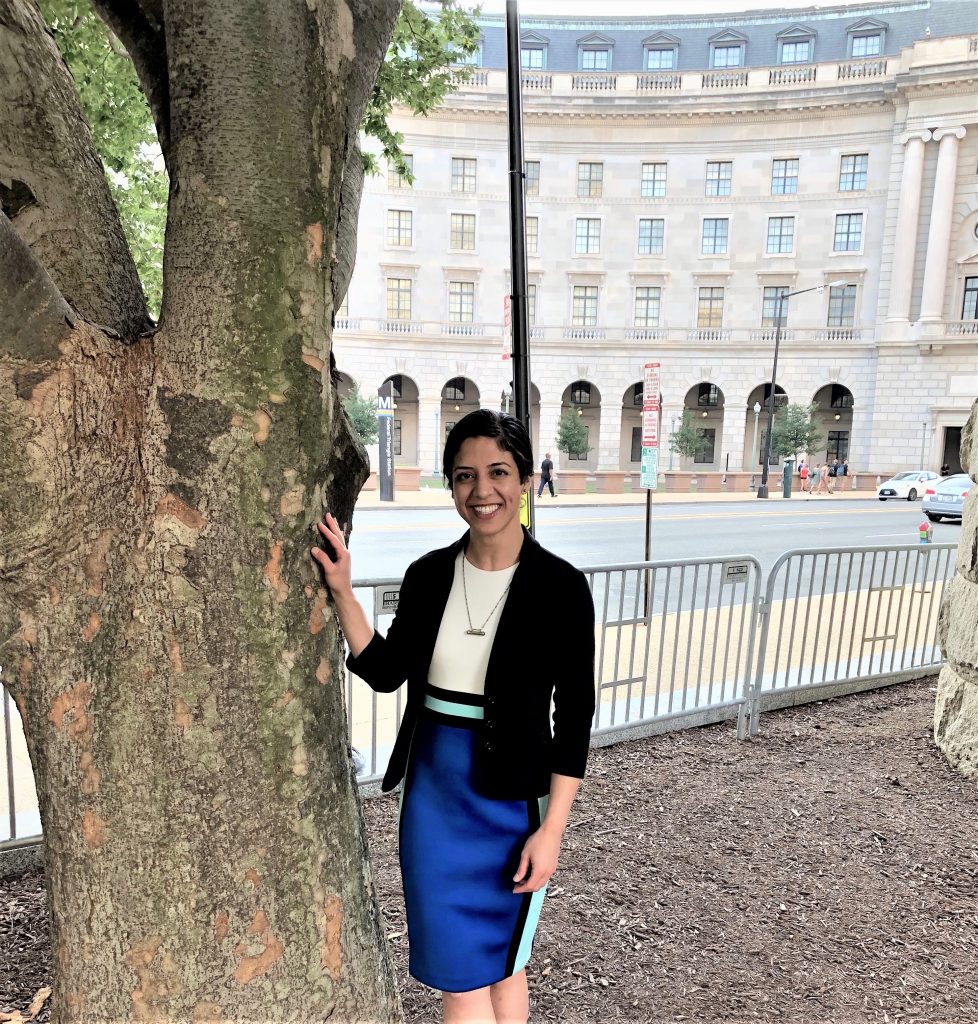 Ava Azad ensures environmental compliance, protection through role at EPA
Ava Azad's interest in the environmental field sparked while she was in high school. After earning an undergraduate degree in environmental studies from KU, she decided to continue her studies at KU Law in order to, "have the most impact within the environmental field."
"I saw that law and policy really governed what can and cannot be done. So, I decided to go to law school," Azad said. "I was drawn to law and policy. Government was a really good fit for that."
Azad, L'14, is an attorney-advisor at the United States Environmental Protection Agency (EPA) in Washington, D.C. At the EPA, Azad works in the Office of Enforcement and Compliance Assurance and ensures that federal agencies are in compliance with the law.
As an attorney-advisor, Azad works to implement laws; make policy decisions; and pass guidance and policy to inform the choices made regarding federal and environmental laws.
Azad said that working with government and environmental issues is complicated because there are a lot of moving parts. She enjoys getting to put the pieces together and ensuring that laws are being followed as effectively and efficiently as possible.
"We ensure that the government is doing what it can to help protect people," Azad said. "Everything that we do that goes into that is very much rewarding."
The scope of the EPA is domestic, but the federal agency has international reach. The organization works with both domestic and international partners to address policy challenges and reduce negative environmental impacts around the globe.
"I am touched by the importance of needing to protect the environment and non-human animals. Humans use resources that are beneficial to us. Other animals don't get to enjoy the same benefits from our use," Azad said. "It's important to make sure that we're responsible and thoughtful about our actions."
While Azad was a student at KU Law, she earned the Environment, Energy, and Natural Resources Law Certificate and was a member of the school's Environmental Law Society. Through KU Law's curriculum, she was prepared to think analytically, solve problems, spot issues and conduct research. Azad said these skills learned from law classes and experiences prepared her well for her career.
"In particular for environmental and natural resources matters, Professor Uma Outka was instrumental in my learning," Azad said. "I took as many of her environmental and energy law classes as I could. She was an amazing professor and mentor."
Azad was a research assistant for Professor Andrew Torrance during her time at Green Hall. Torrance teaches and conducts research in biotechnology law, biodiversity law and biolaw, among other topics.
"I got to explore some ethical considerations in relation to the extinction of environmental matters. That all prepared me really well to go into the environmental field," Azad said.
Azad advises law students who are interested in the environmental field to not limit themselves to any specific type of environmental law.
"There are all sorts of opportunities out there that will get you experience working in environmental law," she said. "You never know when you might find a position that's an amazing fit for you."
— By Ashley Golledge