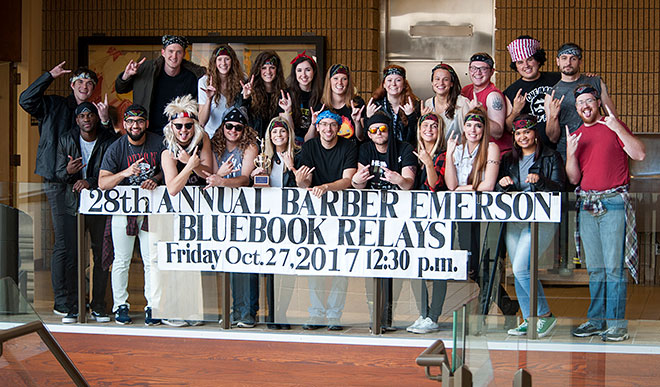 Jake Turner, back row second from right, with his Spirit Award-winning Bluebook Relays team, Guns 'n' Rosenberg
Law student's first career taught importance of client relationships, being prepared for anything
As a young child, I dreamed of being a veterinarian. Then I set my sights on the U.S. presidency. By the time I got to college, I had decided on a more practical career: teaching.
My family always thought I should go to law school, but I stubbornly dismissed the idea.
Professor of Sociology was the title I wanted, so I spent my time in undergrad at the University of Tulsa preparing to apply to graduate sociology programs. I started having second thoughts during my junior year. Could I really commit to studying sociology my entire life? I wanted to live in the Kansas City area. Would I be able to find a job at a local college? My life plan seemed to be devolving before me. But I still wanted to teach, so I decided to try it at the high school level.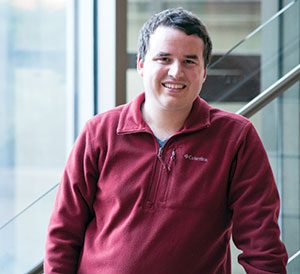 I started my teaching career in Sliven, Bulgaria through the Fulbright program, helping sophomore through senior English language learners perfect their grasp of the language. I tutored students, taught them slang and empowered them to become stronger writers. It was challenging to live and teach in a foreign country, but I grew from adapting to new situations and understanding new cultures. I never knew what my students would say or what would happen in Bulgaria, but I learned to go with the flow.
When I returned to the United States, I continued my teaching career at Hogan Preparatory Academy in Kansas City, Missouri. I taught junior and senior mathematics, from AP statistics to pre-calculus. I built strong relationships with my students and learned from them, probably as much as they learned from me. I learned the importance of being passionate about what I teach: When I was excited about a subject, my students got excited, too.
Leaving Hogan after two years was difficult because I loved my students and colleagues. But I decided that teaching high school, while rewarding, was not something I could see myself doing for my entire life. That's when I applied to KU Law. Although law is my second career, I've found my niche and think my teaching experience will make me a stronger lawyer. I know the importance of creating relationships with my clients and being prepared for any situation.
KU Law also gives me the opportunity to continue teaching. As a 2L, I am a teaching assistant for the first-year Lawyering Skills course. Once a week, I get to return to the classroom, teach lessons and then hold office hours to help my students. I think I've been able to cultivate a love of learning legal citation with my students. Last month, they took third place at the annual Bluebook Relays legal citation competition. More importantly, they also won the coveted award for most spirited team. I want my students to love what they're doing, and I could not be prouder of them for doing just that.
— Jake Turner is a 2L and KU Law Student Ambassador from Mission, Kansas.