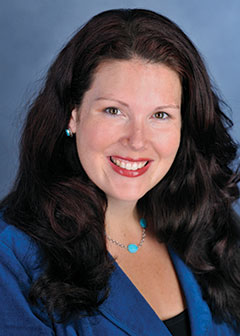 Elizabeth Kronk Warner, KU Law's associate dean for academic affairs and a law professor, will be the next dean of the S.J. Quinney College of Law at the University of Utah. Warner starts her new role on July 1. She will be the first woman to lead the Utah law school in its 106-year history.
"I am tremendously honored to serve in this role, and hope that I am able to live up to the storied legacy of past deans," Warner said.
Warner joined the KU Law faculty in 2012 and became associate dean for academic affairs in 2015. She teaches courses including Federal Indian Law, Native American Natural Resources, Property and Tribal Law. Her service schedule is busy, with plenty of commitments outside the classroom. In addition to her role as associate dean for academic affairs, she directs the school's Tribal Law & Government Center; serves as faculty advisor for the Native American Law Students Association and the Federal Bar Association; and leads the Faculty and Staff Committee on Diversity & Inclusion.
Through her years of teaching and staying active at the law school, Warner's biggest point of pride has been her students.
"My greatest joy has been watching everything that former students have accomplished. It is incredibly rewarding to see a student go from struggling to understand the Rule Against Perpetuities to becoming a respected lawyer," she said.
"I am also very proud of my colleagues and all of the impressive things they accomplish on a daily basis – it is an honor to be part of this faculty. I have fond memories of students succeeding in moot court competitions, and the progress we have made on our diversity, equity, and inclusion efforts," Warner said.
Warner leaves big shoes to fill as a scholar, teacher and administrator, said Stephen Mazza, dean of the law school.
"Elizabeth's leadership skills were evident early on, which explains why she has been such a successful associate dean at KU Law," Mazza said. "Highlighting her skill set and allowing her to develop those leadership skills carried a risk that she would be snapped up by another school."
But that's OK by Mazza.
"I'm proud that KU Law supports emerging leaders and has a track record of doing so," he said.
Warner's departure to become dean at a flagship state university fits a trend at KU Law. In the past 10 years, two other associate deans have moved on to head public law schools.
Melanie Wilson, who also served as associate dean for academic affairs, took the helm of the University of Tennessee College of Law in 2015. Stacy Leeds, a former associate dean for academic affairs and director of the Tribal Law & Government Center, was dean of the University of Arkansas School of Law from 2011 to 2018. She's now the school's vice chancellor for economic development.
That KU Law leaders continue to earn deanships is no fluke, Warner said, crediting professional development opportunities in the law school and the broader University community.
"Dean Mazza is a tremendous mentor, who invests in his associate deans and provides them opportunities to develop the skills necessary to flourish as a dean. We are tremendously fortunate to have him at the helm of KU Law," Warner said. "I am also thankful to the University for providing opportunities, such as the senior administration fellowship program, for faculty to develop administrative skills."
In 2014, Warner received the Immel Award for Excellence in Teaching, and in 2016 she received the Dean Frederick J. Moreau teaching and mentoring award from the graduating class. Her scholarship, which focuses primarily on the intersection of Indian Law and Environmental Law, has been published in several prominent journals.
Prior to her arrival at KU, Warner served on the law faculties at Texas Tech University and the University of Montana. She received her J.D. from the University of Michigan Law School and a B.S. from Cornell University. Warner is a citizen of the Sault Ste. Marie Tribe of Chippewa Indians. She serves as an appellate judge for the Sault Ste. Marie Tribe of Chippewa Indians Court of Appeals in Michigan and as a district judge for the Prairie Band Potawatomi Nation in Kansas.
Warner said she's thankful for her "KU Law family" and the community it provides.
"I have loved my time at KU. While I am excited for this new opportunity, I will greatly miss everyone who has touched my life in such a profound way," she said. "I am very proud of KU Law and look forward to seeing all it will accomplish in the future. Rock Chalk!"
— By Margaret Hair