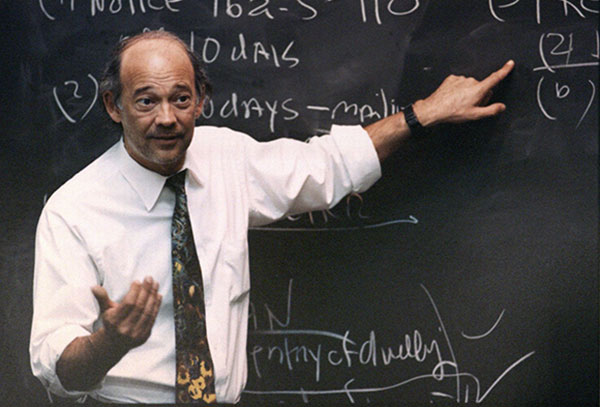 From the beginning of his teaching career, Dennis Prater was committed to helping nervous law students transform into formidable advocates. That commitment didn't waiver during his 34 years on the KU Law faculty. Prater retired in December.
A 1973 graduate of KU Law, Prater had been a student director of the Legal Aid Clinic and knew how invaluable the experience could be for future lawyers. When he took the helm in 1984, he became the first practicing attorney to lead the Clinic.
"It was not uncommon the first time students appeared in front of a judge for me to be standing beside them and watching them shake," said Prater, who directed the Clinic through the summer of 1995. "By the time I got through with them, they were in control of the courtroom."
In addition to running the Clinic, Prater also taught Evidence, Advanced Litigation and Practice in Kansas. An authority on the law of evidence, he is the lead author of "Evidence: The Objection Method," a textbook widely adopted at U.S. law schools.
His gift for teaching did not go unrecognized. Prater received the Immel Award for Teaching Excellence in 1993, the Dean Frederick J. Moreau Award in 1989 and 1994, and a W.T. Kemper Fellowship for Teaching Excellence in 1998. He was named Connell Teaching Professor of Law in 1999.