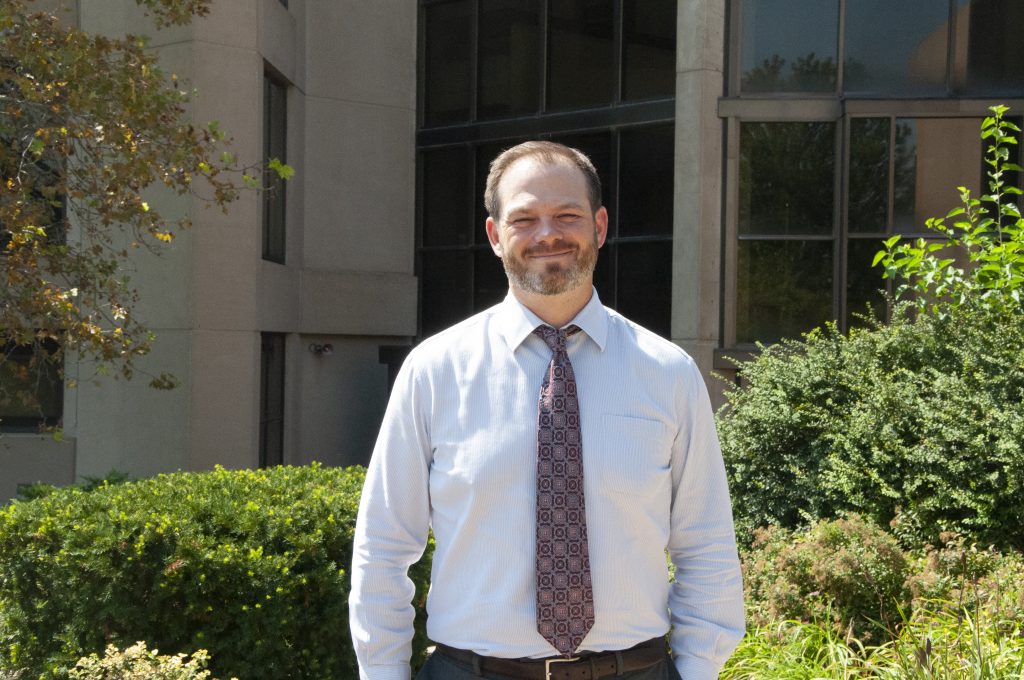 A former JAG Corps attorney and counsel to the U.S. Department of Justice has joined KU Law. Donovan Diaz started in July as director of KU's Master of Science in Homeland Security: Law and Policy program.
As director, Diaz recruits students, coordinates instructors and pursues partnerships to support growth. This spring, he'll teach a course focused on military law and national security issues.
Making sure the program's curriculum is in line with the current state of the law is key, Diaz said.
"The homeland security and national security world is a moving target. It is not a steady-state form of law," Diaz said. "We want to train our students to be ready for the current threat environment."
Now in its third year, the M.S. in Homeland Security program is based in Leavenworth and draws students from the military, federal government and civilian positions. Some students come to the program directly out of undergrad with the hope of pursuing a career in homeland/national security, Diaz said.
Students complete core courses in homeland security law and select electives from topics including crisis communication, information security and environmental security. A practicum course culminates in a multi-day, real-time simulated response to a national disaster. The simulation was created by Michael Hoeflich, the John H. & John M. Kane Distinguished Professor of Law at KU. It's a hallmark of the program, Diaz said.
"The students get practice behind the theory. That's what makes the program really stand out," Diaz said.
Diaz comes to the program with broad experience in national security and homeland security, including military and civilian service in domestic and international settings.
After completing an undergraduate degree in art history at the University of Kansas, Diaz earned his J.D. from the Washburn University School of Law. Shortly before Diaz graduated law school in December 2001, the events of September 11, 2001 spurred him toward military service. He was commissioned in May 2002, joining the U.S. Air Force Judge Advocate General's Corps (JAG).
His first duty assignment was in North Dakota, followed by four years at Whiteman Air Force Base in Johnson County, Missouri. Diaz's time with the JAG included a six-month deployment to Baghdad, Iraq, where he coordinated civil affairs matters including hospital upgrades, humanitarian relief and security planning.
Diaz then joined the U.S. Marshals Service with the Department of Justice as associate general counsel. From 2009 to 2014, he was based at Camp Foster in Okinawa, Japan, serving as Counsel to Marine Corps Community Services through the Office of the General Counsel to the Department of the Navy.
For the past five years, Diaz has run his family farm in Weston, Missouri. In addition to a 200-acre farming operation, the Weston Red Barn Farm hosts a wedding venue, a fall festival and a seasonal pumpkin patch and apple orchard.
Diaz said he's eager to use his experience in military service, law enforcement and growing a business to expand the homeland security program.
"I'm looking forward to working with students and setting them on a career path, and growing the program," Diaz said.
— By Margaret Hair