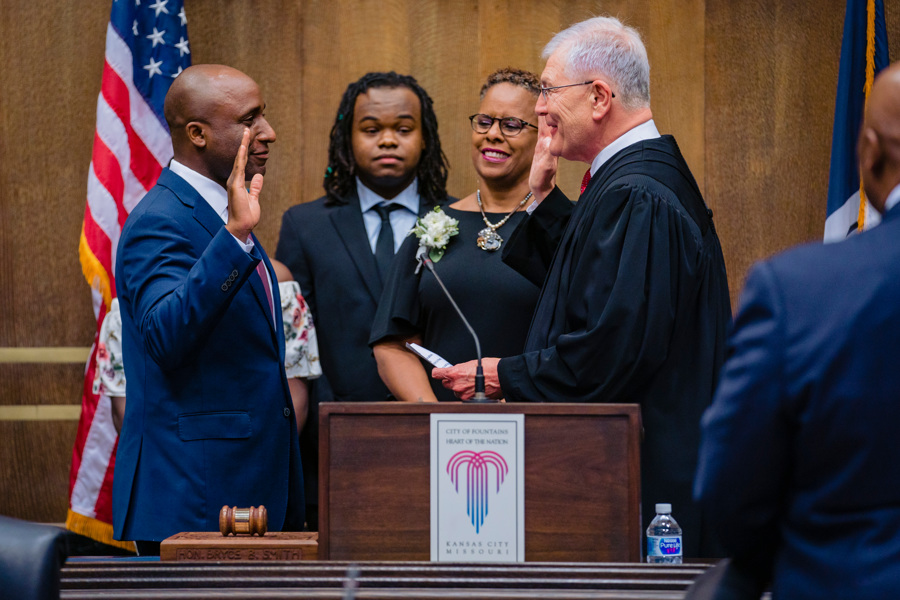 Quinton Lucas, a KU Law lecturer, took office as mayor of Kansas City, Missouri at the start of August.
A Kansas City native, Lucas joined the KU Law faculty in 2012, teaching courses in contracts, securities regulation and federal administrative law. He earned a J.D. from Cornell University and an A.B. from Washington University. In 2015, he was elected to Kansas City's city council.
Lucas plans to stay connected to KU Law as he takes on his new role. This spring, he will teach a seminar on state and local government law. He also plans to remain a member of the law school's judicial clerkship committee.
At 35, Lucas is the youngest Kansas City mayor in more than a century.
"We're incredibly proud of what Quinton has accomplished so early in his career," said Stephen Mazza, dean and professor of law. "KU Law has a strong connection with the Kansas City community and Quinton's leadership position helps strengthen that connection."
Given the Kansas City metro area's location on the border between Kansas and Missouri, KU Law provides a bridge for any conversation, Lucas said.
"One cannot miss the impact of KU Law on Kansas City and its surrounding communities," Lucas said.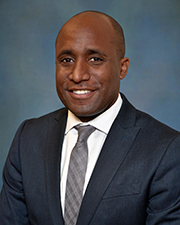 "Whether its alumni leading businesses, serving as judges, public servants or community leaders, KU Law's impact is felt each day in Kansas City's civic and cultural life," he said.
Lucas shared his thoughts on the connection between KU Law and Kansas City, how he'll stay involved with the school, and how his experience as a law professor relates to his new role.
Q: How do you plan to stay connected to KU Law?
A: Since I first came to the school as a visiting professor in the summer of 2012, KU Law has been an essential part of my life and professional development as a public servant. I am grateful the law school will allow me to continue my love of teaching by offering a spring seminar on state and local government law.
With the help of Dean Mazza and Assistant Dean for Career Services Arturo Thompson, I also have been part of our outreach efforts to our friends in the Wichita legal and business communities. I plan to take any opportunity I can to visit with members of our KU Law community in Wichita, including an annual CLE presentation, and to continue working to send talented students to an area I know and love. As a former resident of Hutchinson, I still plan to make it back to the Kansas State Fair this year as well!
Closer to home, I will remain a member of the law school's judicial clerkship committee, which has excelled in placing our top students with leading jurists in Kansas, Western Missouri and beyond. Fine placement opportunities don't just begin after school. I'll continue to work with Pamela Keller and Jennifer Schmidt to see to it that our current students have strong opportunities with judges and in public service in our region, including welcoming KU Law students as student fellows in the mayor's office.
Given Kansas City's location on the state line, our shared resources over two states and a region of more than 2 million people, KU Law is also a great bridge for any conversation. When recently negotiating details of an economic border war truce between Missouri and Kansas, it wasn't unnoticed by Gov. Laura Kelly's office that the Mayor of Missouri's largest city is a "KU guy."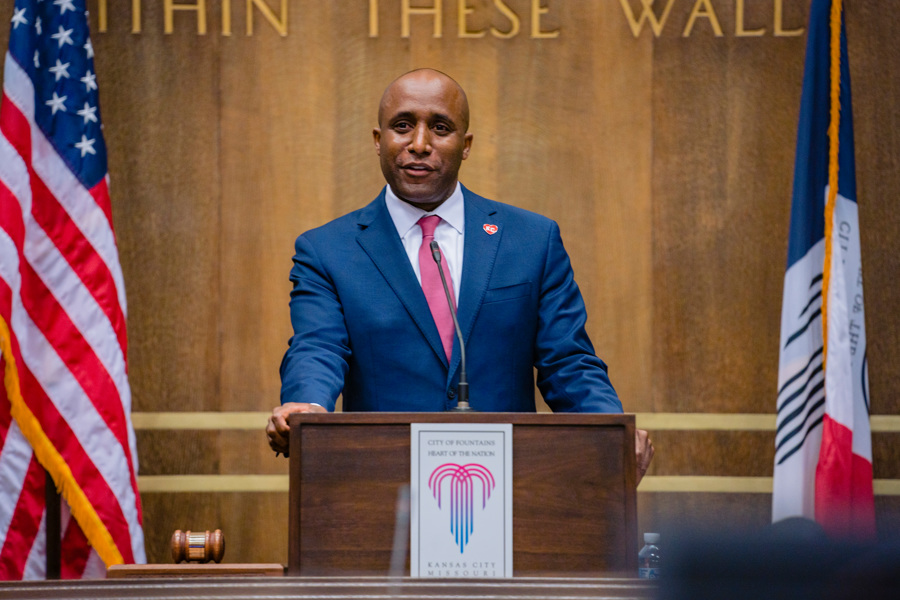 Q: How do you think KU Law serves Kansas City?
A: One cannot miss the impact of KU Law on Kansas City and its surrounding communities. That was summed up by a recent visit I had with Sen. Jerry Moran, L'82, in his office in Washington in which we discussed our love for the region and our love for KU Law.
The School of Law has been a thought leader in defendants' rights, has cultivated the preeminent trial advocacy program for students in our region, and through our accessible and relatable faculty and clinics, is a resource for practitioners and leaders in Kansas City, Topeka and our country. I am proud to be affiliated with the KU Law brand.
Q: How do you think your experience as a lawyer and law professor will serve you in your new role?
A: Unlike many of our peer institutions, KU Law has never lost sight of its key role as an institution that serves the State of Kansas and the surrounding region. Because of that, our faculty reflects the finest values of public service.
I have grown as a faculty member in that tradition of some outstanding mentors. Like generations of KU Law students, having the opportunity to learn from senior scholars like Martin Dickinson and Webb Hecker was the chance of a lifetime. Working alongside brilliant scholars and practitioners like U.S. Attorney Stephen McAllister, Raj Bhala and Lumen Mulligan taught me the impact we can have as scholars and public servants. And, reviewing the work of our next generation of faculty stars like Uma Outka and Corey Rayburn Yung shows the ongoing impact that our scholarship has on how we build our cities and our country for the future.
A law professor knows patience, humility (perhaps, surprisingly), and how best to explain complex topics. Those are skills I use each hour as mayor. A law professor also knows where and how to find help to those vexing challenges society faces each day.
Finally, any teacher knows the classroom provides you more ideas and solutions than one could ever conjure up on his own. I just consider my new classroom to be a bit larger than my 8 a.m. Contracts class last fall!
— By Margaret Hair