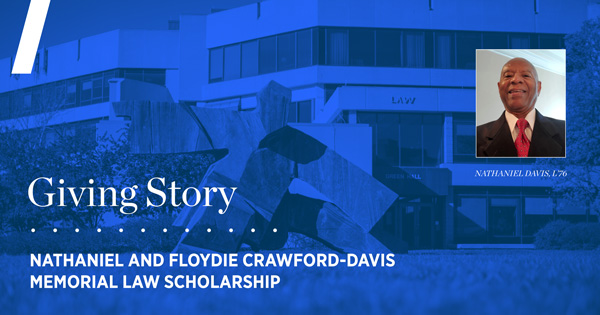 A new scholarship fund at the KU School of Law will provide support to law students from diverse backgrounds.
Nathaniel Davis, L'76, has established the Nathaniel and Floydie Crawford-Davis Memorial Law Scholarship with a $50,000 gift to KU Endowment. Davis named the scholarship after his parents, who were public school teachers in Greene County, Alabama.
"I established the scholarship fund as a way to honor the memory of my parents by providing financial assistance to minority students seeking a legal education," Davis said.
Davis graduated from KU Law in January 1976, attending two summer sessions to earn his J.D. early. He also completed academic requirements for the Master of Public Administration program. Davis started his career in private industry before joining the Parole and Community Services Division of the California Department of Corrections. He served in roles including state training director, chief of the Audit Division, and parole administrator before retiring in 2004.
Davis earned his undergraduate degree from Howard University in 1966. Before enrolling at KU Law, he served in the U.S. Army, and worked as a social worker and parole agent in California. When he decided to apply to law school, he reached out to campuses across the country.
"I made several inquiries to schools regarding possible minority recruitment programs. The University of Kansas offered the support that enabled me to attend law school," Davis said.
"I give to KU Law because KU Law gave so much to me. I am grateful for the legal education that has been an asset both professionally and personally," he said.
— By Margaret Hair