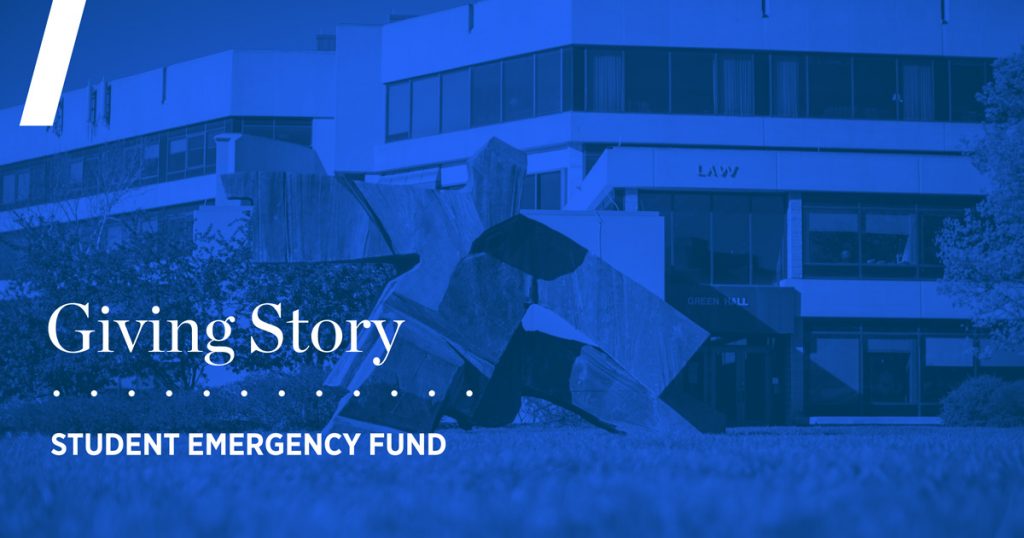 An unforeseen financial emergency or catastrophic event can have lasting effects on a student's education. In an effort to make sure such a situation doesn't prevent a student from continuing on to graduation, the University of Kansas School of Law has established the Student Emergency Fund.
The fund provides one-time grants of up to $500 to students in need of emergency financial assistance, including covering costs such as counseling and mental health services. The grants do not need to be repaid.
The Student Emergency Fund also provides relief for students who may be struggling with additional financial hardships brought on by the abrupt changes COVID-19 has created.
Leah Terranova, assistant dean for academic and student affairs, said the fund provides a safety net for students who encounter a situation that could affect their ability to continue law school.
"This fund allows students to connect with counseling services and other vital supports without adding a financial burden," Terranova said.
The Student Emergency Fund was made possible by support from the Janean Meigs Memorial Award in Law fund and its stewardees.
KU Law supporters donated $1,000 to the fund during this year's university-wide giving day, ONE DAY. ONE KU.
The fund is one of several efforts at the law school to support student wellness. Additional programs introduced during the 2019-20 academic year include:
A weekly Peer Listening program, coordinated with KU Counseling and Psychological Services, brings Mental Health Peer Educators to Green Hall for confidential sessions where students can get support and learn how to connect with useful resources.
At weekly mindfulness and meditation sessions, certified meditation coaches lead 20-minute exercises to reduce stress.
A new dedicated wellness space includes a stocked food pantry, available to any student who may be experiencing food insecurity.
To make a gift to the Student Emergency Fund, visit the KU Endowment website and enter "Student Emergency Fund" in the "Other Purpose" field.
Students can apply for assistance from the Student Emergency Fund by contacting Leah Terranova at leaht@ku.edu or sending her a completed application form. Gift cards to Dillons or other grocery stores are also available for students struggling with food insecurity. Please contact Leah Terranova to obtain a card.
— By Margaret Hair