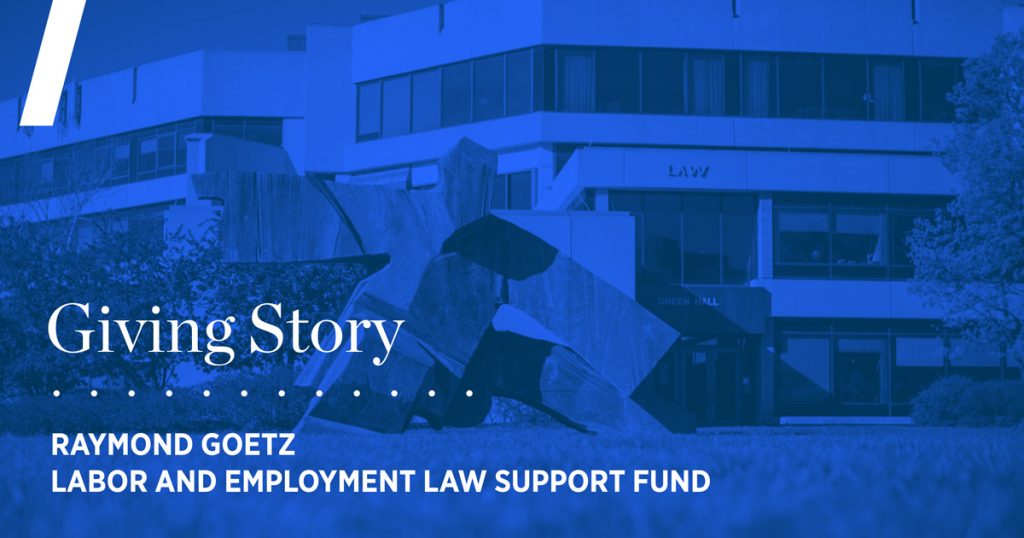 From the late Professor Raymond Goetz, William Bevan III learned that objectivity and understanding are essential to being a good labor lawyer.
"If you're going to be really successful at it, you have to understand what's motivating the people on the other side of the bargaining table or the other side of a labor dispute," Bevan said.
Bevan, L'70, recently established a fund to help teach that approach to future generations of KU Law students. Bevan created the Raymond Goetz Labor and Employment Law Support Fund with a $25,000 gift to KU Endowment. The fund is intended to support programs related to labor and employment law. It will also create an award for third-year students studying labor or employment law.
Goetz started teaching labor and employment law courses at KU in 1967. He retired in 1987. Bevan said he and many classmates thought of Goetz as a demanding but fair teacher with a wide range of interests who students could always go talk to.
"He meant a great deal to me as a professor, as a teacher and as a mentor," Bevan said.
When Bevan started teaching as an adjunct professor at the University of Pittsburgh in 1988, Goetz was his first call. He wanted to teach with the same Socratic method that Goetz had successfully used with Bevan and two decades worth of other KU Law graduates.
The education in labor and employment law he received at KU enabled Bevan to achieve a series of career goals in labor law, from working at the National Labor Relations Board in a number of capacities to building a career in private practice, a career that's still ongoing.
"I wanted to honor him, and I wanted to give back to the school for giving me the education that enabled me to have a really wonderful career," Bevan said.
Make a gift to the Raymond Goetz Labor and Employment Law Support Fund
— By Margaret Hair