Student advocates for those with limited resources
Leah Hodges chose to attend law school because of her passion for people and providing support for those with limited resources.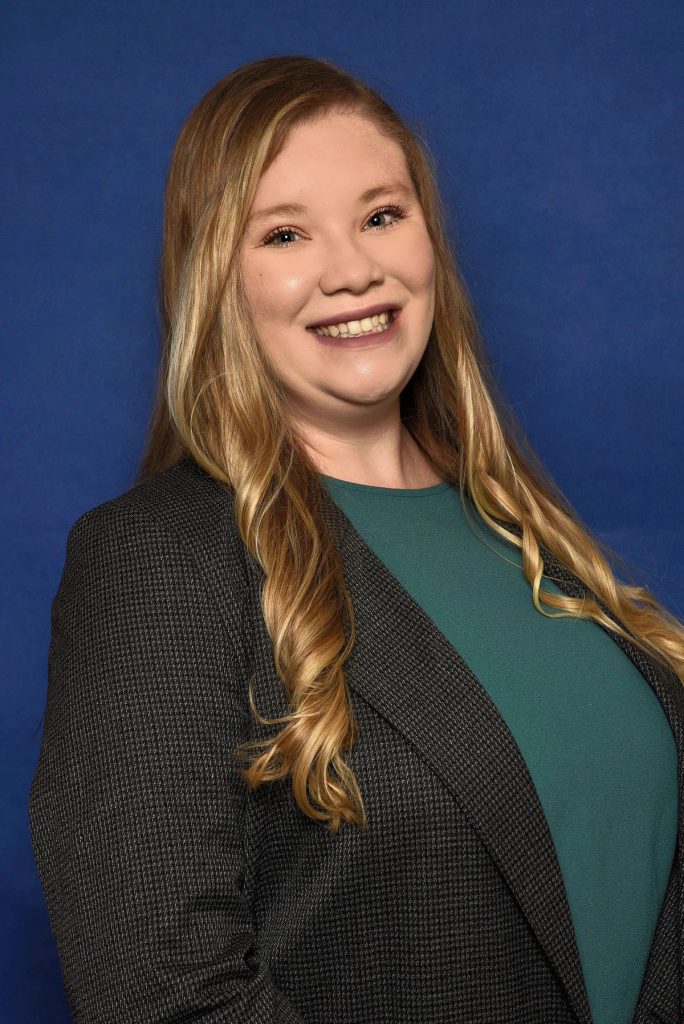 After graduating this month, she will begin her role as a Missouri Justice Fellow with the Missouri Public Defender's Office in St. Joseph. The two-year criminal defense fellowship places participants in underserved communities throughout Missouri, with a goal of making the criminal justice system more equitable for everyone.
Hodges earned her undergraduate degree in sociology from the University of Tennessee in Knoxville before attending KU Law.
"I came to KU Law because I have a passion for innocence work, and I wanted to participate in KU's Project for Innocence and Post-Conviction Remedies," she said.
Hodges not only enjoyed the work in the clinic but also developed an appreciation for the clinic's supervising attorneys – Professor Elizabeth Cateforis, Professor Jean Phillips and Professor Alice Craig.
"They have taught me what it really means to listen to your client, to respect them and to fight for them zealously," Hodges said. "I hope to one day be even half of the advocate that they are."
Professor Cateforis had a profound impact on Hodges' law school experience.
"She has supported me from the first day I met her and has taught me what it means to be a true advocate for your clients and to persevere no matter how challenging the road ahead may seem," Hodges said. "I have taken every class she teaches here at the law school and have found such a wonderful friend in her."
Hodges was involved in several extracurriculars during her time in Green Hall, including Women in Law, Public Interest Law Society, and First-Generation Professionals (FGP), where she served as president. As an FGP student having experienced difficulties to purchase law school textbooks herself, Hodges created the FGP Library at KU Law. Relying completely on donated textbooks and materials from generous alumni and older students, the FGP Library is a free resource to any FGP law students in Green Hall.
"Being the president of FGP was an incredibly rewarding experience for me," Hodges said. "I was determined to do everything I could in the time I had to show FGP students that we belong here, and we are valued in the legal community."
Hodges plans to continue her mission of advocating for those with fewer resources as a Missouri Justice Fellow.
"Often times, as a public defender, clients are coming to you on one of the worst days of their lives. I want them to know that despite what their situation may be, they still deserve respect and the best representation I can possibly provide," Hodges said. "I am excited to be able to have a career where each day I can work toward criminal justice reform by advocating for those who have been marginalized in our society."
As a first-generation professional, Hodges looks forward to connecting with and supporting her clients through an empathetic lens.
"I may not know what it's like to walk in my clients' shoes, but I want them to know that I do know what it's like to not have the same financial resources as others," Hodges said. "I want my future clients to know that just because someone is living in poverty does not mean that they do not deserve fair and competent legal ​representation and access to justice."
-By Sydney Halas
This is the final post in a series highlighting a few of the exceptional members of KU Law's Class of 2022. Check out previous stories about Olivia Black, Parker Bednasek, Cortez Downey, Ashlyn Shultz, Dahnika Short, Trey Duran, Heddy Pierce-Armstrong and Lakisha Cooper.