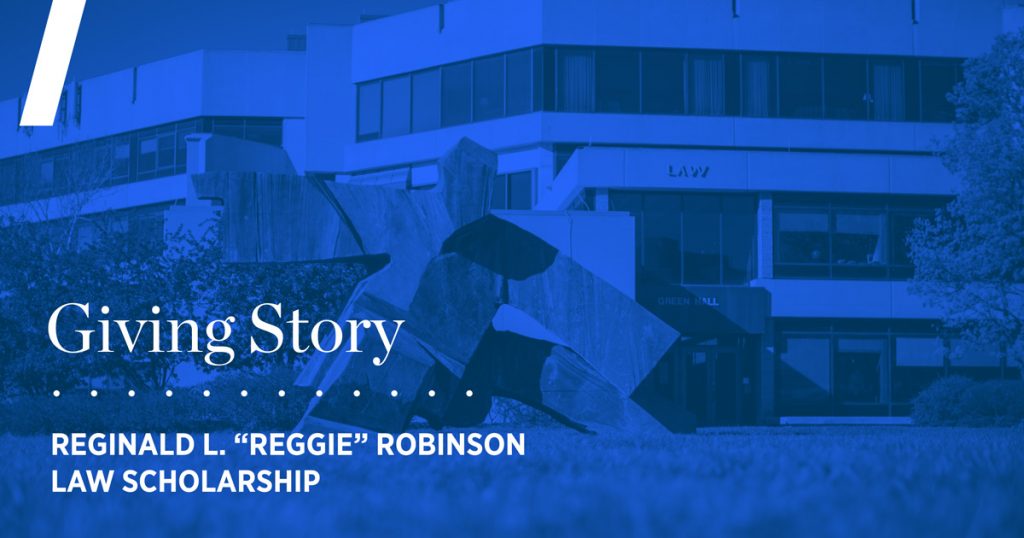 A group of KU Law alumni are encouraging their fellow Jayhawk lawyers to support a law scholarship established in memory of the late Reginald L. "Reggie" Robinson, L'87.
Robinson, who earned his undergraduate and law degrees at KU, passed away in September 2020. Over four decades of teaching, mentorship and leadership in the KU community, he served as a law professor, chief of staff for Chancellor Robert Hemenway, director of the School of Public Affairs and Administration, and vice chancellor for public affairs.
The Reginald L. "Reggie" Robinson Law Scholarship was established based on Robinson's wishes to benefit academically talented female students who express a strong interest in public service. To date, more than 225 family, friends, colleagues and KU alumni have contributed over $160,000 to the fund. Organizers hope to increase the fund to $500,000, which would provide a full-tuition scholarship for a student. Justin Lungstrum, L'00 and Emily Lungstrum kicked off the fundraising effort with a $50,000 gift.
Contributions can be made through Launch KU.
The Robinson family – Jane, Clare and Paige – expressed their gratitude to KU Law alumni and friends for supporting the scholarship fund.
"We are so grateful for the outpouring of support from KU alumni, faculty, staff and friends of Reggie's from across the country who have given to the Reginald L. 'Reggie' Robinson Scholarship. Reggie described his time at KU as 'terrific' and said that he 'loved the law school experience'," they said.
"To be able to continue his commitment to KU by supporting future KU law students through this fund is such a fitting way to honor him. Having championed women throughout his life, it was his desire to support women pursuing a law degree with an eye toward public service. This is a great way to extend his positive effect on the lives of students for years to come."
Make a gift to the Reginald L. "Reggie" Robinson Law Scholarship
— By Margaret Hair