When Kathleen Watson took Professor Craig Reaves' Elder Law class, she found a passion for helping seniors address the legal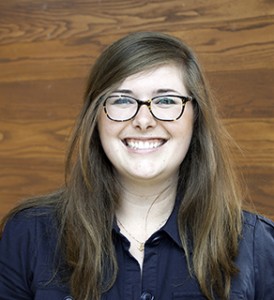 challenges that accompany aging. That experience led her to pursue the Elder Law Certificate, which included an externship with Kansas Legal Services (KLS) and a weekly class that covered issues ranging from elder abuse to grandparent rights.
"Twice a week, I worked a half day at the Kansas Legal Services office," Watson said. "I worked closely with attorneys, paralegals and office workers dedicated to the organization and their clients. I interacted with clients every day."
The best part of Watson's job was the chance to work directly with seniors. "Once a month, KLS sets up appointments at the Douglas County Senior Center in Lawrence," she said. "These are particularly meaningful events, because you get to work face-to-face with clients on a wide variety of legal topics."
Watson helped prepare advance directive documents including durable powers of attorney, powers of attorney for health care decisions and living wills. "I really enjoyed preparing advance directive documents because I liked listening to each person's concerns and hopes as they aged and tailoring the documents to meet those needs," she said.
Watson's clinical experience gave her more confidence in interacting with clients and more familiarity with the legal issues affecting seniors and people with disabilities. "I also gained experience performing some of the daily tasks that we don't get much practice with in law school, such as becoming familiar with court websites and forms and filing documents with the court," she said. Watson plans to use that experience as she focuses her career on elder law.
"Overall, the clinic is a great way to gain practical legal experience and work with senior citizens on a wide variety of legal issues."