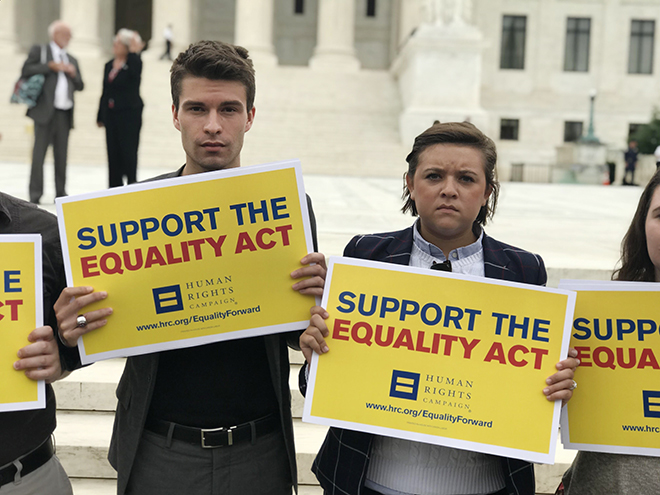 James Hampton plans to build a career out of helping others.
Hampton is spending his summer as a Legal Fellow at the Human Rights Campaign, a LGBTQ civil rights advocacy group and political lobbying organization in Washington D.C.
Hampton, a third-year KU Law student and Wichita native, said the most rewarding part of his fellowship is helping others.
"HRC is the largest civil rights organization working to achieve LGBTQ equality," Hampton said. "Working with amazing people who are on the ground fighting for LGBTQ rights and supporting them through the legal department is amazing. By figuring out what these laws mean, I can inform our members what the law is and they can go to their government officials and demand change."
Hampton said the most challenging part of his fellowship is making legal terms sound simple to people who aren't familiar with technical legal jargon. A large part of his summer has consisted of explaining the meaning of laws and the impact they have to non-legal professionals.
At Hampton's fellowship, he has a wide array of responsibilities that include: tracking bills at the state and federal levels and the impact these laws have on the LGBTQ community; tracking Supreme Court decisions and looking at what cases the court is taking; working with the Human Rights Campaign's communications department to break down and interpret opinions; interpreting laws, bills and city ordinances; and looking at city and state laws to determine how they affect the LGBTQ community.
"HRC is primarily focused on LGBTQ rights, but we also jump in on other areas, such as immigration, gender equality and civil rights," Hampton said. "Since the Supreme Court has been active in all these areas this past summer, it's been busy but very exciting."
Hampton initially decided to go to Washington, D.C., after being selected by the KU Law Office of Career Services to attend the Equal Justice Works Conference last October. The conference is a KU-sponsored trip that gives law students who are passionate about public interest law the opportunity to visit the nation's capital, interview for jobs and network.
"I hope to make more connections in D.C. and build on the ones I've already made this summer," Hampton said. "Hopefully, I can secure a job for after graduation and learn more about public interest opportunities."
He chose to attend KU Law after falling in love with the university during his undergraduate years. He earned a bachelor's degree in business administration and was a student athlete on both the KU cross country and track teams. Hampton graduated a year early and continued to compete athletically during his 1L year.
While he is on Capitol Hill, Hampton hopes to establish a solid network of connections that will help and support him with his post-graduation search for jobs in D.C. He strives to one day do both legislative and policy work for an advocacy group or non-profit that specializes in civil rights.
"I believe no one should be discriminated against because of who they are," Hampton said. "The best way to ensure that is by enacting laws that protect everyone."
— By Ashley Hocking
This post is the second in a series highlighting the diverse internships and jobs KU Law students and recent graduates are engaged in over the summer and early in their careers. Check out an earlier post from this series about Omar Husain.