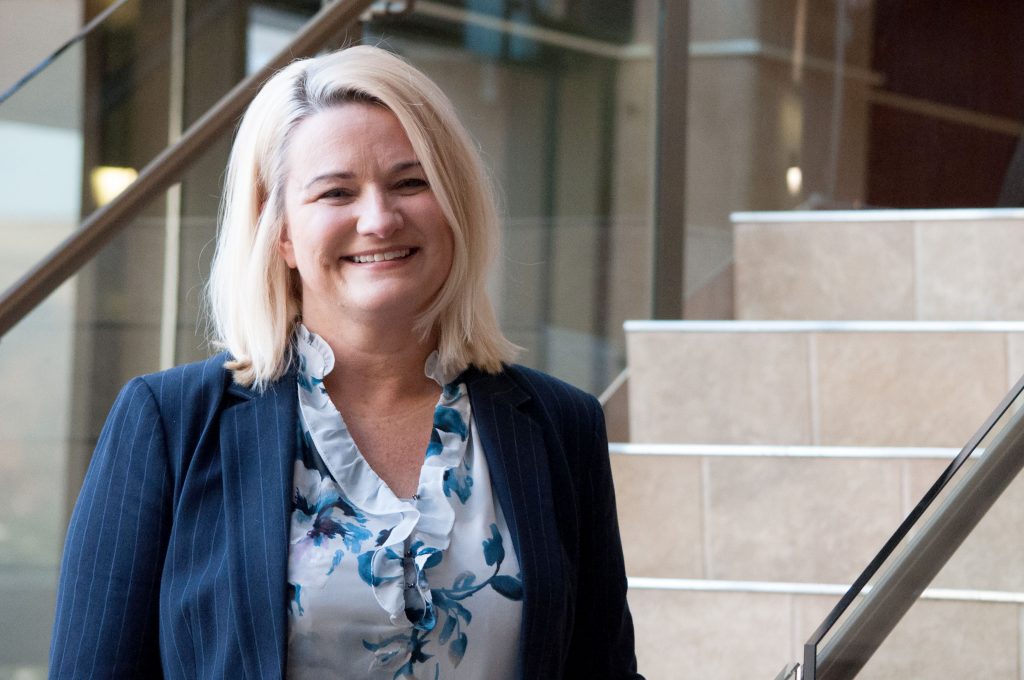 Heather Spielmaker recently joined the University of Kansas School of Law as the assistant dean for career services. Working closely with her new colleagues Stacey Blakeman and Amanda Chesbrough, she looks forward to bringing students the highest level of career support from their first day of law school and throughout their careers.
It took 14 years, but Spielmaker graduated with honors from Michigan State University as a non-traditional student and single mother. After earning her undergraduate degree, she next tried public administration courses before deciding upon law school. She worked full-time as the Director of the Center for Ethics, Service, and Professionalism at Western Michigan University Cooley Law School while earning her law degree through night and weekend courses. She graduated from WMU Cooley magna cum laude.
"I recall being very excited to have finished so quickly. Law school only took 4.5 years," Spiemaker joked.
While working for WMU Cooley, Spielmaker developed and administered one of the largest military pro bono programs in the country, for which she received the Department of Veterans Affairs' Legion of Merit award. The program provided over $4 million in pro bono legal services for deploying and returning troops.
Before returning to law school administration, Spielmaker worked in both large and small firm settings in Lansing, Michigan and Cleveland, Ohio. However, she realized that higher education was her calling. She served as the assistant dean for career services at the West Virginia University College of Law for three years, where she doubled the size of their on-campus interview program and added new features including speed mock interviews, small firm OCIs and a title research certification program.
"I am looking forward to working with students to find innovative ways to meet the unique career goals of the KU Law student body," Spielmaker said.
Spielmaker has a son, Damian, who is serving in the military, and a daughter, Kennedy. She also has two sisters and 10 nieces and nephews in Michigan. She enjoys visiting them all and traveling the world. She is a certified scuba diver and recently traveled to Iceland, Thailand and Cozumel. She hopes to get to Scotland and the South Pacific soon.