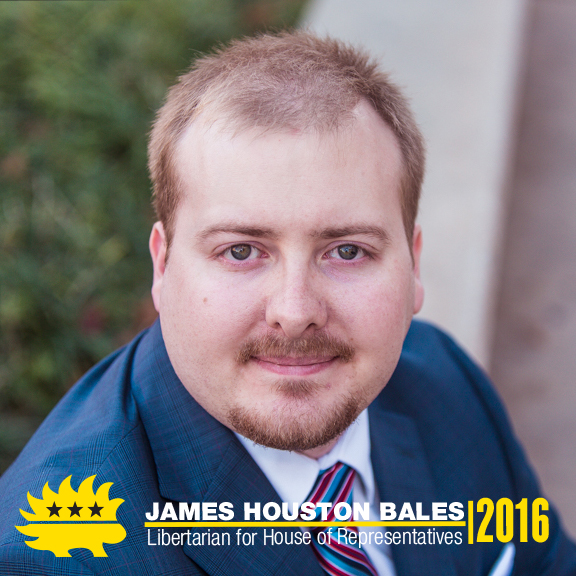 For the class of 2017, the final year of law school was a time of transition. The Republican party took control of both chambers of Congress and the White House, promising sweeping policy changes and a shift in priorities.
For 3L James Houston Bales, the political transition resonated on a personal level as well as a national one. In addition to his coursework and internship with a local criminal defense firm, Bales spent the fall semester of his final year of law school campaigning for national office. A Libertarian, Bales ran against Republican incumbent Lynn Jenkins, who ultimately kept her seat, and Democratic challenger Britani Potter for Kansas' 2nd Congressional district.
As a third-party candidate, Bales acknowledged that his campaign was a long shot. A law student active with the Federalist Society, the Hispanic American Law Students Association, Christian Legal Society, and KU Court of Parking Appeals, his time and resources were limited. But his motive wasn't to win. It was to build a foundation for change. "The status quo is not in a good place," Bales said. "I figured I'd put my money where my mouth is and try to change it. It's an extra responsibility, but if it needs to be done you need to step up."
A lifelong Kansan, third-generation Jayhawk, and co-owner of a family farming operation, Bales' desire for change comes from a deep belief that all Americans have the right to self-determination and that government officials should be held accountable for their decisions.
"This was the first position I ran for, and I got about 7 percent of the vote," Bales said. "The percentage is not too much, but 18,000 people thought I had a good idea. That's a mind-blowing thing, how many people will respond to an idea if you put it out there. Considering this was my first time in politics, I learned a lot and I'm really proud."
Running a campaign during law school was challenging, but Bales found the balancing act worth it. He relied on support from his friends, family and state party leadership, and took advantage of the long hours in the car between campaign stops to study flash cards. "You can't do it alone, even if it's a local race," Bales said. "You've got to budget that time, but you've got to be really careful you don't get caught up shaking two more hands, because you have to go home and outline."
Bales was the only candidate in his race with legal experience, a perspective that he feels is beneficial to the policymaking process. "We need people making laws who understand how they will be enacted and enforced," he said. "One of the biggest failures of our system is well-meaning laws that don't work in the real world. When legislators enact laws based on knee-jerk reactions, they create barriers for enforcement, leaving bureaucratic bodies and judicial systems to deal with the consequences. If you write a bad statute, you're going to make enforcement nearly impossible."
Bales plans to pursue a career in criminal defense after graduation. In his brief time as a law clerk, he said he's encountered countless clients who did not receive a timely preliminary hearing as the law dictates, or received draconian punishments for minor infractions. "It irritates me," Bales said. "We are the land of the free. We should have all these protections in our Constitution, but we have the world's largest prison population. We've decimated our communities by removing access to education and resources. We've normalized going to prison. I'm going to dedicate my life to helping Kansans who may not have someone willing to say, 'These lives are worth protecting.' If I can't do that in the Legislature, I'll do that in the courtroom."
Bales remains committed to his Libertarian vision and plans to stay active with the party.
"I think Kansans in particular are receptive to the Libertarian message," he said. "We are the Free State. The civil war started here. We understand personal freedom. We're here not necessarily to change things, but to fight for your ability to decide for yourself. I don't know how much change I'll be able to make on my own, but I'll be fighting to make every ounce of change I can."
— Emily Sharp
This post is the second in a series highlighting just a few exceptional members of KU Law's Class of 2017. Check out Kriston Guillot's story, and stay tuned for more graduate profiles as we count down to the Hooding Ceremony on May 13.