Allow me to make a few educated guesses. As prospective law students, you undoubtedly have watched enough videos and read enough blog posts to conclude that law school can get bumpy at times. If that's the case, then I am 100%, without a doubt, positively sure that those same videos have also suggested you find a hobby to take your mind off school, so you can survive and thrive. Am I on to something?
Taking one more guess, I am sure you are also thinking to yourself, "Why do these recipes always have to have a life story before the ingredients list?" Well, if I got any of those guesses right, might I suggest stress baking!
De-stress baking, or stress baking for short, is a wonderful and delicious hobby that will not only help you relax during those stressful times in a semester but also reward your efforts with delicious snacks to fuel your late-night study sessions. To get you started on your culinary journey to bliss, I have included my coveted Finals Exam Cookie Recipe, and I am revealing all my tips and tricks.
Brett's Final Exam Cookies
Ingredients (approx. 16 cookies)
½ cup unsalted butter, melted (or room temp)
1 cup brown sugar
3 tablespoons baking sugar (or granulated)
1 egg (room temperature)
1 tablespoon vanilla extract
1 cup all-purpose flour
¾ cup bread flour (this can also be all-purpose flour)
½ teaspoon baking soda
½ teaspoon baking powder
½ tablespoon sea salt
1 tablespoon espresso powder
chocolate chips to preference (I use about 1 cup)
Step 1
Grease a cookie sheet or use a silicone baking sheet.
Step 2
In a bowl, sift together the flour(s), baking powder, baking soda, salt and espresso powder.
Step 3
In a separate bowl or stand mixer, mix the melted butter and sugars until creamy and smooth. Beat in the egg and vanilla extract until creamy. Now, slowly incorporate your sifted dry mixture. Once fully incorporated, add chocolate chips to your heart's content.
Step 4
Scoop your dough and form your cookies on the baking sheet, leaving space in between dough.
Note: If using room temperature butter, your cookies might flatten in the oven so leave extra room. Room temperature butter is soft enough to incorporate air, but not so soft that it will melt immediately in the oven and result in thinner cookies.
Step 5
Place in refrigerator for at least 30 minutes or up to eight hours.
Note: This is probably the most important step as it allows the fats to cool and ensures chewy cookies.
Step 6
Preheat oven to 375 degrees Fahrenheit and bake for 12-15 minutes or until desired crispiness.
Note: For even softer cookies, add a shallow bowl of water on the rack below the cookies while they bake in the oven.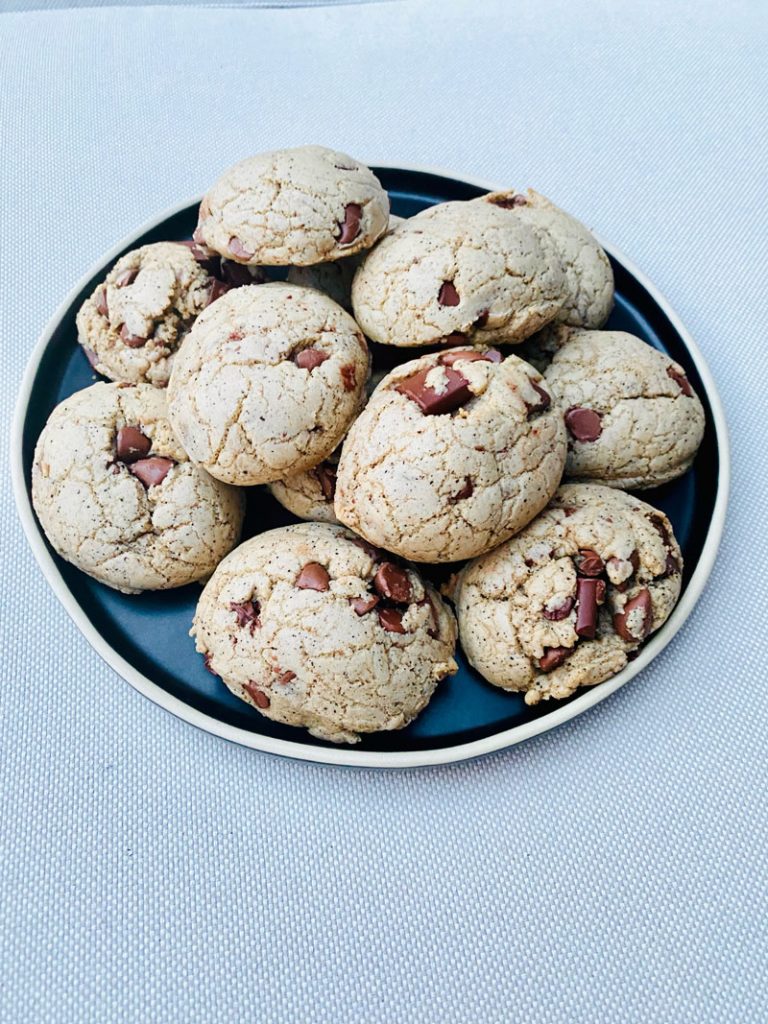 Step 7
Enjoy!
-By Brett Hallagan, a 2L from San Diego, California and KU Law Student Ambassador