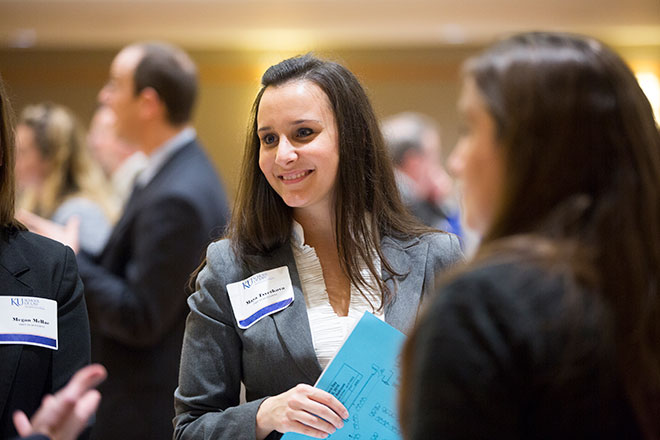 Bulgarian immigrant learns language of law at KU
Maya Tsvetkova got by with a little help from "Friends."
When the 2018 KU Law graduate immigrated to the United States from her native Bulgaria as a teenager, she spoke Bulgarian, Russian and German – but not a word of English. Watching reruns of the popular NBC television series with subtitles helped her understand all the fast-talking Americans around her.
"I think it is exceptional that Maya came from not knowing English at age 15 to graduating law school," classmate Claire Kebodeaux said.
It was a different TV show, "Ally McBeal," that sparked Tsvetkova's interest in the law as a little girl. And her desire to be an attorney only intensified during her efforts to immigrate to the U.S. She was raised by a single mother who moved to Oklahoma for work.
"During that time, I was separated from my mom, which encouraged me to look for ways to bring us together faster," Tsvetkova said. "I applied for a student visa after a series of tests and interviews with the American embassy in Bulgaria and – at age 15 – finally moved to Tulsa to be with my mom."
Tsvetkova majored in business with a specialization in business law at the University of Tulsa, and chose KU Law after visiting Lawrence during Admitted Students Weekend.
"KU Law faculty and students were extremely nice and welcoming," she recalled. "I didn't even look for a different law school."
And she's made the most of her time in Green Hall. Tsvetkova was a member of Women in Law and the Business & Tax Law Society. She also served as vice president of the Student Bar Association and gained professional experience working as a law clerk for the Kansas Department of Revenue and as a research assistant to Professor Raj Bhala.
"My favorite part of law school has been meeting people from so many different backgrounds and unique experiences," Tsvetkova said. "I have gained new perspectives on world issues and life in general. Being in law school has helped me grow as a person and taught me how to overcome even the hardest obstacles that stand in the way of my success."
Tsvetkova plans to pursue a career in transactional law, with a focus on tax and finance. Ultimately, she sees herself as in-house counsel for a successful corporation.
— By Mindie Paget
This post is the first in a series highlighting just a few exceptional members of KU Law's Class of 2018 as we count down to the Hooding Ceremony on May 12.