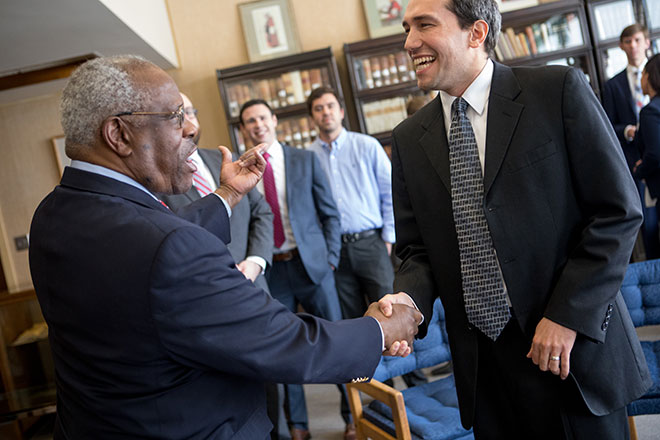 Sam LaRoque counts meeting U.S. Supreme Court Justice Clarence Thomas among his most memorable KU Law experiences.
Astrophysicist's rendezvous with law school written in the stars
Some might say the stars aligned to bring Sam LaRoque to KU Law.
As a doctoral candidate in astronomy and astrophysics at the University of Chicago, LaRoque wrote his dissertation on observational cosmology – the study of the structure, origin and evolution of the universe using high-powered telescopes. What he didn't discover observing the cosmos was a passion for astrophysics.
So he changed direction. Toward the end of a two-year post-doctoral fellowship in medical imaging, he stumbled upon a job listing for a technical advisor with a patent litigation group in Minneapolis. He applied on a whim and got the job. LaRoque and his wife moved to Minnesota, where he worked at the firm for seven years.
"I focused mainly on the technical aspects of each case but came to love learning and thinking about patent law and legal strategy," he said. "After a while I decided I would love to go to law school and do patent litigation as an attorney instead of an advisor. It's funny to think that if I hadn't been looking at the job postings in that particular magazine on that particular day, none of this would have ever happened."
In 2014, LaRoque's wife – a breast cancer researcher – accepted an offer to join the biochemistry faculty at the KU Medical Center in Kansas City, Kansas, and everything clicked into place.
"It was perfect because I knew KU Law had Professor (Andrew) Torrance, who is an amazing resource for patent law," LaRoque said. "I also knew KU Law had a great skills-based program to go along with its doctrinal offerings, and I wanted to be a litigator."
He tailored his law school experience toward that goal, serving as an intern to Chief Judge Julie Robinson of the U.S. District Court for the District of Kansas through the Judicial Field Placement Program. He took Trial Advocacy, Expert Witness Skills, Deposition Skills and Pretrial Advocacy.
"I have loved having the opportunity to draft discovery, to be up on my feet arguing and to examine witnesses in a controlled setting where I can learn from my mistakes without actually harming anyone," LaRoque said.
He also participated in KU Law's nationally ranked Moot Court Program, which led to one of his proudest law school triumphs.
"Winning the regional finals of the National Moot Court Competition with Ashley Billam as a 2L was a pretty big event for me," he recalled. "It was kind of an upset, as we beat an experienced 3L Oklahoma team that had won regionals the previous year."
LaRoque attended KU Law through the Rice Scholar Program, which provides full tuition and fees to students with outstanding academic and leadership records. He'll graduate at the top of his class and has been selected to carry the law school banner at Commencement. But you won't hear that from him (LaRoque's classmates voted him "Most Humble" at law prom this year).
Following graduation and the bar exam, the 41-year-old father of two will practice patent litigation in the intellectual property group at Shook, Hardy & Bacon LLP in Kansas City, Missouri – the fulfillment of a decade-long goal.
"It's funny because I came into law school knowing exactly what I wanted to do, and sometimes my classmates who haven't decided yet say, 'You're so lucky to know exactly what you want to do after law school,'" LaRoque said. "And I always say, 'Yeah, I guess I am, but don't forget it took me 20 years to figure it out.'"
— By Mindie Paget
This post is the second in a series highlighting just a few exceptional members of KU Law's Class of 2018. Check out a story about Maya Tsvetkova as we count down to the Hooding Ceremony on May 12.