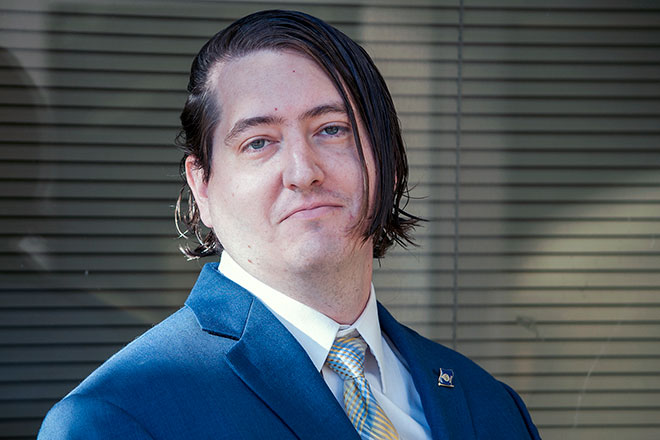 Former firefighter earns law degree to help ensure justice
In his previous career as a firefighter and medic, Joe Uhlman witnessed the lasting damage that some people inflicted on others. He picked up the pieces the best he could in the brief time he spent with people during emergencies.
"I wanted the opportunity to be more proactive – to do what I could to ensure that the people who caused that damage were held accountable for their actions," Uhlman said. "Law provides the best opportunity to do that."
So with an eye toward working in a rural prosecutor's office, Uhlman enrolled at KU Law and embraced every opportunity to hone his courtroom skills. He served as chief justice of KU's Traffic Court and a justice on the KU Student Senate Court of Appeals.
He also participated with great success in both mock trial and moot court. Uhlman competed on teams that took first place in the regional rounds of the Texas Young Lawyers Association National Trial Competition and advanced to the quarterfinals of the Herbert Wechsler National Criminal Law Moot Court Competition, winning the Ryan J. Mullins Award for best professionalism, civility and sportsmanship.
All this while also serving on the staff of the Kansas Law Review and as treasurer of the Jewish Legal Society. His drive and personality made an impression on classmates.
"When Joe Uhlman took part in any organization, event or dialogue at KU, you could tell immediately," said John Truong, fellow 2018 graduate. "He left his unique brand of style, humor and intelligence on every project he participated in or authored. Although unconventional – perhaps even contentious – his constant drive to push himself, and the many accomplishments that resulted from that drive, makes him an outstanding student of KU."
Uhlman published articles in the Kansas Prosecutor, Kansas Law Review and Journal of the Kansas Bar Association, and he won first prize in the Center for Alcohol Policy's 2018 national essay contest.
But his most memorable law school experience came this spring when Traffic Court hosted Chief Justice Lawton Nuss for the awarding of the inaugural Chief Justice Lawton R. Nuss Award for Excellence in Advocacy.
"It was wonderful to hear Chief Justice Nuss share stories about his time as a law student and a justice on Traffic Court," Uhlman said. "It's pretty incredible that KU Law has such an impact on its alumni that even the Chief Justice of the Kansas Supreme Court is willing to give up an evening to spend time with its students."
As he reflects on his time in Green Hall, Uhlman knows one thing for sure: He couldn't have made it through law school without the unwavering love and support of his wife, Misti.
"I think sometimes we present people's accomplishments as though they were earned alone, and I'm not sure how true that is – but I know it isn't true for me," Uhlman said. "Any accomplishments I can claim are as much hers as mine. Her strength has kept me going through all the times I thought I couldn't – and there were several of those times during the last three years."
— By Mindie Paget
This post is the third in a series highlighting just a few exceptional members of KU Law's Class of 2018. Check out stories about Maya Tsvetkova and Sam LaRoque as we count down to the Hooding Ceremony on May 12.