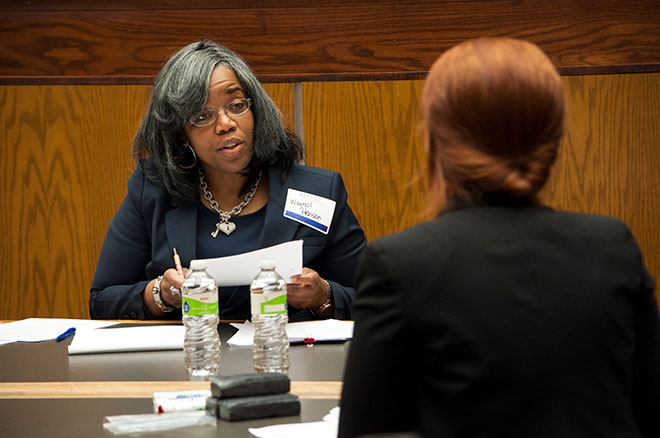 Business-savvy law student learns best on the job
Every major brand has a tagline. Coca-Cola urges consumers to "Taste the Feeling." Kraft Foods Group encourages shoppers to "Make Today Delicious."
KU Law student Waynell Henson asks: "Are YOU Ready for Sunday School?"
It's a question she poses as founder and president of That Sunday School Girl, a nonprofit offering video training, resources and products to ministry leaders. After nearly 20 years working for two national consumer goods companies (you guessed it: Coca-Cola and Kraft), Henson wasn't ready to hang up her business hat during law school. So she built a personal brand and a social community that garnered more than 5,000 followers during her 1L year alone.
"I believe that no experience is wasted, and each of us is challenged to leave our imprint on the world and make it a better place," said Henson, who earned an MBA at the University of Mississippi. "My work as a global sales and marketing leader now allows me to touch more than 10,000 people weekly around the world through my own brand with a message that is positive, building and uplifting."
Not surprisingly, Henson favored experiential learning opportunities during law school. She took Deposition Skills and Expert Witness Skills, and participated in the Mock Trial Program.
"Coming from a career back into an educational setting was quite a swing," she said. "I find my best learning happens in the actual work context. I love when passion meets performance. It is truly the place where the practical application of theory is illuminated."
Henson put that practical experience to work during a Judicial Field Placement with Judge Stephanie Mitchell in the 291st District Court in Dallas. She also interned with the Dallas County Prosecutor's Office and the Dallas County Defender's Office. During her final year at KU Law, she participated in the Elder Law Field Placement with Kansas Legal Services in Kansas City, Kansas.
If Henson sounds like a go-getter, that's because she is. But that might not have been apparent to someone who met her on her first day in Green Hall.
"When I arrived, I had determined in my mind that I was going to lay low," she said. "Connecting with the Black Law Students Association created a sense of community and a conduit to positively and productively raise social issues and give back."
As BLSA president for 2017-2018, Henson oversaw the 27th annual Thanksgiving Food Drive, which generated 3,044 pounds of food and more than $2,500 for charities in Lawrence, Topeka and Kansas City, Kansas. Her marketing prowess shone brightly with daily promotions like "Mash It Up," which awarded 4x points for items such as instant mashed potatoes and canned yams.
Henson hopes her classmates would describe her as kind, effective and results-oriented – someone who has their back.
"I bring calm and reason to chaotic moments and situations," she said. "I bring the ability to keep people focused on what is really important. I am not perfect, but I hope it is said that I strive daily to reflect the values consistent with my faith."
After graduation, Henson hopes to reconnect with the corporate world, this time working in the legal department.
"Ultimately I aspire to a senior leadership role in an organization that represents a great brand and cares about the community it serves," she said. "I also hope to be a benefit in some way to my church."
— By Mindie Paget
This post is the fourth in a series highlighting just a few exceptional members of KU Law's Class of 2018. Check out stories about Maya Tsvetkova, Sam LaRoque and Joe Uhlman as we count down to the Hooding Ceremony on May 12.