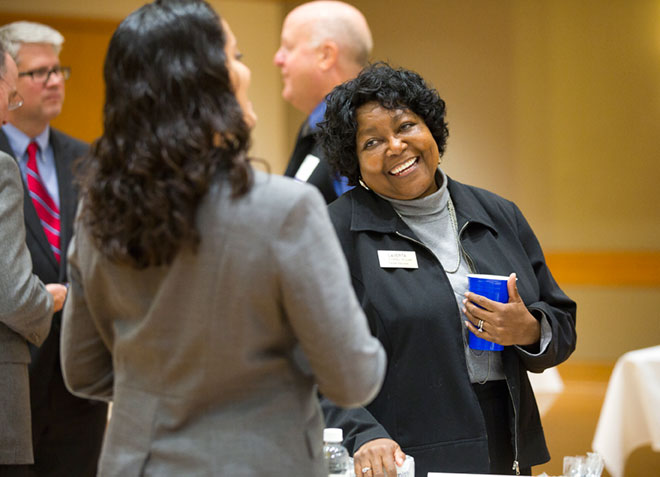 LaVerta Logan retiring after 19 years of supporting students
After 19 years of service, the incomparable LaVerta Logan, assistant director of KU Law's Career Services Office and 2013 KU Employee of the Year, is retiring. Logan is well known around Green Hall for her warm smile and cheerful demeanor, but it is perhaps the welcoming space she creates that resonates most with students. Logan's office is a tribute to the thousands of students who have passed through during their years in Green Hall and still keep in touch, sending wedding and birth announcements and holiday greetings each year.    
3L and KU Law Ambassador Julia Leth-Perez reflects on Logan's legacy: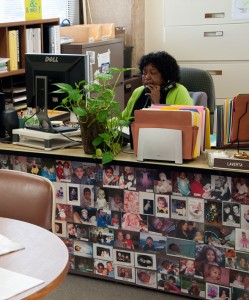 It started with postcards from faculty trips and grew into a KU Law family tradition. When I first walked into Ms. LaVerta's office, I knew I had found my touchstone for one of the biggest undertakings of my life. There I stood, a stranger, surrounded by hundreds of photographs of smiling families. These photographs represent the life moments of faculty, alumni and students.
When I asked her Ms. LaVerta what I needed to succeed in law school, she gently replied, "Balance between life and school. If you put life on the back burner, you will be surprised when you are done with school and that life is gone. Allow some time, one day, one night, to just be with people, with family, and see what's going on with someone other than yourself." These words ring true in the photos on her walls and in my path through law school.
William Arthur Wood said, "A warm smile is the universal language of kindness." On my best days Ms. LaVerta's smile shares my success, and on my worst it encourages me. The difference I found at KU Law is the people. People whose warmth and kindness have inspired a tradition, where the universal language envelopes a stranger and transforms them into family.
If you would like to learn more about contributing to a group gift for Ms. LaVerta, please contact Leah Terranova at leaht@ku.edu.
---
Postscript from LaVerta Logan
THANK YOU ALL!!!
I have been surprised, dined, received countless messages from students, faculty, friends, and family via email, LinkedIn, Facebook, telephone, flowered, hugged and photographed endlessly during the last two weeks.
I would be remiss if I did not mention receiving the best oatmeal raisin cookies (Crystal Mai) and the best chocolate chip cookies (Jake Hecker) in America! Thanks, Crystal and Jake.
I am totally overwhelmed, grateful and blessed to be on the receiving end of all this love shown to me as I prepare to move into my next season.
Love you all – Merry Christmas!
Ms. LaVerta