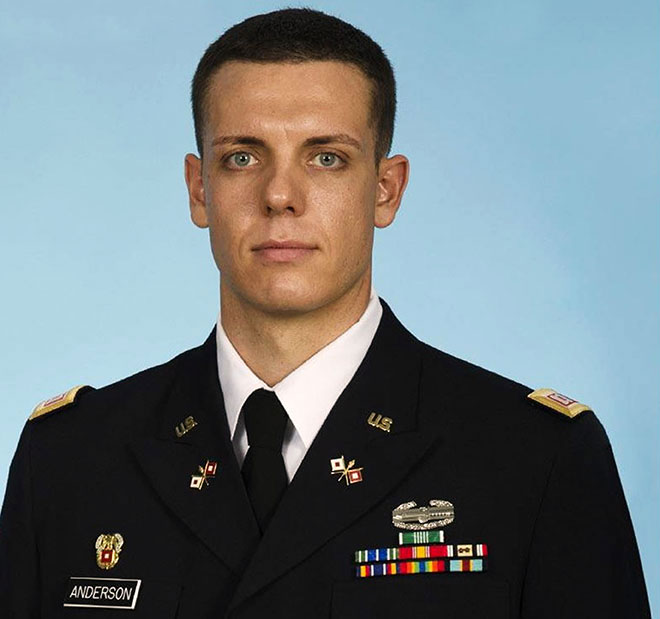 With an eye toward a career in public service, 2016 graduate Kevin Anderson weighs multiple employment opportunities
A University of Kansas law student with a history of military service has been named a finalist in one of the nation's most competitive fellowship programs.
Capt. Kevin Anderson earned the designation of 2016 Presidential Management Fellow Finalist after an intensive application and interview process. More than 6,000 people applied for the fellowship, and less than 10 percent made the final cut.
The PMF program was created by executive order in 1977 to develop potential government leaders. It provides extensive on-the-job leadership and management training to advanced degree candidates through two-year, paid positions at federal agencies. Anderson is set to graduate from KU Law in May 2016 and will have one year to apply for PMF positions.
He is also entertaining offers from the Army, Navy and Air Force JAG Corps, a rare trifecta in a competitive program.
"I'm interested in federal service," said Anderson, who has remained active in the Army National Guard during law school. "While money is important, it is not my main motivator."
Anderson hopes to work in the intelligence community supporting national security. His interest in the field began while earning bachelor's and master's degrees in political science from Colorado State University and the University of Colorado, respectively. Five years of active duty as a signal officer in the U.S. Army followed, including a 12-month deployment to Iraq, where Anderson was responsible for the health, morale, welfare and training of 67 soldiers.
With the continued draw-down of U.S. troops from Afghanistan, Anderson saw diminishing opportunities for future deployments and decided the timing was right to continue his education. He left his post in Hawaii, moved to Kansas and started taking classes at KU Law in 2013.
In addition to his coursework, Anderson has served as a teaching assistant for the Law of War class taught by Professor Mike Hoeflich, whom Anderson considers an invaluable mentor and friend. Anderson also clerked at an Overland Park law firm and worked as a legal intern for U.S. Sen. Pat Roberts. He credits that experience with enhancing his application for the PMF program and the JAG Corps.
"A lot of students interested in the intelligence field don't take the proactive step of working for a senator or representative," Anderson said. "I would highly suggest they do that because it opens a lot of doors."
As Anderson decides which door to walk through next, he's wrapping up final exams and staying busy as the father of two sons, 5-month-old Calvin and 3-year-old Benjamin. His wife of six years, Jenn Anderson, is associate director of institutional compliance at KU.
"We're trying to move this country forward," Anderson said. "Ultimately I would like to run for federal office. You have your sphere of influence in the Department of Defense, but when you get into federal office you can affect change on a national level. Hopefully it will be 'Vote Anderson 2024.'"
— By Mindie Paget