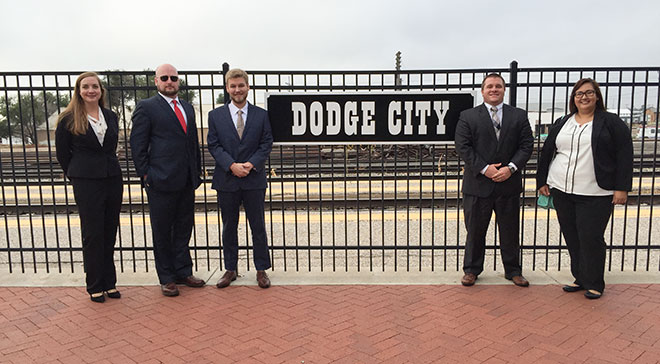 Student finds opportunity, community and special history in Dodge City
I recently spent two days in Dodge City, Kansas, attending the 2016 Southwest Kansas Bar Association Annual Meeting. (That's me, second from left in the photo.) The trip was arranged and sponsored by the KU Law Career Services Offices, and five KU Law students participated. For me, there was one main question: Do I want to practice law in southwest Kansas? After completing the trip and reflecting on that query, my answer is yes.
In advance of the trip, I developed a three-part elements test to answer my main question. The elements were:
Whether there was opportunity for me to prosper practicing law in southwest Kansas;
Whether the community was a good fit for me; and
Whether there was something special or legendary about the place.
Per the nature of a conjunctive test, and my affirmative answer to the main question stated above, you already know that the answer to each of these questions is also yes.
Opportunity to prosper practicing law is important. Law students invest a lot of time, work, and money to become qualified to practice law, and that investment should bring a handsome return. I found that such returns are available in southwest Kansas. Sitting in an Old West saloon, practicing attorneys from Dodge City, Garden City, Liberal and other frontier towns emphasized that there is plenty of legal work in the area. One experienced attorney said, "You can make as much money as hours you are willing to work." Given that the going rate is $150-$250 per hour – and there is as much work as a young attorney can handle – I concluded that the opportunity element was satisfied and moved on to the community element.
Community is important. I want to live happily both in my career and at home. That means more than just developing my skills and getting paid well. It means having good neighbors. If the attorneys, judges, law enforcement, and locals I met in Dodge City are any indication, the community is friendly and welcoming. In addition to those I met, there is a growing immigrant population from more than a dozen countries bringing their rich cultures to the area. There are also a number of young professionals working at hospitals, offices, and colleges in the area whom I would be sure to get along with well. I could see myself going to church, playing sports, hunting, writing, serving on boards, and doing other fulfilling things with the people of southwest Kansas. Collectively, those people satisfied the community element, so I considered the legendary element.
Legends never die. Well, the saying from "The Sandlot" goes, "Heroes get remembered, but legends never die." "The Sandlot" is one of my favorite childhood movies, and since childhood I have fancied myself a legend in the making. As such, I want to be in a legendary place where legendary people have been. Southwest Kansas is legendary. I found that the area is really more akin to the American Southwest than to the prairie states of the Midwest. It looks and feels like the Old West movies I love so much, and the people there seem to fit the part with their cowboy hats and sure gazes. The legendary history of the area includes hard times during the Dust Bowl era, travels on the Santa Fe Trail, and massive cattle drives up from Texas to the railroad. Legendary lawmen like Wyatt Earp, Doc Holliday, and Bat Masterson made their names in Dodge City. Perhaps its grandiosity, but I think I can make a name for myself there, too. I could be a legendary lawman of a different sort, I imagine. The larger-than-life history and potential for becoming noteworthy in southwest Kansas satisfied the legendary element.
When we look back on our lives, we can place dots along the timeline where significant events occurred. In my life, there are many events that were necessary to get me where I am today. Had my mother not taught me to be determined, I would not have pushed through hard times in work, life, and school. Had I not answered the call to serve in the Army, I would not have had the opportunity to witness and mimic professionals working toward a greater goal. Had I not acted on my passion for justice, I would not have taken the LSAT and applied to KU Law. Whether or not my experience in southwest Kansas this semester becomes a dot on my timeline remains to be seen. That said, because I discovered all three things I was looking for there, I suspect it will be.
— Jonathan Ehrlich is a second-year law student from Creston, Iowa, who served in the U.S. Army and earned a degree in philosophy and religion before law school. He is interested in opening a general practice in a rural area.
---
PHOTO |  KU Law students (from left) Helen Jacober Atkinson, Jonathan Ehrlich, Alex Driskell, Austin Knoblock and Gabriella Guerena recently visited Dodge City as a guest of the Southwest Kansas Bar Association and the KU Law Office of Career Services.