An interview with members of The Moody Bluebooks
No night is more fun in one's law school career than Pub Night. It brings together professors, students, and staff to enjoy an evening of good food, responsible drink, and great company.
At KU Law, however, we've turned this night into one that does substantial good. Organized by Women In Law (WIL), all proceeds from entry, auctions, and even some special edition t-shirts will be donated to Jana's Campaign and the Willow Domestic Violence Center. Jana's Campaign, founded in memory of KU Law student Jana Lynne Mackey, aims to "provide quality educational programming that prevents gender and relationship violence." The Willow Center, located here in Lawrence, serves "to prevent domestic violence and ensure survivors have access to services and support along the journey to a safe and empowered life."
With a night dedicated to such impactful causes and camaraderie, it's no surprise a particular group of KU Law entertainers will again headline the event. When they're not staring students down in a cold call or being of fantastic assistance to the career growth and well-being of students, KU Law faculty and staff are jamming out. The Moody Bluebooks, featuring our very own faculty, will take center stage and play their law-themed covers of well-known hits. I asked Professor Thomas Stacy—my Jurisprudence professor and KU Law's Ringo Starr— and Professor Melanie Daily—director of KU Law's Douglas County Legal Aid Clinic—more about the band and musicianship.
Cameron Savard: How long have you been performing?
Thomas Stacy: I've been playing [drums] since high school. I was in a band called "The Apple Core." Believe it or not, we received a cease and desist letter from Apple Records, which was putting out records by, e.g., John Lennon. So we changed the name of the band to "The Bill and Melinda Gates Foundation."
Melanie Daily: I grew up in a family prone to belting out showtunes fo any occasion, and it probably shows. I knew most of the Les Mis lyrics by the age of 9, and in high school I performed in: the all-county-choir, community theater musicals AND a screaming punk band. My next goal is to participate in Lawrence's Adult Rock Camp, but you need you learn to play an actual instrument first.
CS: How did you learn about The Moody Bluebooks (MBB)?
TS: The MBB started in 1987 and was a combination of faculty members and student vocalists. Different faculty members and students have cycled in and out through the years. Professors Platt and Daily are the newest faculty members and they bring a lot of fresh energy and talent. Lots of creative artists go into the law as a source of stable income. The student body always has included a number of hugely talented singers and other musicians. Some have agreed to slum it and play with us. We've had a few near world-class guitarists, for instance.
MD: I saw them perform in the spring of 2016. In late 2019, it occurred to me to pester Rick Levy, [professor of Constitutional Law], to let me in. I am not sure if he ever agreed, but I found out about the rehearsals from Blake or Lua, and I just started showing up. We were working on songs by Bruno Mars, Pink Floyd, and more… it's been great to learn about some artists I had never heard of before… I lost track of pop music somewhere around 1995. It was a very exciting time! I was in the band! At last! And then, well, March 2020 happened.
CS: How long do rehearsals go for?
TS: This year we've been rehearsing since mid-February. With everyone's busy schedule, it's hard to find a mutually convenient time so we don't rehearse every week. And, yes, that is an excuse for any mistakes.
CS: Who's the comedic talent behind parodying known songs for us at Pub Night to enjoy?
MD: That's mostly (Ly) Rick Levy, but in recent years Meredith Wiggins and others have contributed to the hilarity, too.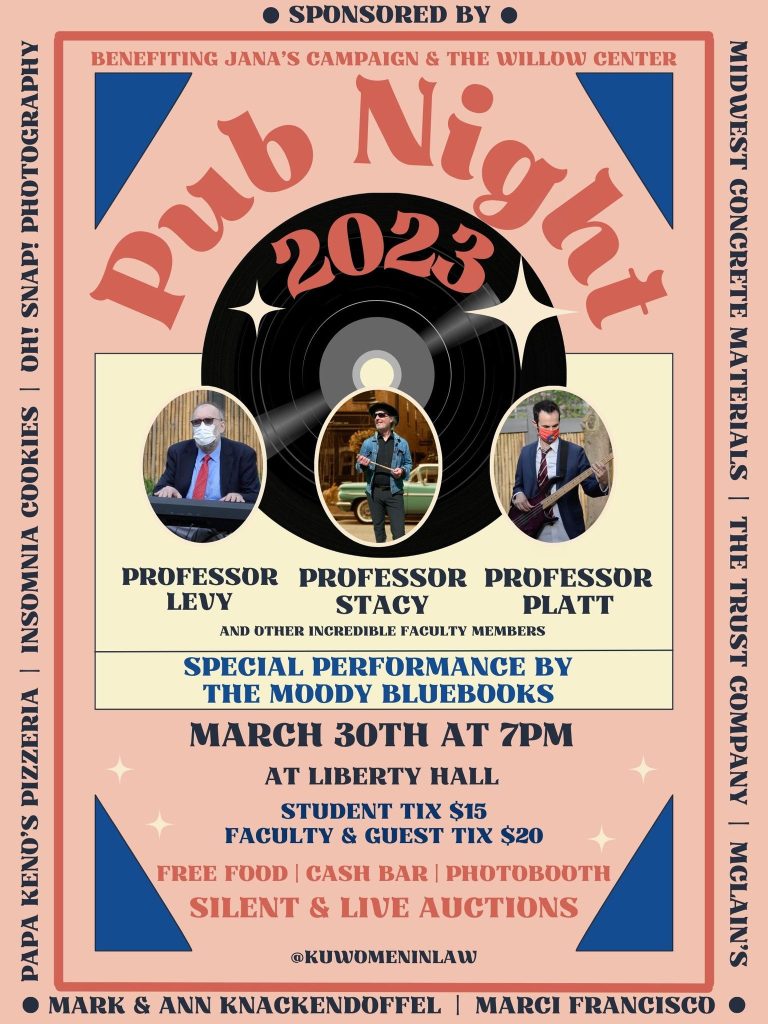 CS: How much does it mean, to you, to use your musicianship in support of such impactful causes?
MD: This is huge for me. I worked with survivors of intimate partner violence for years before coming to KU, and I know it takes many resources – financial, emotional, legal – to help them move safely toward a more stable future away from their abusers. It's wonderful that the Women in Law group is able to put so much energy and time into this cause, and it's always a great feeling to be in a room where the law school is united in supporting the community. The speakers from Jana's Campaign and The Willow have moved me to tears in recent years. It's really a powerful event.
CS: Are you looking forward to Pub Night 2023?
TS: We all relish the opportunity to connect with students and embarrass ourselves in good fun, all for a great, great cause. Olivia Schneider (2L) and all of the folks at Women In Law are working really hard on this year's event. It promises to be one of the best ever!
Pub Night 2023 will kick off at 7 p.m. on March 30th at Liberty Hall. The doors will open at 6:45 p.m. Tickets and auction items are available at this link: linktr.ee/kuwomeninlaw.
–Cameron Savard is a 2L KU Law Student Ambassador from Katy, Texas