Five questions with Ikhtiyorjon Turaboev, visiting scholar from Uzbekistan
Visiting scholar Ikhtiyorjon Turaboev from Tashkent, Uzbekistan joins the University of Kansas School of Law for the spring 2023 semester.
Turaboev serves as a senior lecturer at Taskent State University of Law and currently teaches courses in Tax and Financial Law. During his time in Lawrence, Turaboev will participate in the Overseas Visiting Scholar (OVS) program as a fellow in the Faculty Enrichment Program administered by the American Councils for International Education. He is interested in observing classes and learning about new teaching methods, especially more inclusive teaching methods.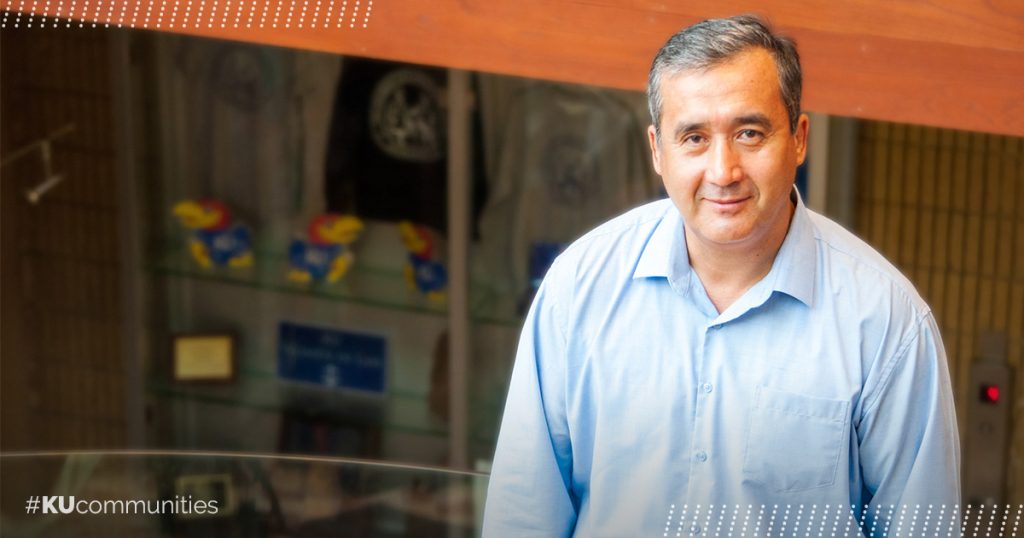 Why did you choose to come to KU Law? How did you learn about our program and establish contact?
Two years ago, I participated in the Faculty Enrichment Program (FEP), a special professional development program for Uzbekistan university faculty members administered by the American Councils for International Education, and was selected as an FEP fellow. The FEP program chose the University of Kansas School of Law to host me as a visiting scholar for the fall 2021 semester. Unfortunately, due to family reasons connected with the COVID-19 pandemic, I could not go to the U.S. and participate in the program. Last year, I participated again in the program and chose KU Law for my fellowship. Because I learned a lot from my colleague Sardorbek Yusupov, who was a visiting scholar for the fall 2021 semester, I made contact with the law school. Last summer, KU Law Dean Stephen Mazza also visited my home university and met with the Tashkent State University of Law faculty members and administration. My home university was interested in establishing cooperation with KU Law.
What are your professional goals for your time at KU Law? What will be your next career step after your time here?
My professional goals from my participation at the KU School of Law visiting scholar program are twofold.
Firstly, I want to enhance my pedagogical skills and professional expertise by observing KU Law courses. At my home university, I teach financial law and tax law classes. I also taught business law and corporate law courses. Therefore, at KU Law I audit business-related and tax law courses.
Second, I want to learn from the expertise of U.S. universities, especially law schools, in providing inclusive teaching of special disciplines for people with different backgrounds and acquiring competence in inclusive teaching methods. I would also like to learn about university programs or models for supporting the education of students with disabilities and assist my home university in developing such programs.
Participation in the visiting scholar program is also a very good opportunity to use the KU Law Library resources and conduct research.
I believe that my experience at KU Law will equip me with better knowledge and skills to be a more professional instructor in my field of teaching. It will also aid in the improvement of my home university's rules and policies regarding the inclusion of disabled students in the study process.
How does the academic and research environment at KU Law differ from your home institution?
In comparison to my home university, the academic and research environment at KU Law is very different. In my country, law school students are undergraduate students who are young and come directly from a high school, so there may be some differences from teaching graduate students. It is somewhat difficult for [the undergraduates] to study special courses such as Tax Law and International Taxation Law.
As U.S. law schools are graduate schools, these students are mature students who already have an undergraduate degree and some work experience. Therefore, it is easier for U.S. colleagues to teach courses. KU Law faculty members and students enjoy good library resources. Even offices of faculty members are located inside the library as if to symbolize the harmony of teaching and researching.
What are your favorite things about Lawrence? What about your home do you miss the most?
Lawrence is a nice place to live and study. I don't like big and crowded cities. Lawrence is a quiet city with parks and fresh air. The weather is not cold. In January in Uzbekistan, which is famous for its warm climate, it was snowing and cold, but here in Lawrence people were going out in t-shirts. I noticed that people in the Midwest, especially in Kansas, are very polite and friendly.
Although I enjoy being in Lawrence, I miss my family, relatives and friends. Every day I make video calls to my mother and children.
What advice would you offer to other scholars who may want to do research abroad?
I think the most important thing when doing research abroad is to be very fluent in the language of the country you are going to. Researchers who intend to conduct research abroad should improve their language skills.
Of course, researchers should have a detailed research plan to complete their own study within the period of their stay in the foreign country.
Another important thing is that it is better to know and contact scholars and teachers at the university where you plan to go beforehand. Researchers should value their time and use the libraries and other resources of the university where they are going.