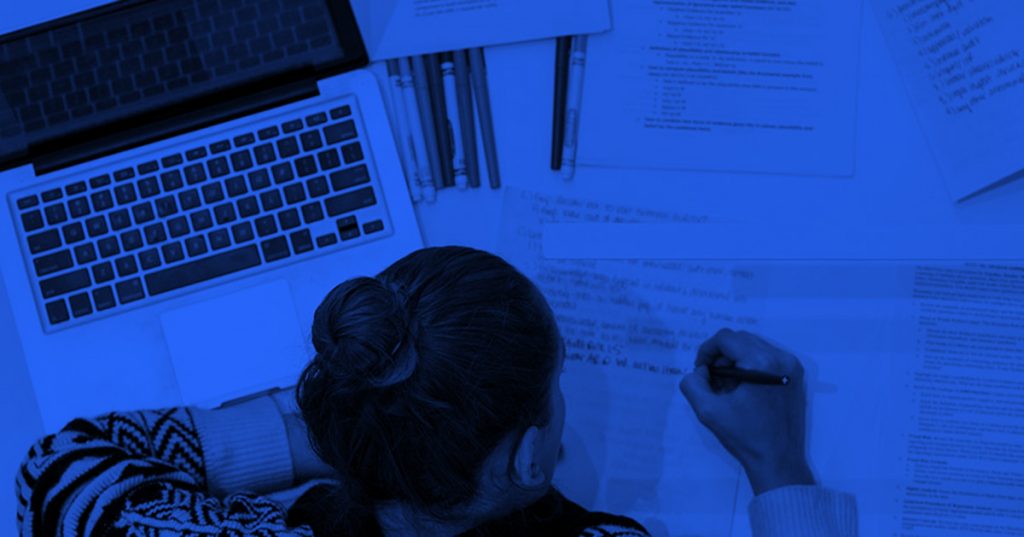 The past week has brought an abrupt shift to online instruction at law schools across the country. To help students at the University of Kansas School of Law navigate the transition to remote learning and manage stress in uncertain times, Professor Betsy Six and Assistant Dean Leah Terranova have compiled a list of tips, tools and strategies.
Tips for online learning from Professor Six
Setting up new routines can help ease the transition to online learning. Betsy Six, clinical associate professor and director of academic resources at KU Law, recommends setting a schedule, staying focused and keeping engaged.
Stay focused and engaged during class lectures. Think of this as good preparation for studying for the bar exam, when you'll also be watching hours of video lectures.
Treat it like an in-person class.

Schedule class time. Even when class is a recorded lecture that you can listen to on your own schedule, have a planned time for when you are going to "go to class." Do the reading before that scheduled time.

Minimize distractions. Set your phone to "do not disturb" mode. Close all other applications and windows on your computer.

"Go" to class. Sit down prepared and ready to pay attention and take notes. Take class notes just as you would if you were sitting in a classroom. Even if the class is a recorded lecture that you can rewind, don't plan to rewind. Doing so takes more time and encourages you to pay less than your full attention.

Engage with your professor and classmates to ask questions.

Take advantage of every opportunity to engage with your professors, such as Zoom office hours and synchronous Q&A sessions.

Stay engaged with your fellow classmates. Consider a virtual study group using Zoom or Skype. Start and share a Google Doc where you ask questions and share ideas or a group outline.

Make sure you've properly tested the technology and are comfortable using it. Students need to be able to regularly access and use Blackboard, KU email and online meeting platforms such as Zoom. Make sure you have access to these services:
Additional university resources are available in the "students" section of remote.ku.edu. If you have technology access issues, please reach out to the IT Customer Service Center, 785-864-8080 or itcsc@ku.edu.
Tools for shutting off distractions
When working and learning online, it can be difficult to avoid the distractions the online universe provides. Several software applications can help you avoid distractions and have a concentrated period of time to focus and learn.
They vary in cost, compatibility and features, but all allow the user to customize the amount of time they block access to the outside world. Some block all access while others let the user specify what is blocked. Here are a few to consider:
Tips for managing stress from Dean Terranova
It's hard to fend off anxiety when facing an unfamiliar landscape. Leah Terranova, assistant dean for academic and student affairs, recommends focusing on the process, not the outcome.
Focus on what you can control – your thoughts and actions. Set your sights on taking small steps each day to normalize this new experience and meet your daily goals.
Know that you are capable. Moving online does not mean you will lose the progress you have made or the momentum you were building. Many of the same habits that served you well for traditional classroom learning will also serve you well with online learning. This is an opportunity to reset and resolve to thrive in this new environment.
Allow yourself, and each other, some grace. After all, this new landscape is universal; we are all in it together. If you're in need of some guided grace, please reach out to Blake Wilson, assistant director of instructional and faculty services, at wilsonwb@ku.edu. He has offered to hold meditation sessions over Zoom. Or, check out Insight Timer, a free app that has plenty of guided meditations focused on specific areas of interest.
Resources for student support
There are several campus and community resources that provide support for wellness, mental health and financial assistance. Find a comprehensive list of campus resources at coronavirus.ku.edu.
Wellness and mental health:

Counseling and Psychological Services (CAPS): caps.ku.edu or 785-864-2277. CAPS is offering teletherapy to existing clients. Updates on services will be posted to the CAPS website.

Bert Nash Community Mental Health Center: bertnash.org or 785-843-9192

Financial assistance:

KU Law Student Emergency Fund: The law school's Student Emergency Fund provides one-time grants of up to $500 to students in need of emergency financial assistance. Students can apply for assistance by contacting Leah Terranova at leaht@ku.edu or sending her a completed application form. Gift cards to Dillons or other grocery stores are also available for students struggling with food insecurity. Please contact Leah Terranova to obtain a card.
Stay healthy and connected, and know that everyone in Green Hall continues to support you.
— Compiled by Margaret Hair